Cute, Easy Outfits for New Year's Eve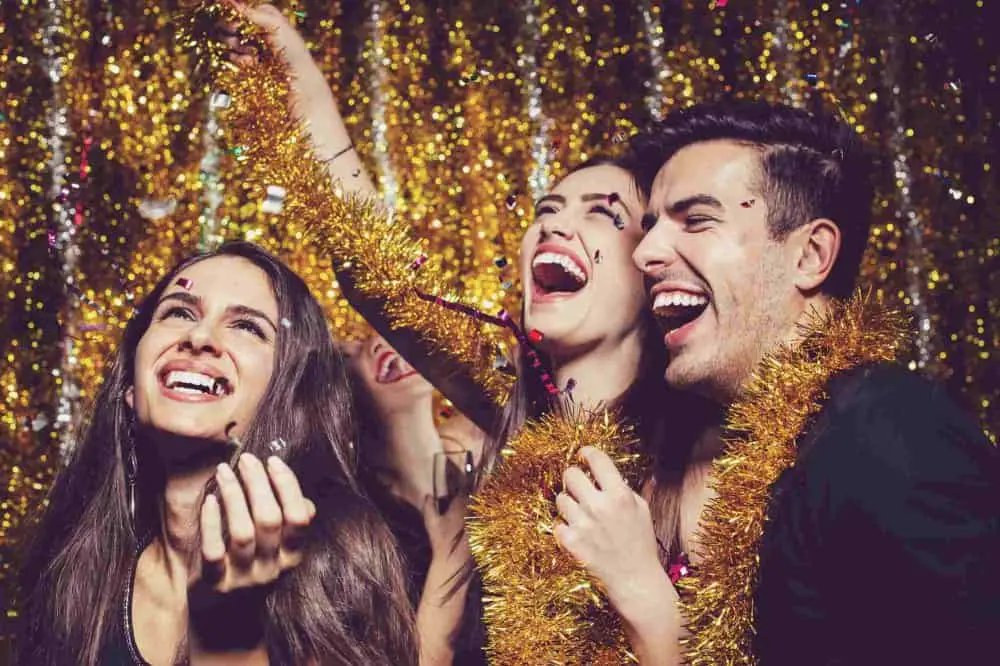 New year, new me! New Year's Eve is the time for us to wear fancy clothes and look cute for the new years! Not sure what to wear for the New Year countdown party you're invited to? We have gathered some of the most gorgeous looks that only require very little preparation for you. So, if you don't have time and don't want to spend too much money, then check out these outfit inspirations that will make you stand out from the crowd!
We know mini-skirts or dresses are always the popular choices, but it always go in the way when you try to dance with your friends or when you have a little too much alcohol. We have styled 10+ outfits with jeans that will make you look glamorous when you go out for parties! 
? Best Jeans For Women
Dream Jeans – "Wow, I just got these today. I love love LOVE them. Another reviewer said they weren't soft and they didn't stretch…but they must have gotten a knock off or something. The material is beautifully soft, very black, and with perfect stretch, like most of the other 7FAM jeans I own. NO ONE would ever describe this material as rough! Yes they are expensive but I've never had another brand of jeans that fit so beautifully."
? Best Trendy Jeans For Teen Girls
Love These Jeans Fits Like A Glove! – " Love them these are mid rise boot cut jeans with 2 buttons in the front with a zipper 2 back pockets with embellishing bling. Get a size 7 for women that are a size 6. They make your bottom body part look good! I love them."
? Best Trendy Jeans For Little Girls
Non Jean Wearing Daughter WILL Wear THESE!!! – "These are super soft and flexible. They look super cute and fit true to size (My daughter is a 6 and I purchased a 6 and they fit great). My daughter HATES jeans so I looked over several "jegging/jean" options on amazon and these seemed to be the right choice based on reviews and they definitely met my expectations. Daughter loves them and they are super cute and comfy! Good quality."
Formal Dinner on New Year's Eve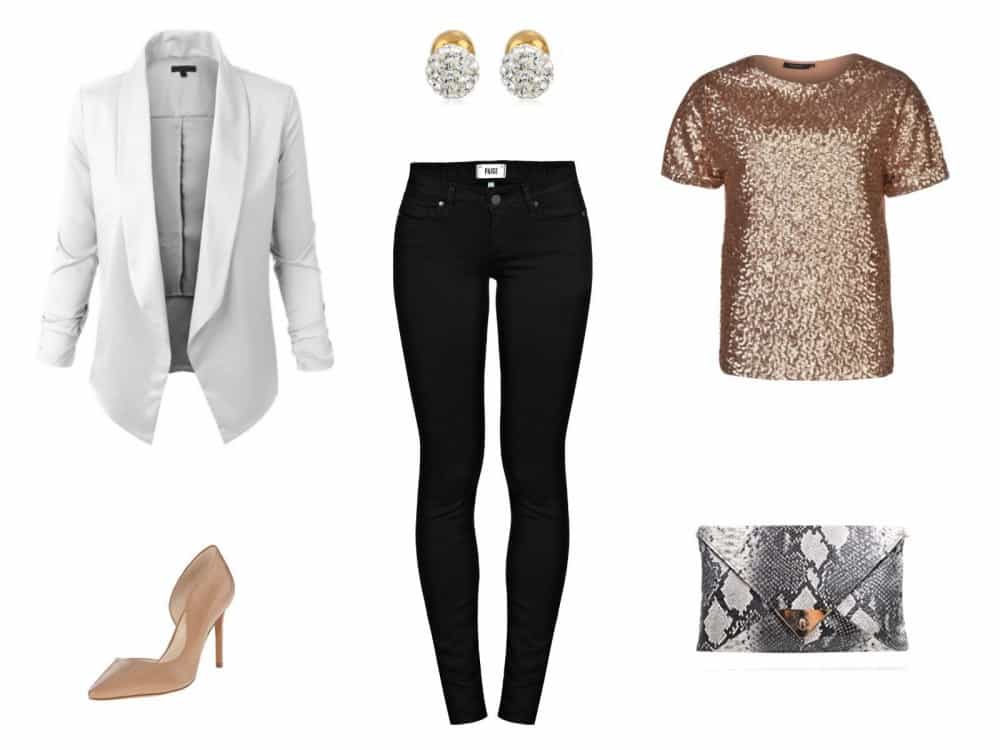 Start the new year with a glister! This elegant outfit is stunning and goes well with both formal and informal events! Simply put on your favourite pair of skinny black jeans and a sparkly fluorescent gold top and style it with white tuxedo-style blazer and a pair of heels. You have recreated the traditional classy tuxedo dressing in a more innovative and stylish way! Don't forget to bring an animal printed clutch with you to perfect your look. If you want to look extra glamorous, you can also put on some diamond or crystal studs, remember to keep them simple and minimalistic, since your outfit is already sparkling! 
Dinner for Two on New Year's Eve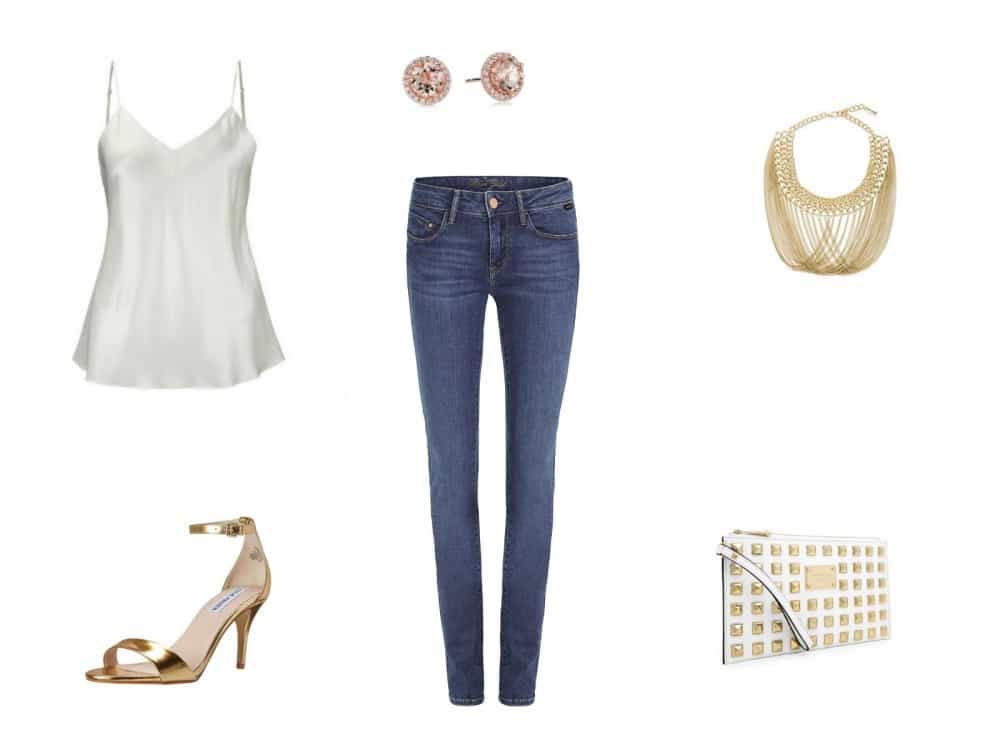 If you are into sexy outfits, then you must try this one out! This outfit looks casual and makes you look adorable! If you are going on a date, this would definitely be a cute outfit for a fancy dinner date or a romantic movie date. Simply put on a white silky camisole and pair it with your favourite pair of skinny jeans. Style it with golden heels, purse and accessories to match with the New Year Glamorous theme. 
Outdoor New Year's Eve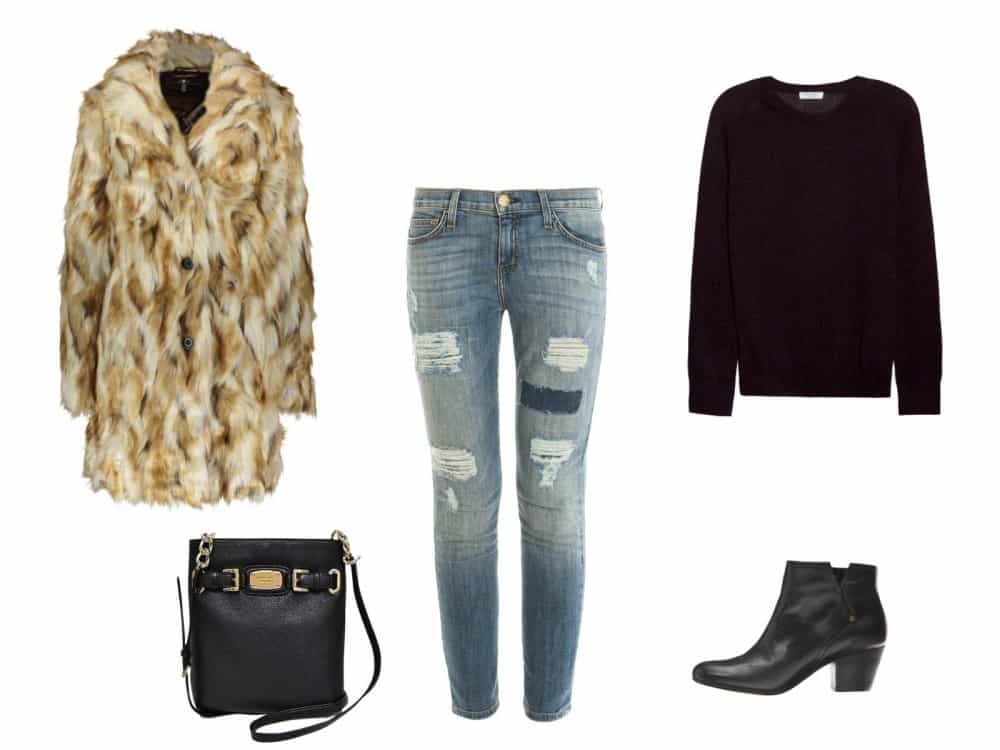 We know that some of you will host or get invited to parties outdoors, we have got you covered. If you are enjoying the New Year countdown events outdoors, keep warm and stay comfortable with this outfit! Style your plain sweaters with jeans and top it with a fabulous (faux or real) fur coat, to make the outfit more fashionable! Since you'll be having a wild time, ditch the heels and style it with a pair of black ankle boots. Don't forget to bring a small black purse with you. 
---
Affiliate links are used. AnInspiring may earn a small affiliate commission from purchases made from our editorially chosen links.
---
All the content in this blog is the property of aninspiring. Kindly refrain from plagiarising the content of this blog.
Fancy New Year's Eve Outfit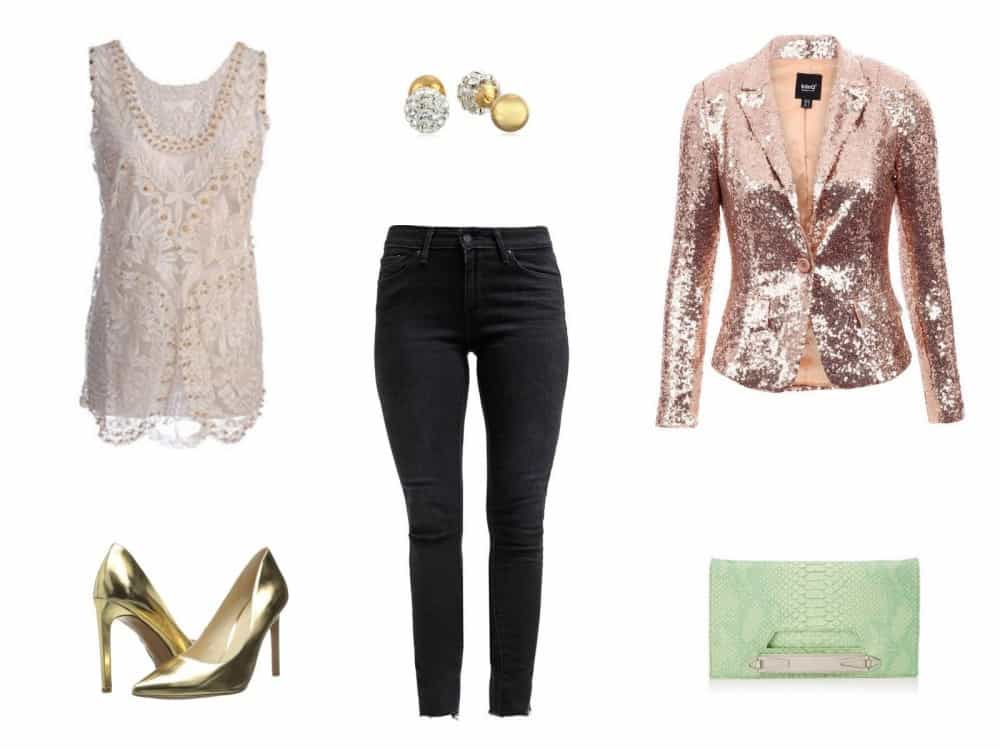 If you want to look cute and stay warm in the New Years, this one is perfect for you. It goes with different occasions like parties, gatherings, or a romantic date! Simply put on a tank top (Preferably laced and delicately designed) a beautiful tank top completes half of your look already! Then style it with you favourite par of black skinny jeans, then put on a glittering gold blazer to finish your glamorous look. Finally, don't forget to pair it with Gold metallic high heel shoes and be unique one in the crowd!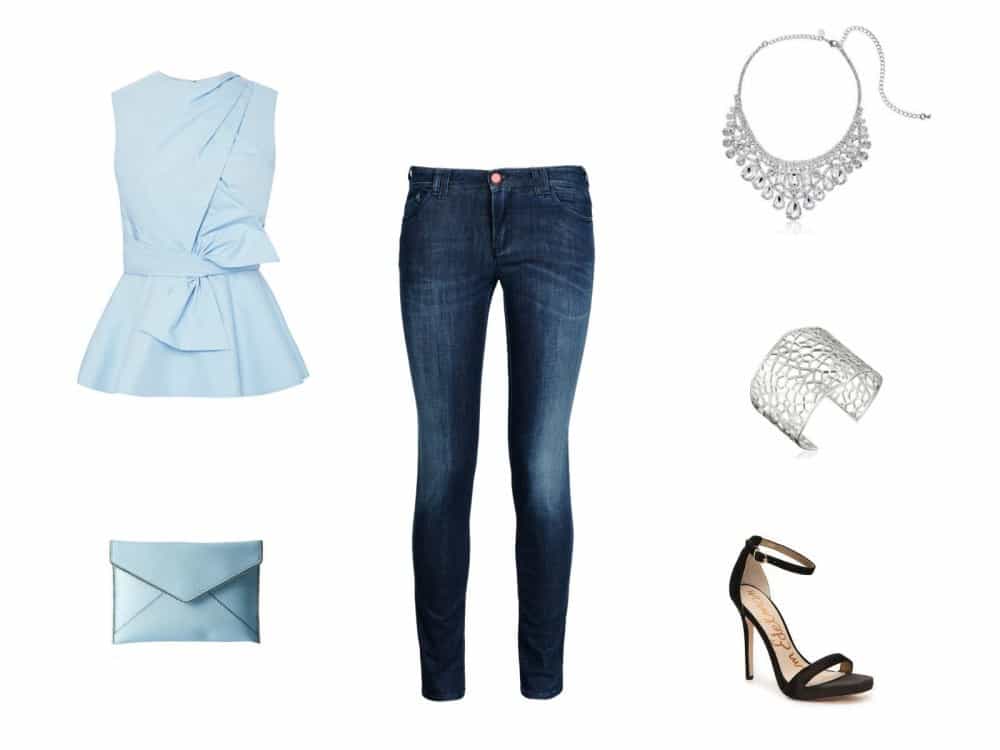 Pretty New Year's Outfit New Year's Eve outfit in blues and silvers.
Going on a cute date instead of parties this year? Get prepared with an outfit that make you look gorgeous and impress your date! Put on a peplum-style top that makes you look both sexy and cute, then pair it with a pair of dark wash skinny jeans that's less ordinary than black or blue jeans. Don't forget to wear a pair of black high heel sandals that makes you look extra stunning. I'm sure you'll have a great time with your date!
New Year's Eve Outfit to the Club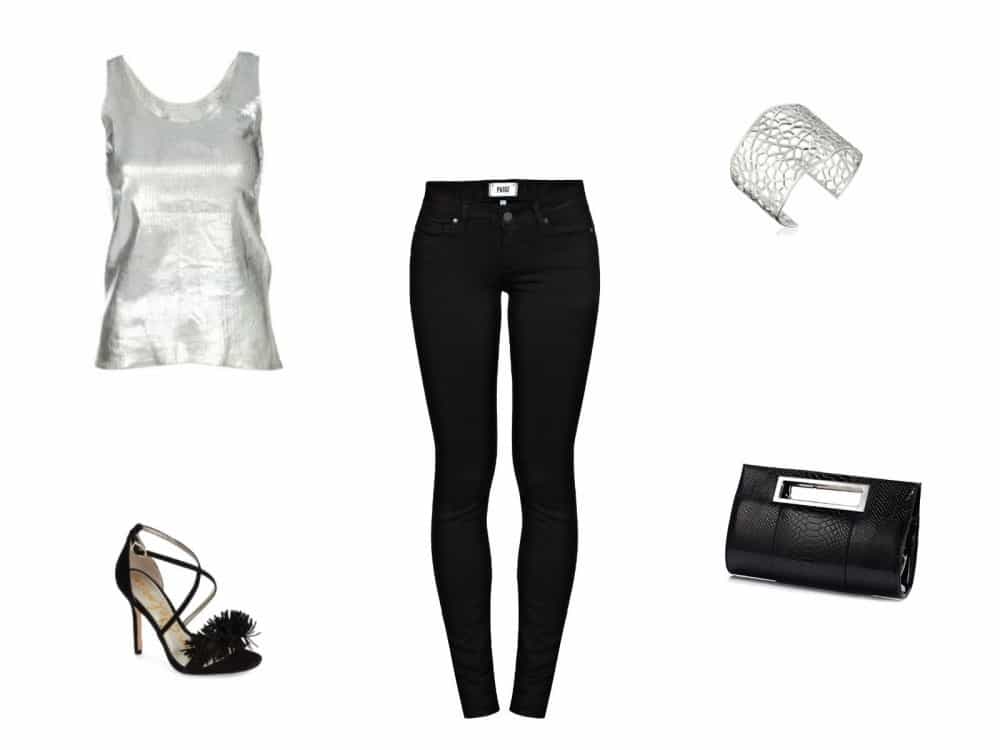 This one is for the party animal. If you are going to spend your New Year's Eve partying at a club, then get yourself dressed with this sexy outfit that keeps you comfortable while you have fun dancing!  Put on a shimmering silver tank top and a pair of black skinny jeans that outlines your curves, you'll be as eye-catching as the disco ball in the club! Since you'll be dancing the night away, a silver bangle will make you stand out from the crowd, any other shiny accessories will do! 
New Year's Eve Dinner Out With Family And Friends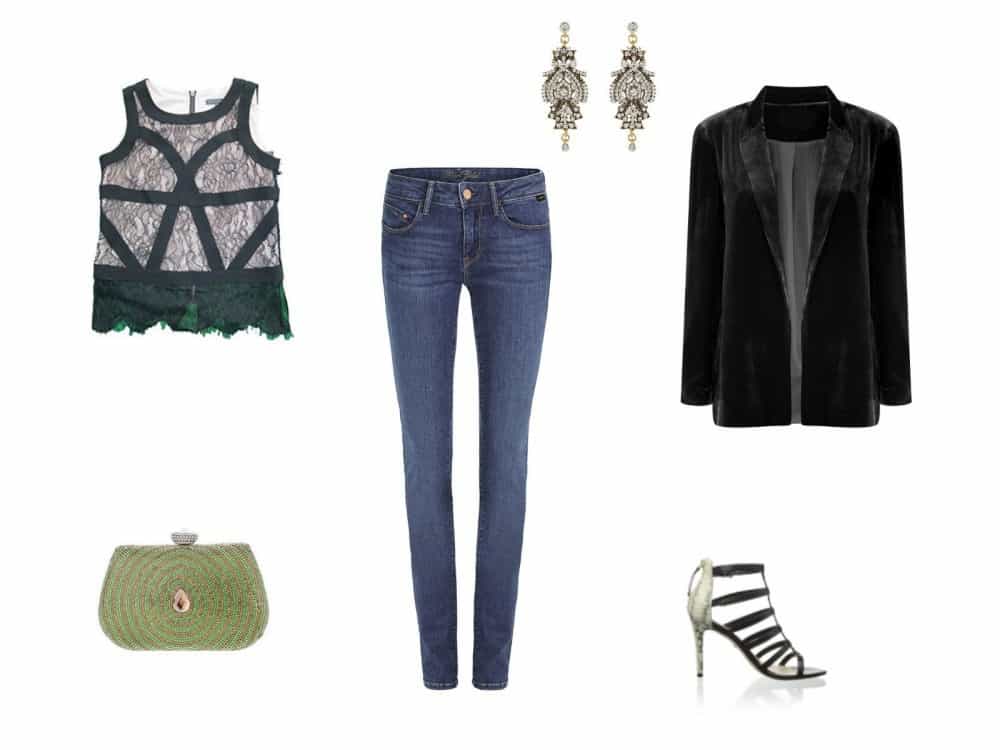 Going on family or friend gathering on New Year's Eve? Style a laced tank top with your choice of blue skinny jeans. You can also add a black velvet blazer to make your outfit more classy and trendy. This also makes a comfortable outfit, so you can enjoy your time with your family and friends! Style it with gladiator high heels and don't forget to bring a pretty minaudiere purse with you! 
New Year's Eve Dinner Party With Friends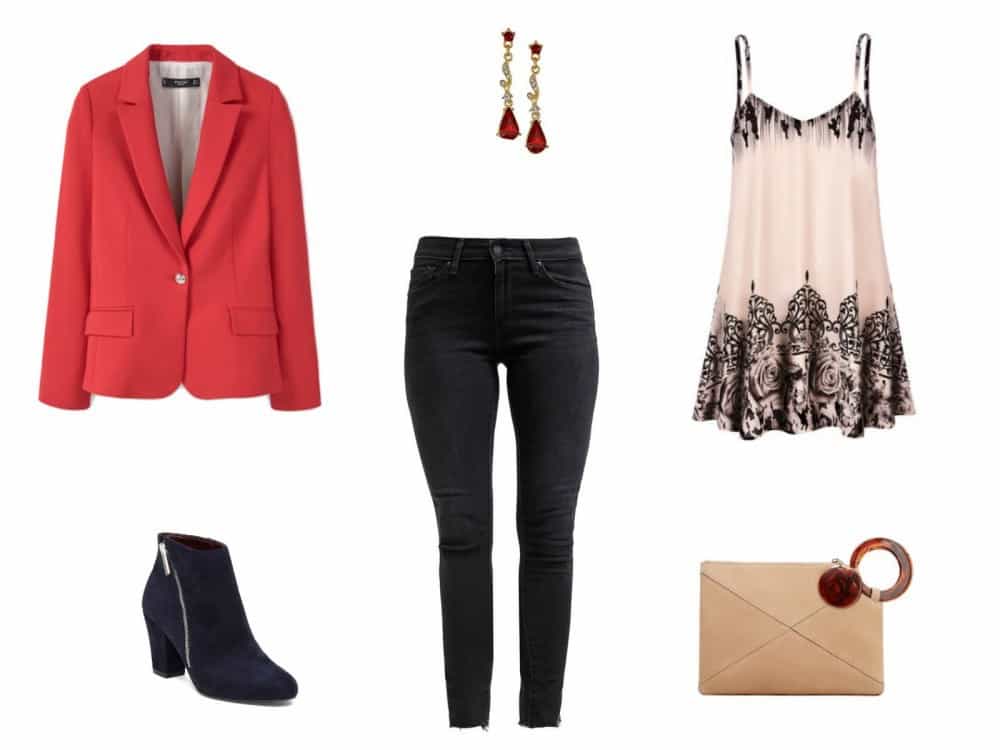 Are you having a girls night out? Try this outfit that makes you look gorgeous while being comfortable! Style your black skinny jeans with a cute tank top. Spice up your outfit with a red blazer to make you look more fashionable, add dangling earrings to make it a cuter outfit! 
Elegant Party Outfit for New Year's Eve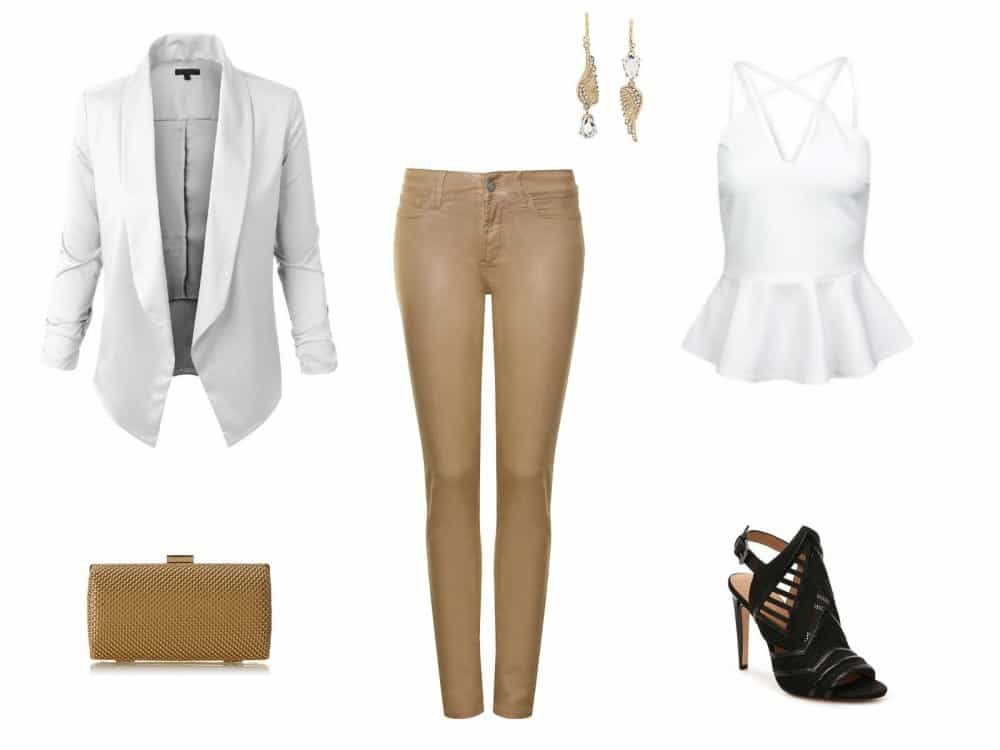 Get ready with this classy outfit for a your New Year's Eve party! This makes a great party outfit for you and it will definitely catch everyone's eyes the moment you enter the party. You'll need a pair of gold skinny jeans and a white tuxedo suit jacket to recreate this stunning look. 
Outfit for Spending New Year's Eve With Family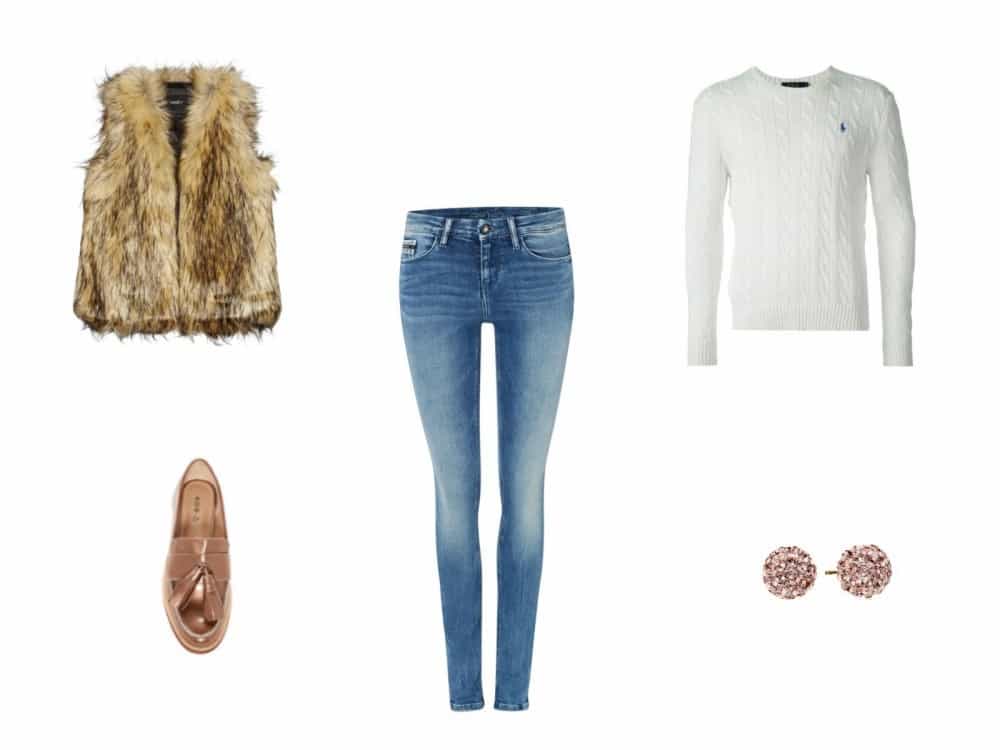 If you are more into a subtle look, try this out! Dress yourself in a cable-knit sweater and go with a pair of comfortable skinny jeans, put on a fashionable furry vest to keep warm! If this is too simple, put on some simplistic metallic earrings or necklaces. Finally, ditch the heels or boots, put on some comfortable flats like these gold loafers. Then you have the perfect outfit!
Staying In & Keeping It Cozy on New Year's Eve ??
All the content in this blog is the property of aninspiring. Kindly refrain from plagiarising the content of this blog.