Thanksgiving DIY Project in 2020: Sun-Print Place Cards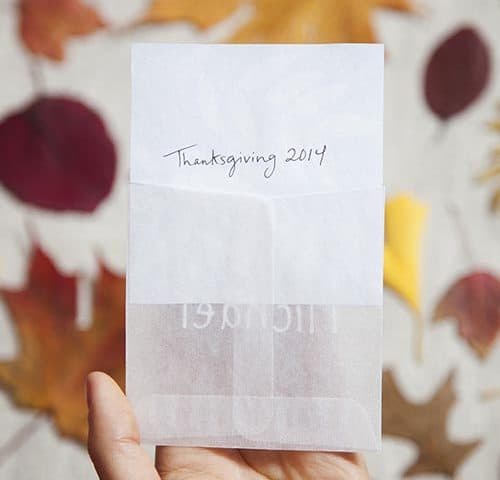 This blog is updated in 2020
One of the greatest joys of living on the east coast is experiencing the changing seasons. While I love and miss my home state of California, there's nothing quite like the explosion of colors autumn brings. It seems almost ceremonial to walk through canopies of yellow-, orange- and red-topped trees and kick up crunchy leaves. The other day while walking through the city, yellow leaves were raining down on me for blocks. It felt otherworldly and wonderful.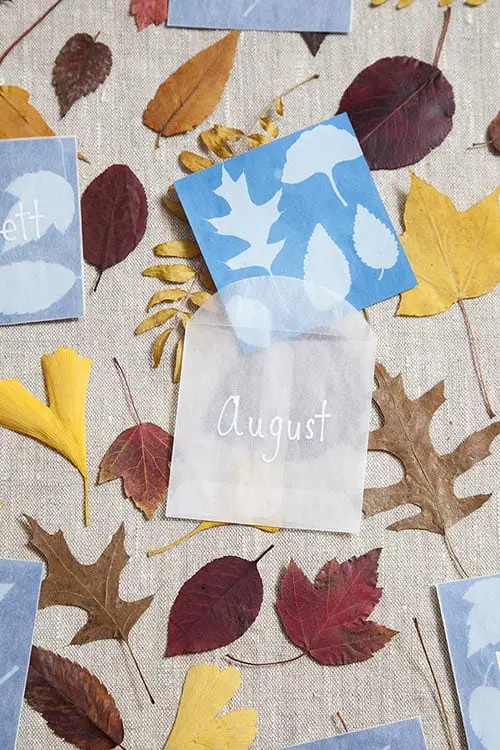 This Thanksgiving, I want to bring that feeling indoors and to my table, while adding another striking complementary color, Prussian blue. Using a sunprint paper, much like the 19th century cyanotype, we'll make place cards that are miniature works of art and also gifts for your guests to enjoy throughout the year. –Jessica Marquez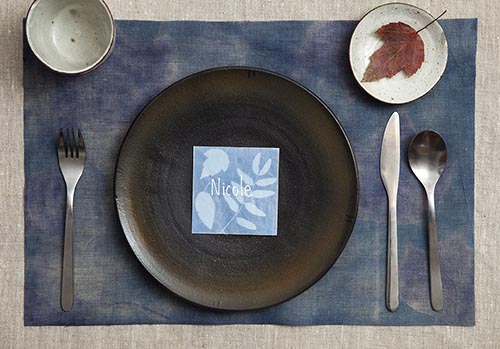 Materials
-Pressed leaves
–Sunprint Kit , 12 4×4" sheets
-Paper cutter/Scissors
–Contact frame (or a piece of glass/plexi and cardboard secured with binder clips on all four sides)
–Small developing tray
-Hydrogen Peroxide (optional)
-Glassine or vellum envelopes (mine were 3.5 x 3.5")
–White acrylic paint pen
-Washi tape
-Iron (optional)
Instructions
1. Collect and press leaves in heavy books overnight. Flat objects make distinct, crisp contact prints. Keep in mind the size of your paper.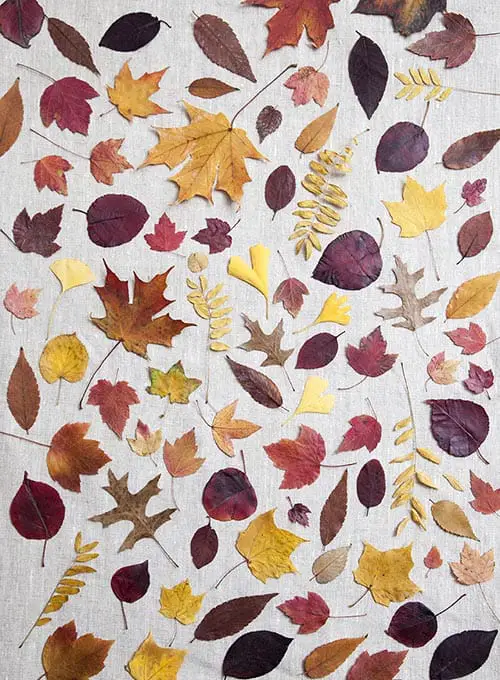 2. In a dim room, place leaves on top of your sunprint paper. The paper is sensitive to UV light, but in a dimly lit room, you have some time to play with your compositions. It takes a while to expose the paper and you need direct sunlight for this relatively slow expose time.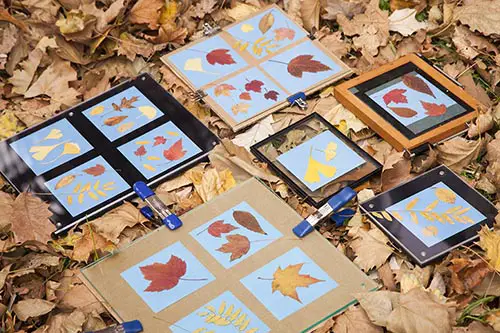 3. Use a contact frame or DIY one to expose the leaves on top of the sunprint paper. A sheet of glass or plexi, binder clips, and cardboard work perfectly, too.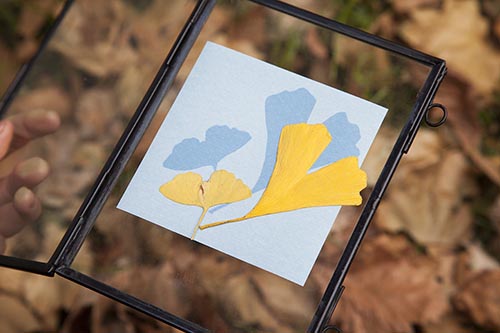 4. Exposure times will vary greatly depending on the quality of the light. Fresh from the pack, the paper is a soft blue, and slowly turns almost white once it's been properly exposed. I first did a test to see how long my exposure should be, exposing sections of the print and covering the rest till I had 5, 10, 15, 20, 25 minute increments on my paper. The instructions on the kit say "1-5 minutes," but on this very overcast autumn day my exposures were 20-30 minutes. Bright, direct sunlight will have much faster exposure times.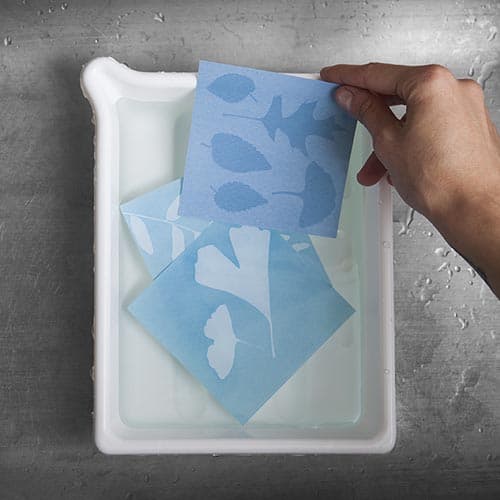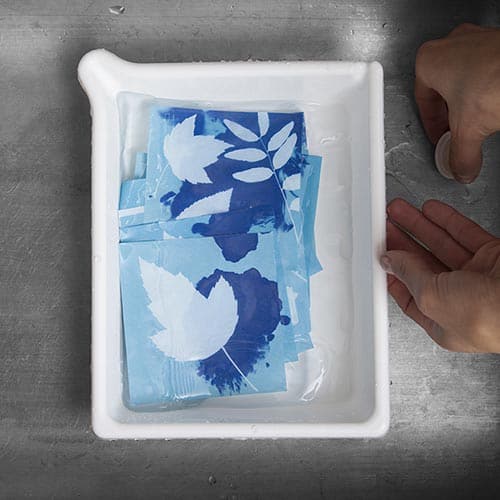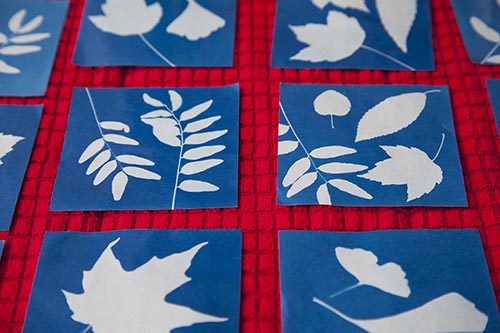 5. Wash your prints in a bath of lukewarm water. If you're washing a lot of prints at once, dump the tray a few times to make sure the prints clear. You'll notice a tint to the water as you're rinsing the prints. Water, as well as the drying process, oxidizes your prints, which deepens the blue hues. To help speed the process along, you can add a capful of hydrogen peroxide to a fresh bath of water. Rock your tray a few times to make sure each print is coated with the hydrogen peroxide bath. You'll see a dramatic deepening of the blue hues immediately. After a few minutes, rinse once more and lay flat to dry.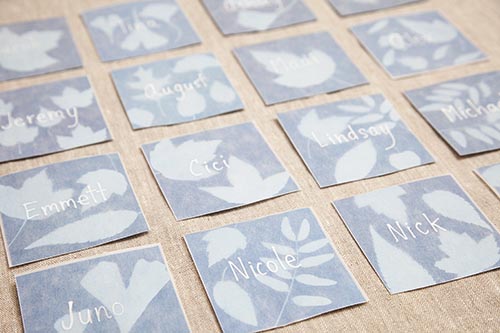 6. While your prints are drying, write guest's names on your envelopes. If you want a specific font, print out guest's names and trace over. I quite like the look of a hand written name, though.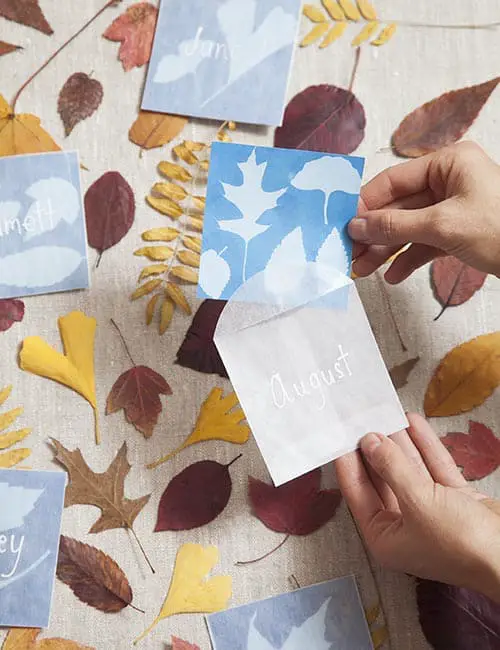 7. Once your prints are completely dry you can iron them flat (optional, they curl a bit as they dry) and trim if necessary. Write a message on the back of each print – the event, date, or even a personalized message. Slip prints into envelopes, seal with a strip of washi tape and place at table settings.
8. Get all the compliments on your artful, thoughtful placecards. (It's gonna happen!)