Thanksgiving DIY Project in 2020: Vintage Shibori Dyed Napkins by Rebecca Atwood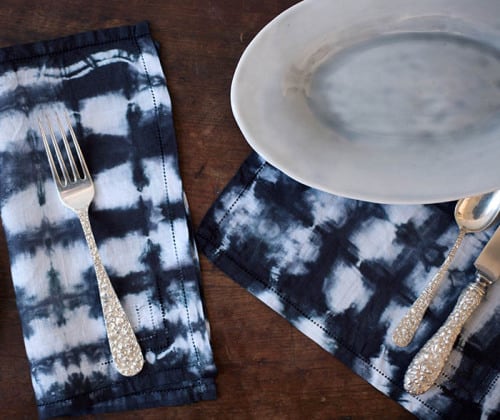 This blog is updated in 2020
I love Thanksgiving, and I am really looking forward to spending it with my family. My parents own a restaurant and growing up we always had a big dinner after the last of the restaurant diners had finished. A lot of the time we had waitstaff join us, along with friends of my parents. My Mom always sets a beautiful table with vintage linens and beautiful china.
I love the idea of updating vintage linens with shibori for a modern Thanksgiving table. I have a collection of old linens, but if you don't, they're easy and affordable to find on eBay. Now let's get dyeing! –Rebecca Atwood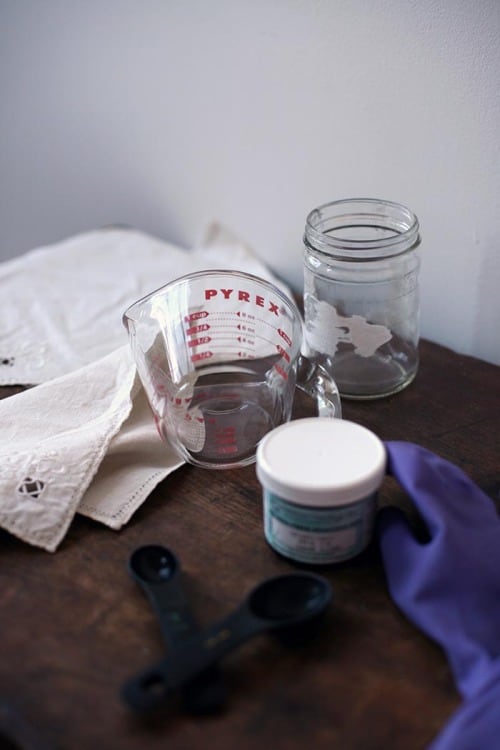 Supplies:
-Vintage napkins in cotton or linen (synthetic fibers won't take this kind of dye)
-Dye in your choice of color. (For this project I am using a fiber reactive dye from Pro Chemical called Black 629. I've given instructions for this professional fiber reactive dye, but you can also modify this project and use RIT dye following the instructions on the box.)
-Soda Ash
– Synthrapol (PH balanced soap)
-Rubber bands
-Plastic or glass containers
-Measuring cups and spoons
**Please use separate containers or measuring utensils than you would for eating when working with dye. You can always measure out the water in a measuring cup you already have and mix the dye in a recyclable plastic container and estimate the dye amount with a plastic spoon.
Shopping resources:
–Pro Chemical
–Amazon for vintage napkins
Step 1: Scour the Napkins
-Prior to dyeing, it is best to thoroughly clean the fabric so that the dye can take hold. The best way to do this is to scour them with soda ash. You can do this in the washing machine or stovetop. Since the napkins are small, I prefer to do this on the stove. Place the napkins in a pot with water and approximately one tablespoon soda ash plus a few drops of the soap. You will then bring to a boil and let simmer for about an hour. Since you are using vintage napkins, I find this step is especially important in cleaning the fabric. Carefully drain and rinse the napkins and let dry.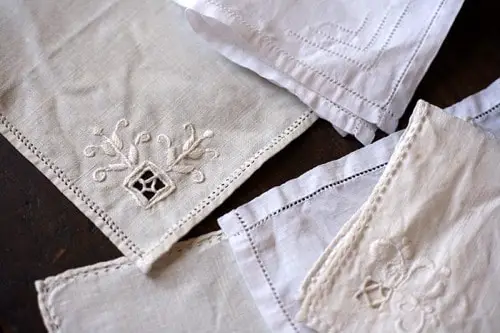 Step Two: Fold the Napkins
-The next step is to fold the napkins. There are various ways to do this but we will use a simple fold and rubber bands. Feel free to get creative!
-Fold the fabric in half lengthwise, and again twice more or until you have the desired width. The width of your fabric will change the gridded shibori pattern you achieve, so the wider your fabric is the wider your boxes will be. I chose a very small grid since my napkins were pretty small.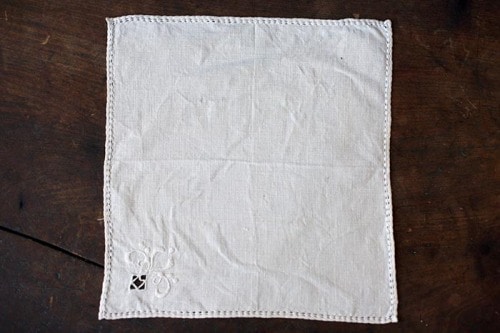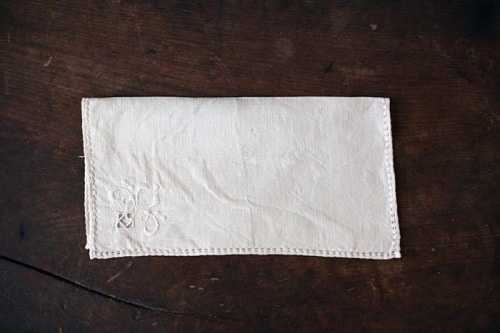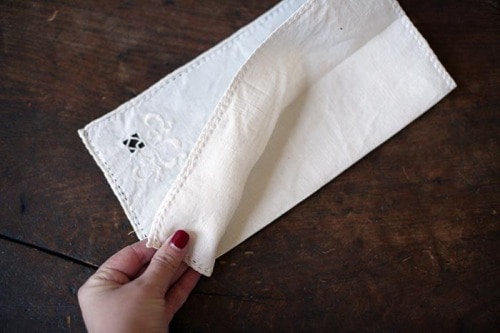 -Once you have a long folded length of fabric, begin to fold it in an accordion style until you run out of fabric. You want to fold the fabric so that it is even.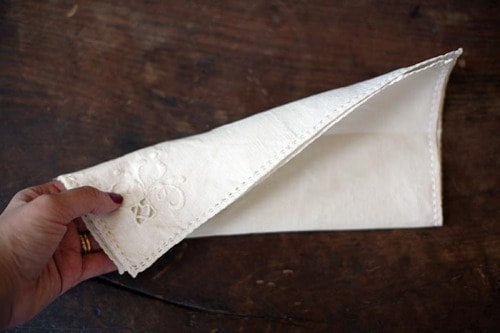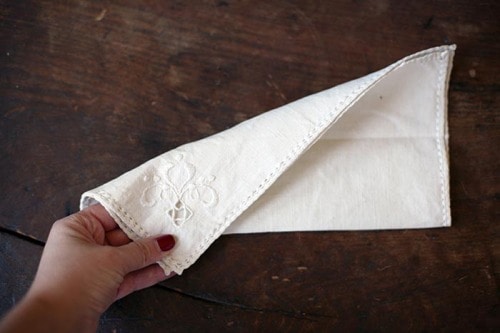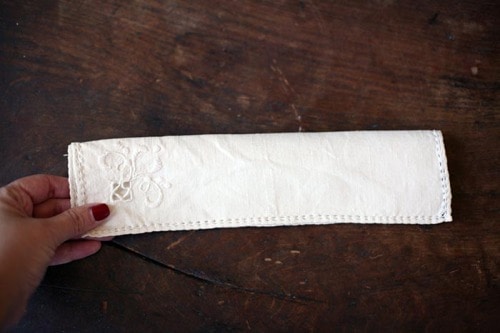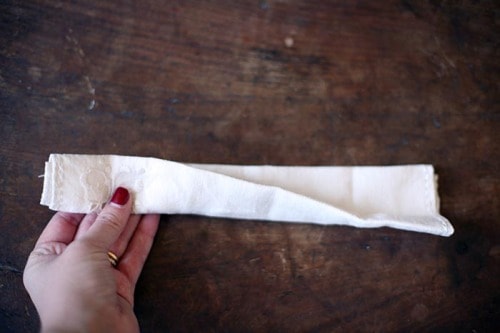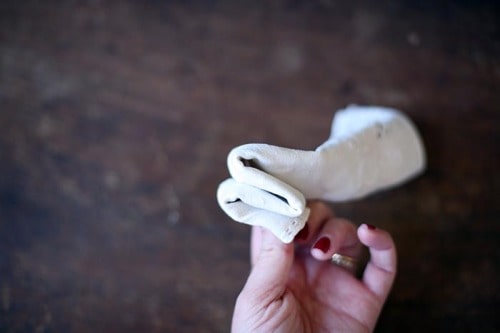 -Once you have your folded bundle, wrap it tightly with rubber bands. The tighter it is, the less dye will get inside.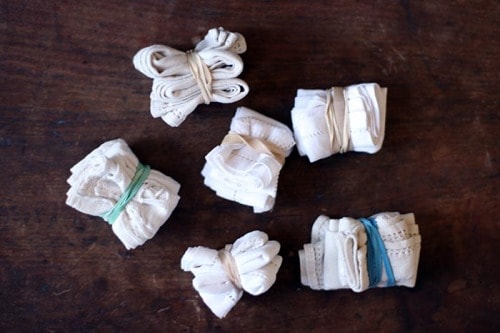 -Put your folded fabric bundle in a bowl of water and let it soak for approximately 10-15 minutes. This is important as it allows for the dye to be absorbed evenly.
Step Three: Dye the Napkins
-While your napkin bundles are soaking, you can mix the dye. You may need to adjust the recipe depending on how many napkins you are dyeing. I dyed 6 napkins, which were on the smaller side. More dye will result in a deeper color.
-Take 2 tsp of dye and slowly mix with one cup of water. It's easiest to mix the dye if you first create a paste. If the dye isn't mixed thoroughly you may end up with spots of various colors that make up the dye. Once you've thoroughly dissolved the dye, add one more cup of water for a total of 2 cups. This was enough water to cover all of my napkin bundles. More water would dilute the strength of the dye.
-Add the napkin bundles to the dye mixture.
-Wait 10 minutes.
-Add ½ cup of water with 1½ tablespoons of soda ash (this activates the dye and sets the color).
-Leave napkins in dye mixture for approximately one hour, and then rinse. I recommend letting them soak in a pot and changing the water until it runs clear. On the last rinse, use a drop or two of synthrapol. I also always suggest washing and drying in the machine separately one time before mixing with your other laundry.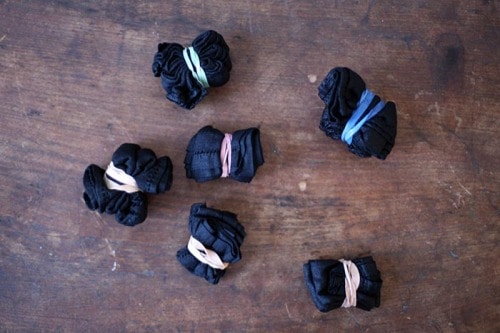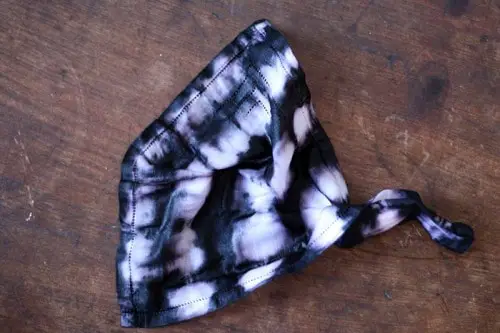 Step Four: Enjoy!
You now have a beautiful set of hand dyed napkins!