Thanksgiving DIY Project in 2020: Mirrored Place Setting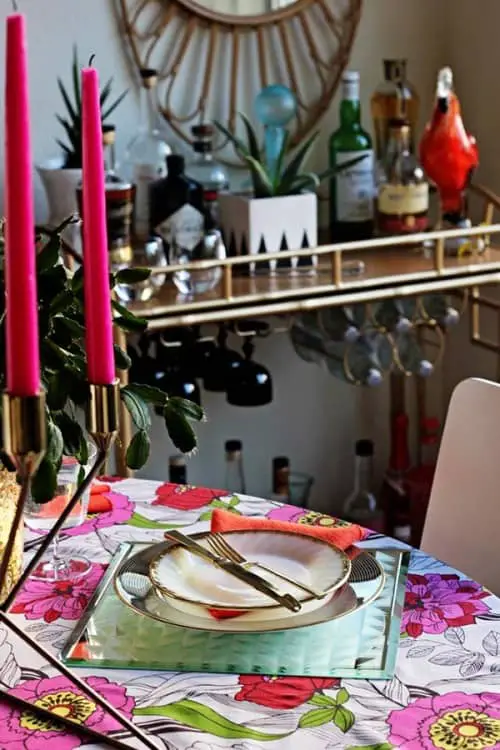 This blog is updated in 2020
I love setting the table, but it is extra wonderful during the holiday season. Whether you are going all out with family for Thanksgiving or just having a casual Friendsgiving in the next few months, add a little extra sparkle to your table with these fun, geometric mirror placemats. Mirrors sometimes get a bad rap on the table, but with a cool triangle pattern etched on top, you can take it from tacky to trendsetting. They are super simple to make and add that extra level of interest to the table. How impressed will your guests be when you tell them you made them? The best part about the etching is how durable it is, perfect for the wear and tear from dishes and spills – just wipe clean. Add a fun tablecloth and big pops of color and you have a great, non-traditional but gorgeous table to share with friends and family. –Jenny Batt of Hank & Hunt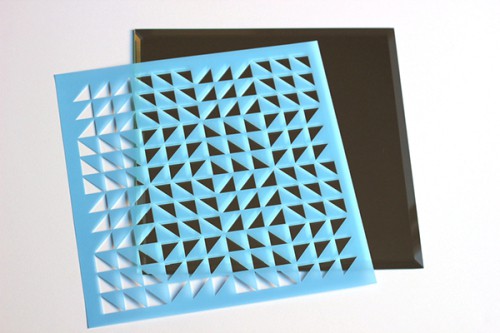 Supplies:
-12×12 Mirror tiles (I found mine at a craft store but you can find them online, too)
-12×12 Geometric stencil (I used the Triangle Patchwork pattern by Americana)
-Removable Spray Adhesive
–Glass Etching Cream
-Foam roller
Steps:
Step 1: Clean your mirror with glass cleaner. Let dry completely.
Step 2: Take the stencil outside and place face down (shiny side) on a piece of poster board or cardboard. Spray lightly but evenly with removable spray adhesive. Carefully carry back inside while waiting one minute (per instructions on the can). Place stencil, sticky side down, on the mirror tile. Flatten, making sure all the stencil is flat and attached to the mirror. *Note, if your tile is beveled on the edges, the stencil does not need to touch, just focus on the main center where we need the stenciled portion.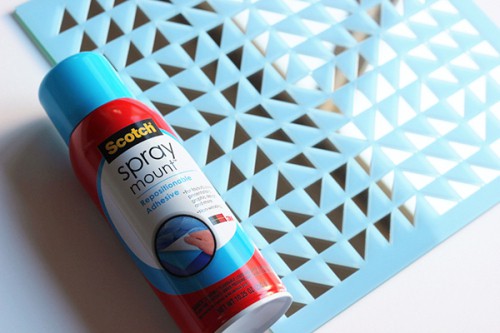 Step 3: Pour some etching cream on a paper plate and roll on mirror. Be sure to roll evenly and carefully to cover the triangles. Leave on for 3-5 minutes, depending on how dark you want to etch the glass. Rolling lends a nubby texture to some of the etchings, which I love and did on purpose. If you prefer crisp and solid, be sure to layer on the etching cream thick with a paint brush.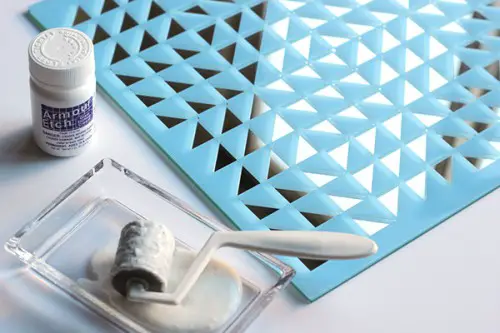 Step 4: After time has passed, rinse with water in the sink. Peel off stencil. Wash both with dish soap, rinse and let dry. Repeat steps 2-4 with remaining mirrored tiles, and don't worry, you can spray the stencil with more adhesive if needed after a few tiles.