2020 Thanksgiving Centerpiece Ideas: The Monkey Flower Group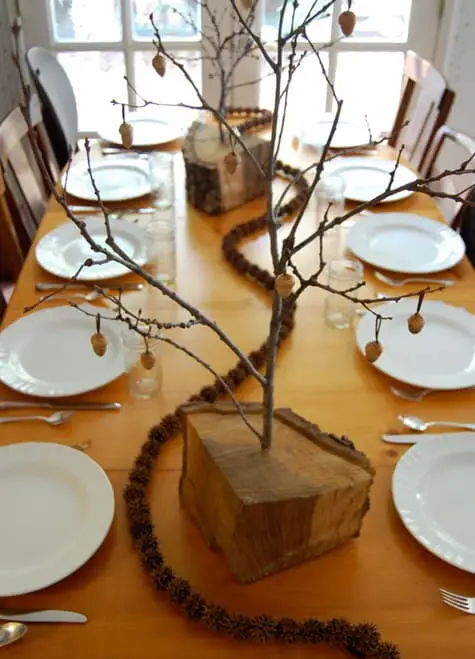 This blog is updated in 2020
We're continuing the Thanksgiving flower guest series this afternoon with Jaime from The Monkey Flower Group! Jaime created this beautiful tabletop display using all-natural materials like acorns, twigs and sweetgum seed pods. I love how simple this idea is, but how easily it could be dressed up or down. Just make a strand or two for a simple display or string 10 to 12 for something far more dramatic, inside which you can nestle additional flowers, feathers or fruit. Jaime's detailed how-to steps are after the jump, so I hope you'll enjoy her project! Thanks, Jaime!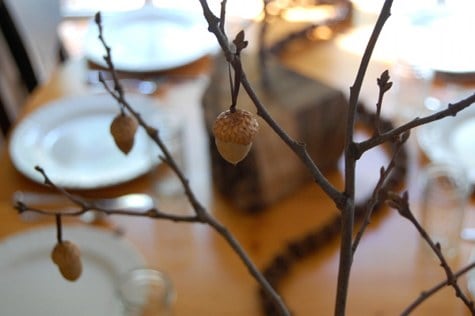 Acorn Ornament Materials
acorn nuts and tops
narrow ribbon
household glue
Twig Tree Materials
branchy twig
wood base (log slice, driftwood, block, etc.)
household glue
Garland Materials
embroidery thread
sweetgum (liquidambar styraciflua) seedpods, or other non-perishable fruit, nut or seed
Tools
oven
oven-safe container
old towel or fabric you don't mind destroying, folded several times to be at least 3″ thick (I used burlap)
power drill and bits (one teeny tiny — I used a 3/32″ — and one the diameter of the twig)
scissors
heavy-gauge florists' wire or a large needle
Directions
1. To make a twig tree, drill a hole in your chosen wood base 2″ deep and the diameter of the twig. Fill the hole with a dollop of
household glue, then add the twig.
2. To make the acorn ornaments, twist the acorn nuts out of their tops and bake them in an oven-safe container for 2 hours at 200F. This should put an end to anything that might be living inside.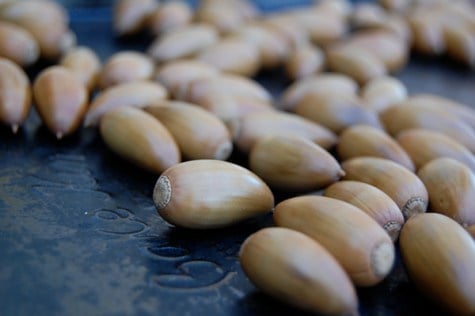 3. Meanwhile, select an acorn top and place it concave-side-up on the folded fabric. With caution, use the power drill to put a hole through the center of the acorn top (you may drill into the fabric a bit; that's why it's there). Repeat this process until you have many nicely drilled tops. Sort through your baked acorn nuts to find those that fit snugly inside the drilled tops. Carefully set these matching acorn nuts aside.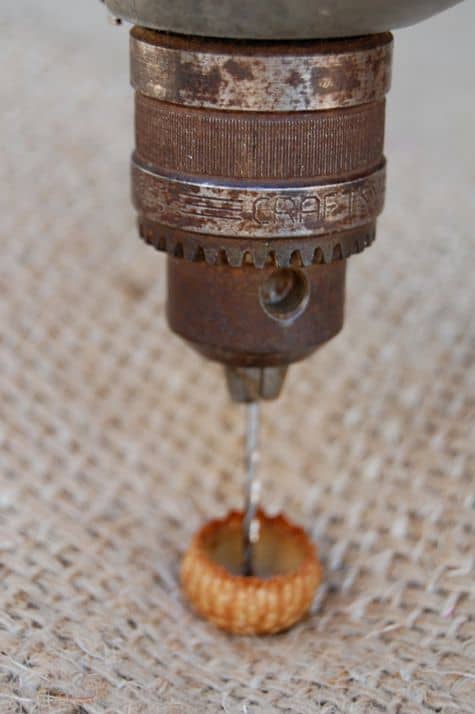 4. Next, cut about an 8″ length of ribbon and fold it into a loop. Tie a knot in the ribbon about 1″ below the loop, then thread the
loose ends through the hole in an acorn top.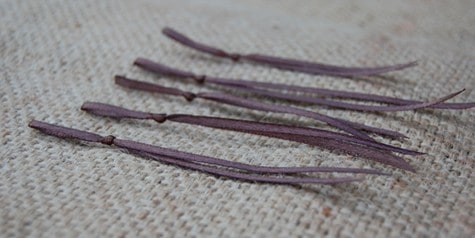 5. Tie these ends together several times to form a loose knot inside the acorn top. Fill the acorn top with a dollop of household glue and snip off any ribbon extending past the edges of the acorn top. Then place the matching acorn nut inside. Repeat this process until you have as many ornaments as you like. When the glue is thoroughly dry, hang them on a twig tree.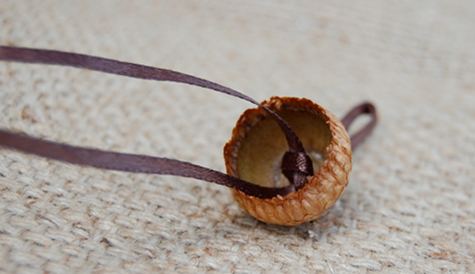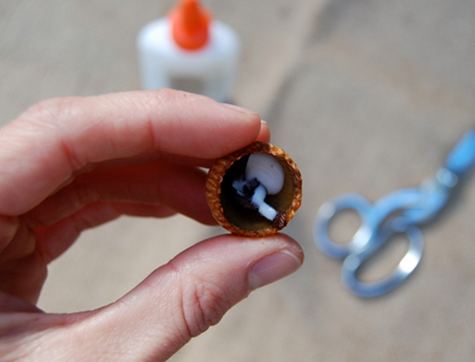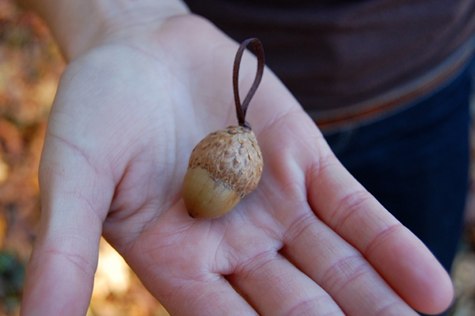 6. To make a sweetgum seedpod garland, drill through the seedpods as you did the acorn tops. Cut a length of embroidery thread a bit longer than you'd like your final garland, then begin stringing seedpods (a folded length of heavy-gauge florists' wire or a large needle is handy for this). Depending on the size of your seedpods, you'll need about 10 per foot. Tie off the first and last seedpods. If desired, finish with a length of ribbon or bow.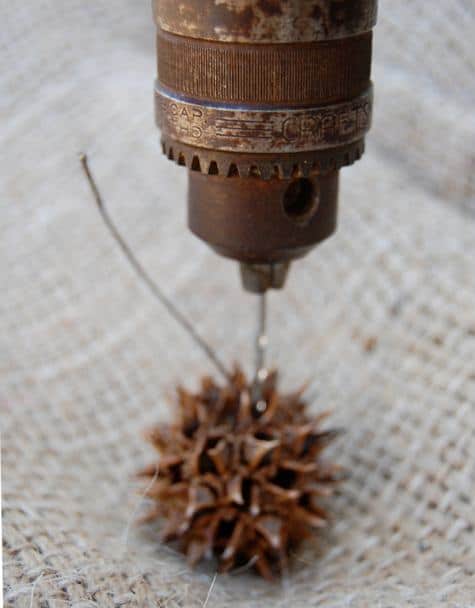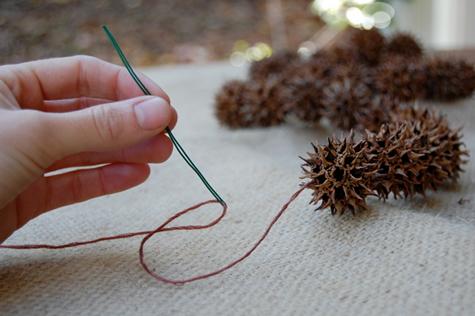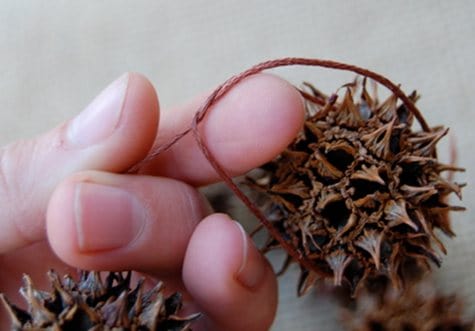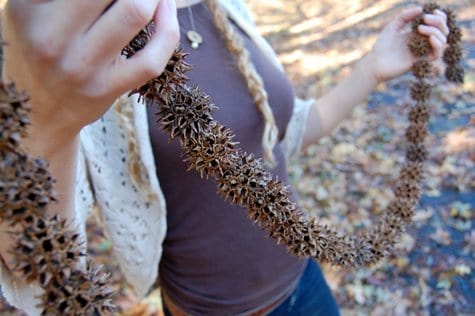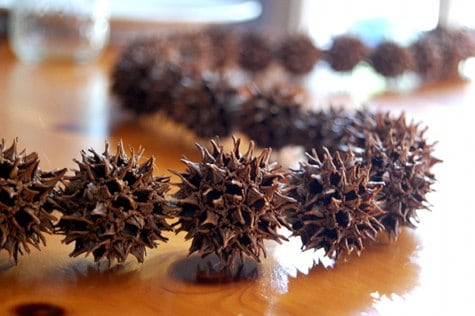 7. Finally, place the acorn ornament-laden twig trees on your table and arrange the garland in a winding path around them.