[2020] Real Simple DIY New Year's Eve Countdown Bags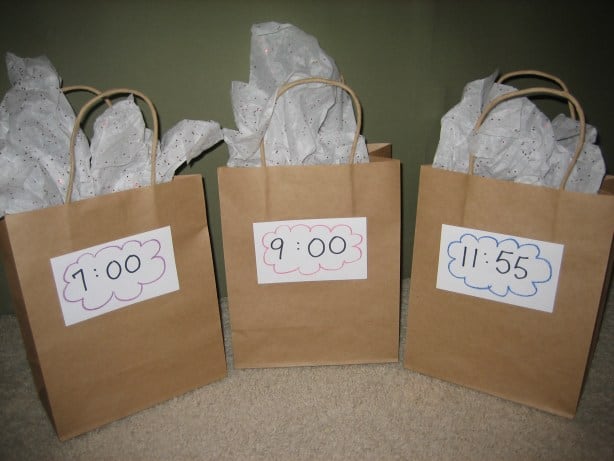 This blog is updated in 2020
I think this new years eve family party idea that I found over at Family Fun is GOOD!
Here are the countdown ideas!
Gather up about 6 bags.
Name each new years eve hourly countdown bag with an hour leading up to midnight, starting with 7 o'clock.
Label one bag with 11:55 pm.
Fill each bag with something fun!
Every hour until midnight the children can open a new year's eve goodie bag and celebrate what is inside!  Isn't that fun?!?  And boy, the countdown bags for new years help pass the time!
Bag Filler Ideas – New Years Eve Goodies
Treats! Pop Rocks, Giant Lollipops, a slip of paper that tells the kids they can decorate their own cupcakes, etc.
Printables! Print out a few activity sheets and have fun decorating your house with the completed projects!
Disposable Cameras! Give each kid a disposable camera and let them take photos of anything and everything to celebrate their final hours of 2020.
Craft Kits! Grab some inexpensive Craft Kits from your local craft store for your kids to put together.  Or head on over to Kaboose for some super easy and New Year's fun craft projects!
New Movie! Slip a new DVD in one of the bags for your family to watch together.  Don't forget to include a bag of popcorn!
Puzzles! Put together some simple puzzles as a family (they totally have these at the Dollar Tree – I am a big fan).
Noisemakers and Confetti! I'd save the noisemakers and mess for that 11:55 pm bag! 🙂  Check out our post about 4 Fabulous Ways to Make Noise for the New Year!
I hope these new years eve countdown activities can provide an unforgettable day at the end of the year. You can also send this new year's gift for neighbors!!
Happy New Year's Eve Countdown Bag-ing!
Staying In & Keeping It Cozy on New Year's Eve ☕️