[2020] Rustic Elegance in Savannah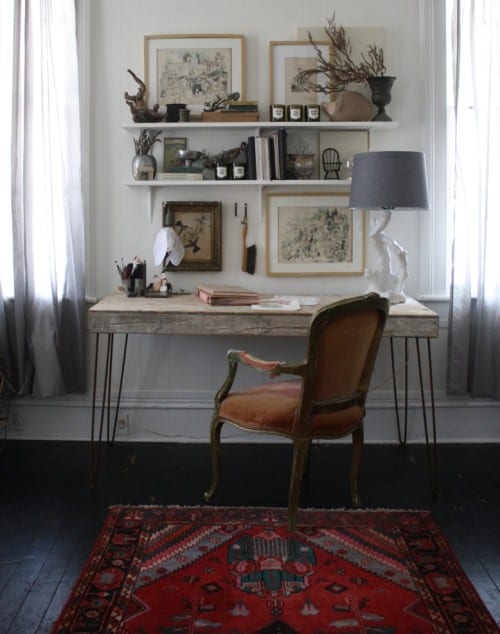 This blog is updated in 2020
Every year, Kelsey Garrity-Riley and Erik Riley host a huge Easter brunch in their Savannah home for all their friends. Everyone brings a little something over to eat, and they relax and sip summery mixed drinks. After dinner, they walk – with drinks in hand (legal in the Savannah Historic District) – the few blocks from their house to Forsyth Park and enjoy the spring weather in the park. Their annual Easter party is a great reflection of how they live year-round – nothing in their home is too precious – everything is well-loved and worn-in, and they are all about nature. The couple met at Savannah's College of Art and Design. (They had to put sketches from their first assignment up on the board and Erik saw Kelsey's. Later that night called his mom and said he knew he was going to marry her. It took another month until they actually spoke, but now they've been married for four years.) When they're not hosting fabulous potlucks, both Kelsey and Erik split their time between working at the amazing Savannah store The Paris Market (Erik writes and takes photographs for their blog every day) in downtown Savannah and doing freelance illustration work. They're now gearing up for their next adventure: a move to New York City. We can't wait to see what they do to a NYC apartment. –Amy
Image above: "The large rug I found while antiquing for the store – and since vintage rugs are one of the few things we don't carry, thankfully it wasn't a conflict of interest," Kelsey says. "I found the top plank of my desk in an alley, I think it must have been a makeshift workman's surface. I dragged it home, cleaned it off, sanded it a bit and added old hairpin legs a friend was kind enough to give me. It's a great size, but I end up covering it in papers and working on the floor instead."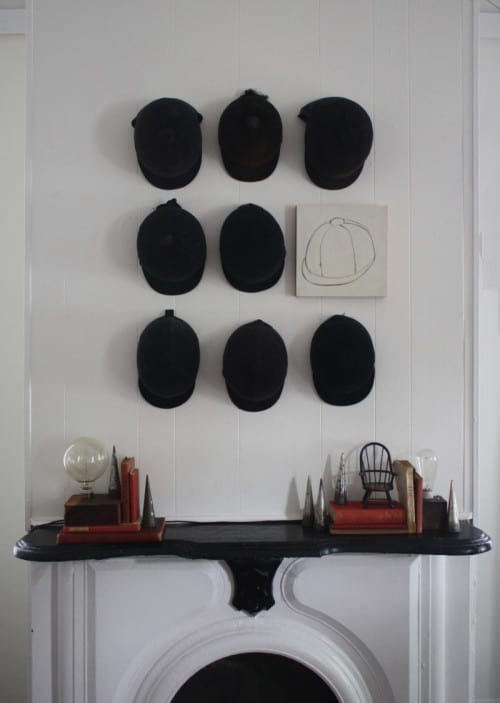 Image above: "I like to change around the display on our studio fireplace. The helmets were gifted to me by a Frenchman in one of my favorite thrift stores back home. There was a whole ball of them tangled together. We were one short of having three neat rows, so we drew out one more to fill in the grid. The block lamps with Edison bulbs are created by my brother, Collin Garrity, and sold through The Paris Market."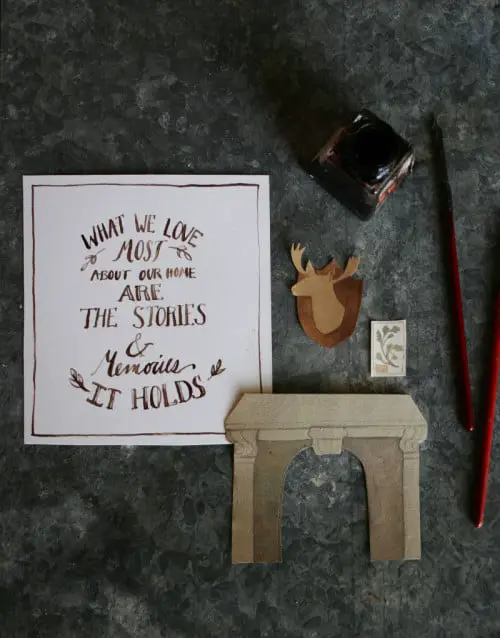 See more of this Savannah apartment after the jump!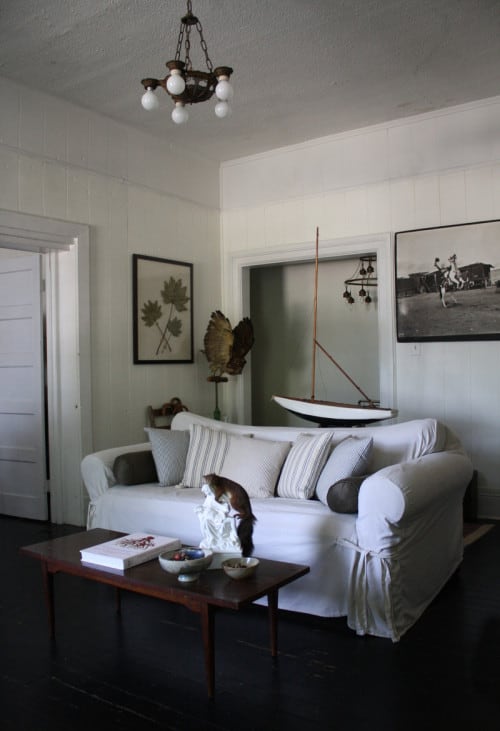 Image above: "We were so thrilled when we found this apartment. Savannah is full of beautiful Victorian homes, now split into top floor/bottom floor apartments. The high ceilings, original lighting and old fireplaces charmed us instantly. The couch was a gift from some dear friends – it actually has the most amazing yellow brocade fabric with monkeys on it underneath, but we've put so much love and use into it that it started to shred – we now cover it in this slipcover we bought at Target."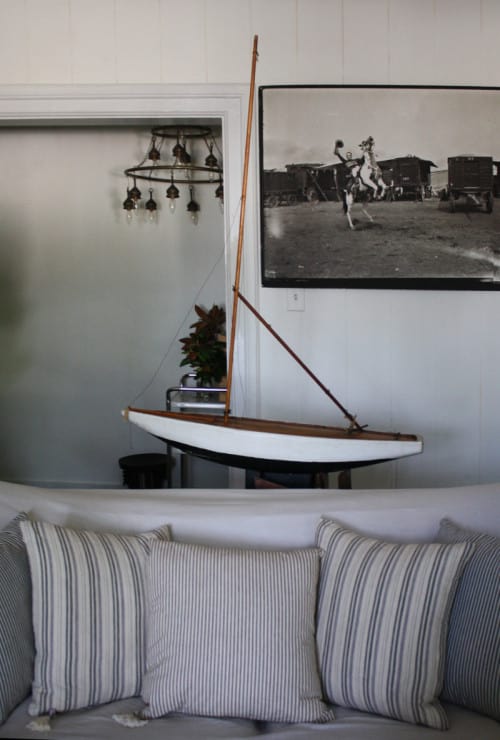 Image above: "We love the calming colors and fabric of these Hedgehouse pillows, and how easily the different stripes mix. The large print is an enlarged vintage photo from a friend. We bought the 1920s boat at a garage sale a few blocks away."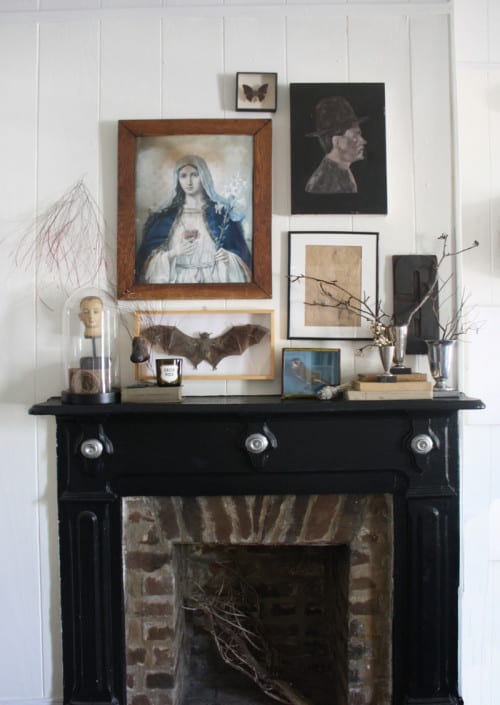 Image above: "The living room mantel is probably my favorite corner of our house. The art and taxidermy are all gathered from our travels, with a drawing of Pistol Pete my dad created at age six and a portrait Erik painted mixed in. I'm something of a pack rat when it comes to bringing in any interesting stick, vine or leaf I find. There is always a rotating parade of branches filling these vintage trophies I brought back from France on the mantel, or nestled in the brick fireplace."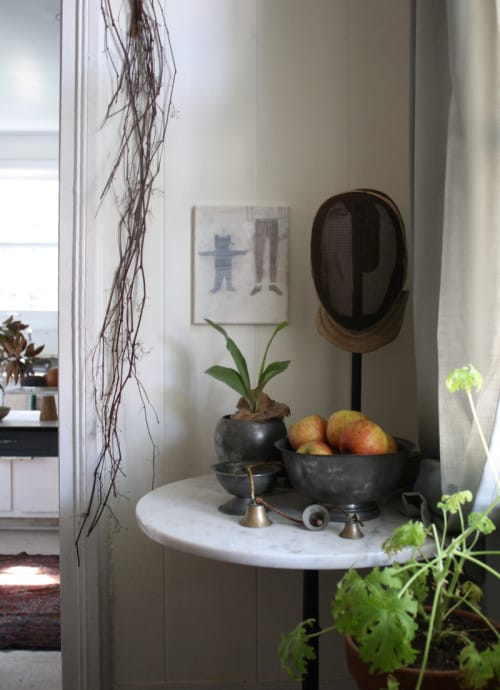 Image above: "The marble bistro table is a beautiful casualty from the store – broken on one side, but a wonderful corner table! It houses my sad, small collection of plants (probably another reason I like sticks so much – they're already dead so I cant do much damage), and a growing collection of pewter dishes I've picked up when traveling for the store. The amazing French fencing mask was a gift from my parents, and the small painting is by Erik."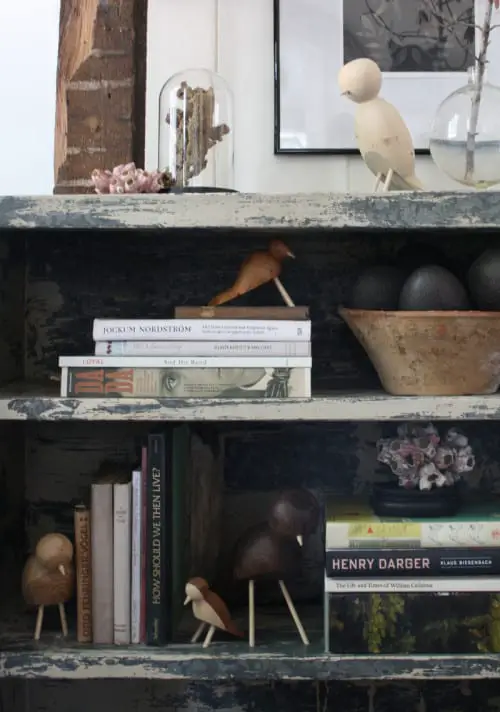 Image above: "The metal shelf was another fortuitous Savannah alleyway find that I dragged home. The wooden beam lamp and wooden birds are all by my brother Collin. We feel incredibly spoiled to get to preview and enjoy all his creations. The barnacle clusters were found out on Tybee island during a low tide."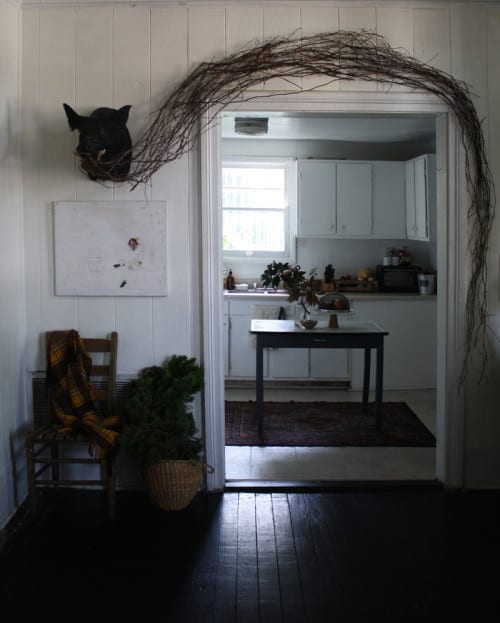 Image above: "The boar's head was bought at a Savannah auction when Universal Trading Company moved locations. The vines were another way of trying to bring the outdoors in. We really love the open flow of our home – the kitchen moving into the living room like it does feels so calming."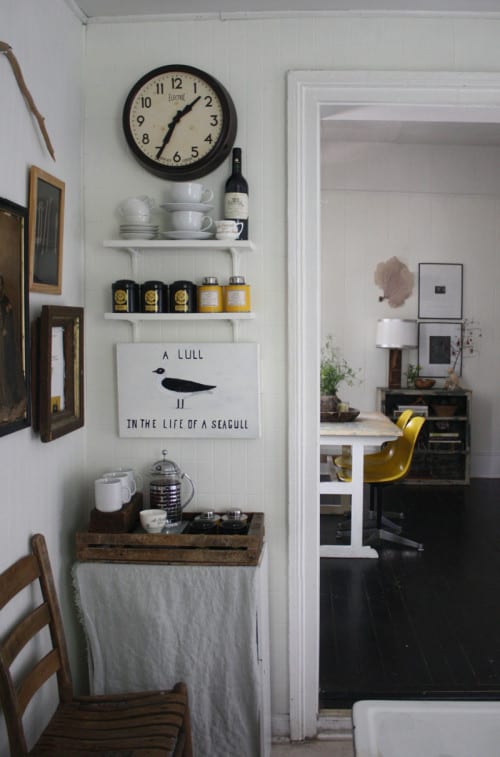 Image above: "Our "coffee corner" houses one of my favorite of Erik's paintings, a clock from the store, and a growing collection of tea caddies (anything Earl Grey is my favorite)."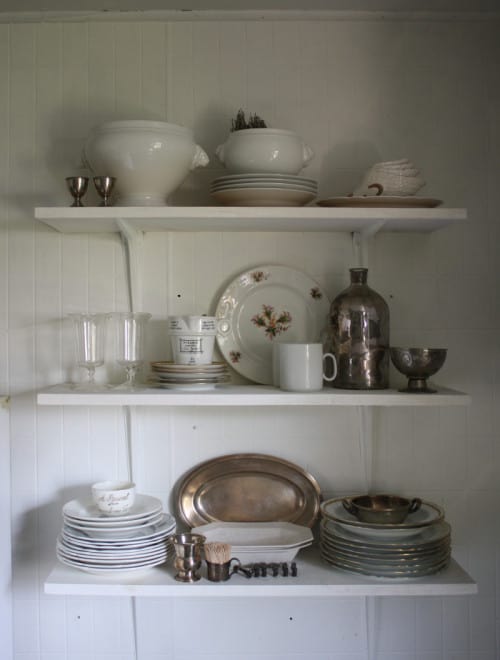 Image above: "We add to our mix of white dishes and hotel silver as we find them. Most of the pieces are ones I've carefully crammed into my suitcases on our trips (with a lot of casualties along the way)."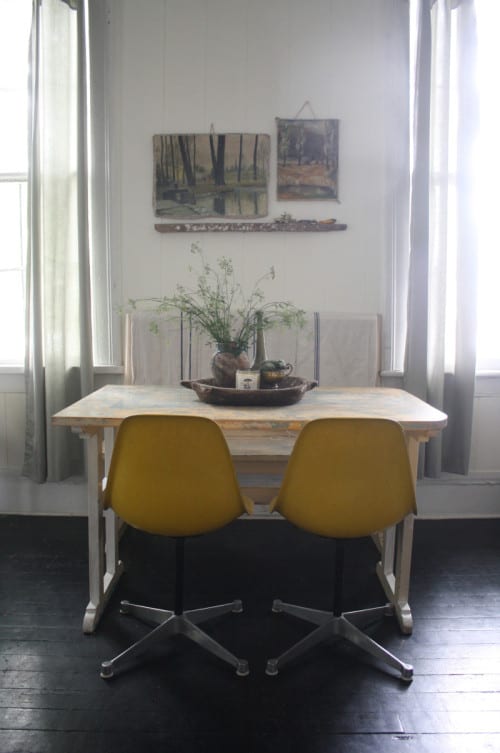 Image above: "We bought this table (originally from an old diner) and two corresponding benches (one here is covered in vintage grainsacks, and the other is in the studio) from The Paris Market, and we absolutely love it. Over the past few months I've been working at stripping down the surface's many layers – right now it's at this wonderful in-between stage. The two vintage landscapes were inexpensive thrift store finds from Brussels that somehow survived the trip home in my suitcase. I love that they are by different artists, but look like they belong together."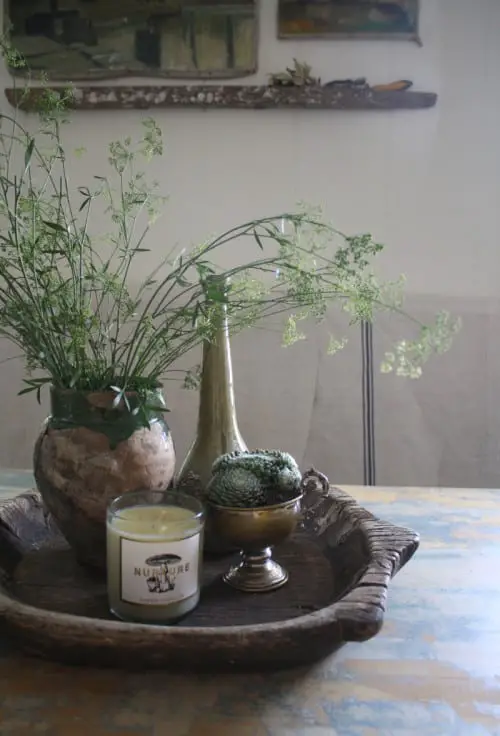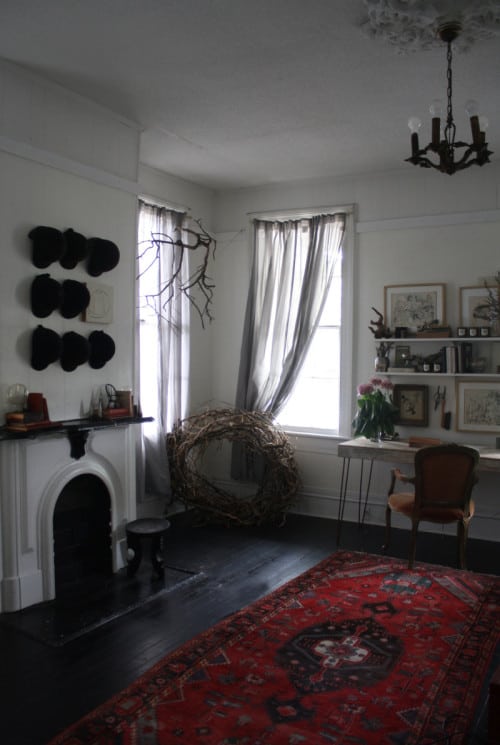 Image above: "The many large windows and natural light have made this room so perfect as our shared studio. The giant nest propped up in the corner was something I wove for The Paris Market's 2013 Easter windows. We also feel super fortunate that we love the floors in our apartment so much – it's mostly the original wooden floorboards throughout, that are now painted black (a little Murphy's oil makes them even better)."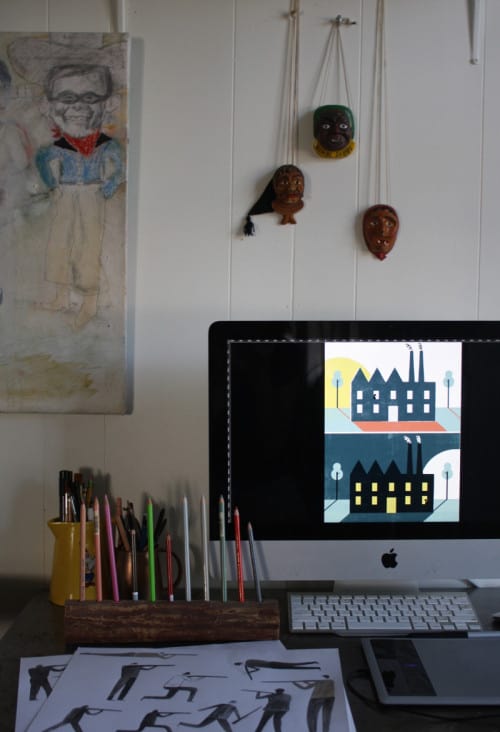 Image above: "Above Erik's desk hangs a collection of small "fasching" masks (a traditional festival from the Black Forest region where I grew up). They're supposed to be frightening, but we find them very charming."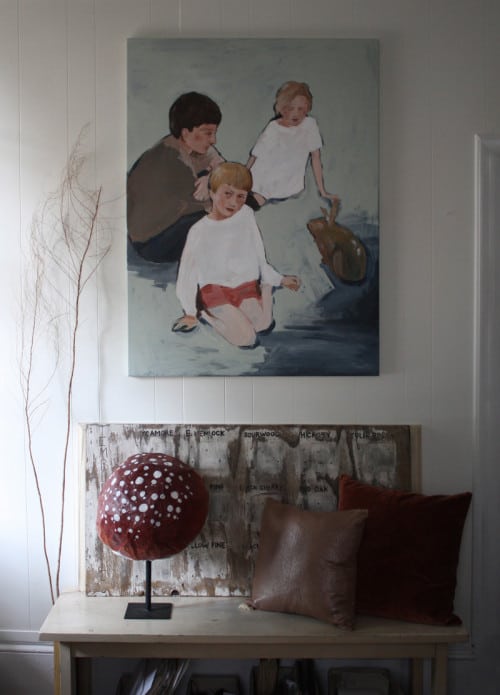 Image above: "The large painting is an old one of mine. The papier-mâché mushroom hat I made a few years ago for my birthday (which falls on Earth Day). We had an "Earth-day Birthday" and all dressed up in some sort of nature-inspired way. I now have my Halloween costume ready for every year to come!"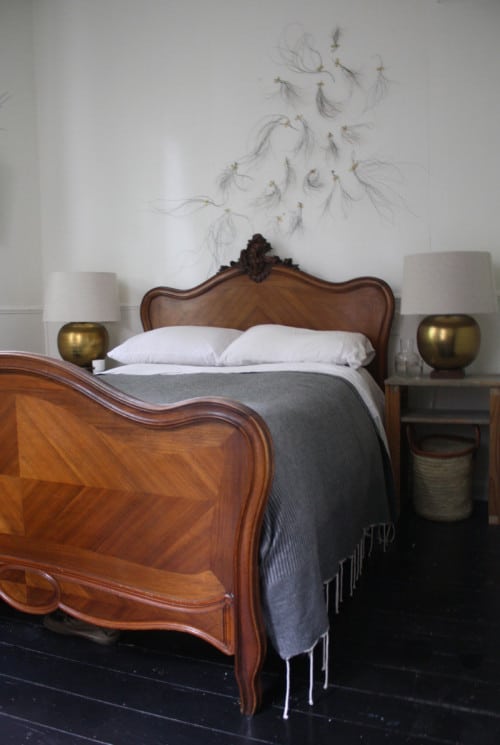 Image above: "The antique bed is from my favorite thrift store back home. In an amazing labor of love, my parents brought it over and drove around the states with it strapped to the top of their car in pieces before arriving in Savannah. My brother Collin has gifted us with so many amazing handmade things over the past few years. I wasn't finding the right side tables, so he made us these using old planks. The grey striped blanket on the bed is from a lovely little shop called Arum in Saint Remy de Provence. The Moroccan shopping baskets tucked under our side tables are from The Paris Market. We used them so much while working when moving product around on the floor that I'm now so used to having them on hand to fill with things when at home as well. The wonderful gold lamps are from The Paris Market."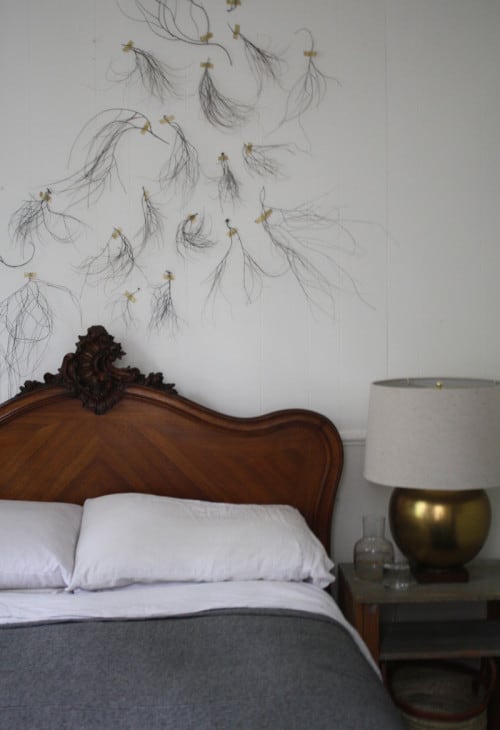 Image above: "I had a growing collection of sea whips I've collected out at Tybee Island, and for a while I wasn't sure how to display them. I like the soft pattern they make simply taped (with gold striped washi tape) en masse above the bed. Their delicate curls even sort of mirror the carving on the bed."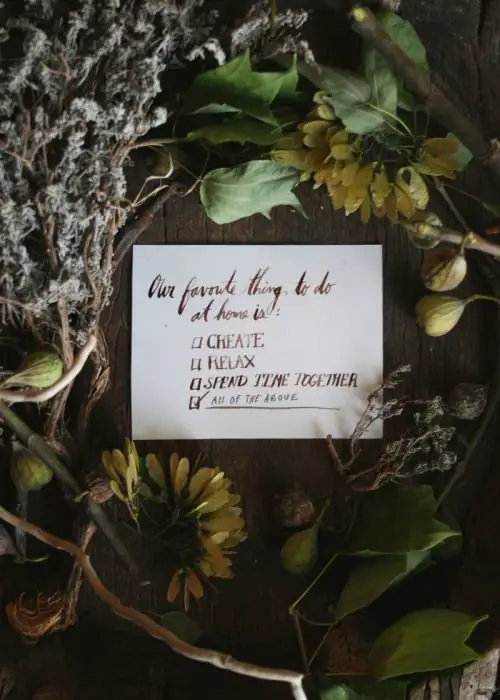 Source List
The paint color (throughout the whole house) is Benjamin Moore, Simply White.
Bedroom
gold lamps – from The Paris Market
bed – vintage from France
striped blanket – Arum, a shop in Saint Remy de Provence
side tables – custom made, Collin Garrity
market baskets – The Paris Market
Studio
large painting – by Kelsey
velvet pillow – The Paris Market
metallic pillow – Hedgehouse
bench – vintage
Erik's metal desk – vintage
block lamps – Collin Garrity
riding helmets – vintage
black stool – brought back from Ethiopia
white plaster stick lamp – Attic Antiques in Savannah
rug – vintage
chair – vintage
desk – repurposed found top + hairpin legs
curtains – IKEA
candle jars – Izola
Living Room
table – vintage
yellow chairs – vintage
paintings – vintage from Belgium
curtains – from Target
tall vase – made by close friend Roy Holm
candle – Austin Press (available at The Paris Market)
grainsacks – vintage
boar – vintage from Universal Trading Company, Savannah, GA
painting – by Erik
wooden birds – Collin Garrity, available at The Paris Market
metal shelf – found
light in hallway – vintage from India
boat – vintage
pillows – Hedgehouse
light fixture – original to the house
couch – gifted, slipcover from Target
coffee table – found vintage
Kitchen
painting – by Erik
clock – from The Paris Market
dishes – vintage