Reasons Why We can't Stop Sexting in Quarantine (2021)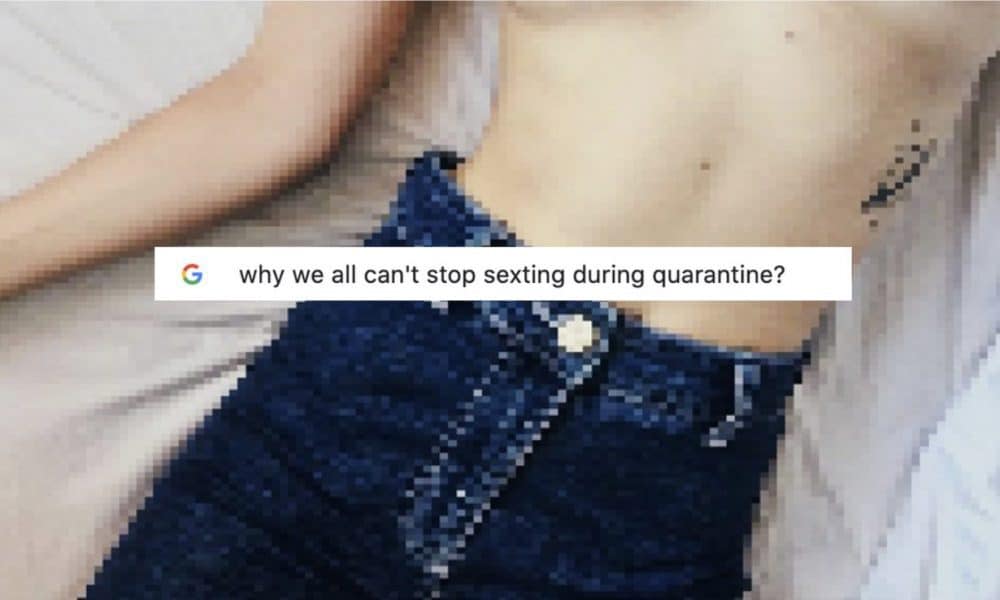 Unwillingly placed in the world of the newest Netflix binge Too Hot to Handle, where contestants are locked in a 'retreat,' outlawed from touching, kissing, or getting physical, GenZ seems to be favouring cybersex during the Coronavirus times – using sexting as escapism through possibly their most traumatic experience thus far, sadly without the $100k reality TV prize.
Non-essential workers are officially beginning to mark off their 40-something-th day trapped at home, and just because people might be homebound without a partner, doesn't mean they aren't keeping busy. According to a survey by Trojan Condoms on sexual behaviour during quarantine, 19 percent of young adults are taking part in masturbation with a partner during lockdown – 21 percent of that being with their ex, and 25 percent with someone new introduced virtually (perhaps the latest swipe right on Hinge).
Besides completely altering our day to day routines, Coronavirus' radical shift in our sex lives might induce some anxiety and raise major questions. We decided to reach out to an expert to figure out why cyber sex is on the rise amidst this global pandemic, and what that might mean for us. Cue Emma Spiegler, a London-based love, relationships, and sexuality coach at Zoe Clews & Associates who works to support clients on their sexual wellbeing through traumatic situations. We gave her a call and asked.
Why can't we stop sexting ?
"It's activating the reward circuit in the brain… People are trying their best to find a way to make themselves feel better at a really difficult time by connecting," said Spiegler. "We're a nation of addicts. I way overuse social media, so many of us do, and so people are just used to getting those fixes."
That means that scientifically speaking, sexting might be the most stay-at-home friendly way to connect intimately that people can find. Every nude photo or sexy text exchanged surges the brain with addicting dopamine hits, making up for all those negative yet another day stuck inside feelings.
Building a connection existing solely on a sexual nature also jumps over the traditional routine taken towards intimacy of having a couple get-to-know-you dates before heading back to theirs. Sexting also reduces the amount of emotional vulnerability shared with a partner, decreasing the chances of getting hurt or rejected when buried in an already emotionally taxing pandemic.
Altogether this sexual connection adds up to fulfilling the ultimate human need of, 'I've got a companion. I've got a connection to someone who is on my side,' in the easiest way possible. TBH, who isn't a little jealous of those quarantining with a partner.
"We're a nation of addicts. I way overuse social media, so many of us do, and so people are just used to getting those fixes." Emma Spiegler
It's okay to build a virtual persona
Although sexting might sound as simple as getting off via the web, it actually can lead to a new identity. Yes, this may be the long-awaited chance to break out that BDSM-inspired look you've never actually worn.
For instance, 20 percent of people said they were exploring new things in their sex lives during quarantine, reported a study by Dr. Justin Lehmiller from the Kinsey Institute. This could mean anything from submissive/dominant relationships, fetishes, or roleplay – which might normally sit outside your everyday comfort zone.
"It's called the disinhibition effect," said Spiegler. "When you're online, you're not actually in front of that person so you lose some of your inhibitions."
Whether this will continue into post-coronavirus life is unclear. According to Spiegler, however, experimenting with new kinks and fetishes is simply just human behaviour of wanting to engage a new connection and keep sex exciting, especially when there are limited options over the phone.
Warning: some things may be different after this
One thing is for sure: We've all been through a shared experience that has completely derailed life as we know it, and this means things are going to be different afterwards. Our sex lives are no exception here.
Immediately shifting from a virtual to physical persona will prove challenging in itself. "It's really easy to be explorative and be a dom or a sub or kinky when you're in a virtual connection, but then when you're actually in the flesh with someone all the inhibitions will come up, and the intimacy issues that they've got," explained Spiegler. "There will be an adjusting period where… they might be able to keep it up for a little bit of time, but then their realness will start to show which could cause issues."
For those with new partners introduced online, the relationship could be as simple as the glossy five pictures and bio posted on Hinge. In real life, however, people's depth shows through in highs and lows, leaving room for everything the disinhibition effect blocks out. Dealing with this requires a toolkit not often found in GenZ – skills in communication, intimacy, and acceptance – possibly leading to some issues once sex turns to real life.
Spiegler's preparatory advice? Maintain realistic expectations about where these virtual connections will end up, practice compassion towards both you and your partners, and choose safety over meeting up.
"It's been difficult… Everyone has been in this together, so there is a collective understanding that everyone suffered," she says. "Hopefully there will be more of a kind of care for people's hearts."
"Everyone has been in this together, so there is a collective understanding that everyone suffered… Hopefully there will be more of a kind of care for people's hearts." Emma Spiegler
Know that there are other options if you aren't into sexting
While cyber sex might be taking focus in people's lives right now, it's a stretch to say everyone feels comfortable being intimate with someone else online.
Luckily, there's no shortage of free online services right now to keep you occupied sans shagging – PornHub is offering free premium memberships right now, DIPSEA is giving free memberships to women, and Naked Grapefruit is giving away free vibrators to those in London. Good thing there's no shortage of time for some self-love.
Emma Spiegler is Love, Relationships & Sexuality Coach at Zoe Clews & Associates https://zoeclews-hypnotherapy.co.uk/