[2020] Philadelphia City Guide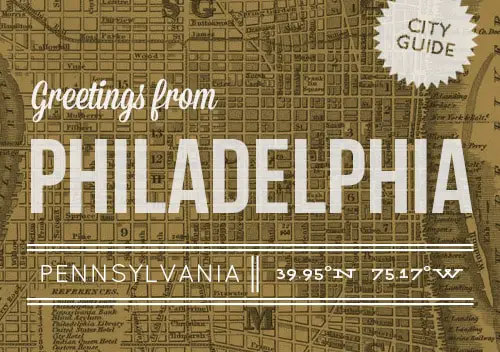 This blog is updated in 2020
Today's Philadelphia City Guide Update comes to us from Sarah Stone, a graphic designer and blogger living in Philadelphia with her young family. While waiting for their old Philly row home renovation to be completed, Sarah and her husband Sean lived in several Philadelphia neighborhoods. They are now happy to call Northern Liberties home, and today they are sharing a fantastic guide to all that is wonderful in dining, shopping, seeing and doing in Philly. Thanks for such a wonderful update, Sarah! —Stephanie
Read the full guide after the jump…
Philadelphia is a city of equal parts grit and charm. It's deeply engrained with history and culture. Like a patchwork quilt, Philadelphia has a distinct feeling from neighborhood to neighborhood. Each has its individual appeal and sense of community, making Philadelphia feel like a much smaller town than it actually is. Philadelphians are a proud bunch, always eager to praise/defend their favorite sports team, or tell you about their recent restaurant find.
Philly is becoming an increasingly popular home for entrepreneurs and creatives. Because of it's proximity to New York and DC, the location provides access to those markets with a much more attainable cost of doing business.
WEST PHILLY/UNIVERSITY CITY
University City is home to both Drexel and University of Pennsylvania, their beautiful campuses are filled with historic architecture and Philly character. As the neighborhood expands west, you find some of the most culturally diverse areas in Philadelphia.
Photos by Austin Hodges , Rachel Hara , and Sarah Stone
Satellite café is a friendly hippy dippy café at 50th and Baltimore. They're nestled below a bike shop and a wild, viney garden. The ambiance is warm and easy going. You can enjoy their delicious wraps or a hearty muffin in the park across the street, or spend your afternoon sipping java over a game of scrabble from their massive shelf of entertainment.
Dock Street Brewing Co. proudly represents Philadelphia's flourishing brewing community (with names like Yuengling, Yards, Philadelphia Brewing company, etc., beer is an important part of Philly culture). You'll naturally come for their award winning beer selection, but be sure to stick around for their wood fired pizzas.
Lil Pop Shop has recently exploded in popularity with two Philly locations, and availability at many local farmers markets. Their West Philly location is adorned with modern, sunny décor that speaks to the flavors of their gourmet pops. It's a great place to take kids, They even have a charming, modern seating area outside if you're worried about the mess! The coconut hibiscus is to die for, as is their seasonal smores pop.
Honest Tom's Taco Shop is directly next door to lil pop shop, and shares the same outdoor seating. They've recently moved up from a food truck to their West Philly storefront. Service is fast and prices are affordable, making Tom's an ever-popular stop for the neighborhood's college students. Whenever possible, ingredients are sourced locally from the Clark Park Farmer's market.
Bartram's Gardens is the oldest botanical garden in the US located in the heart of Philadelphia. It's tucked behind a largely residential neighborhood in southwest Philly. The property boasts some incredibly picturesque views of the city skyline and Schuylkill River in an atmosphere that feels like you've traveled to rural Pennsylvania. The garden is open to the public, with guided tours of the historic Bartram house available April-October.
Kaffa Crossing does a nice job of representing the large Ethiopian population in West Philly. It's the perfect cross of (fair trade) coffee shop and traditional Ethiopian restaurant. This is a great stop for vegans and vegetarians with many options available.
Vix Emporium lives in the space of a former 1960's hat shop, and now sells a wide range of crafts and gifts made primarily by Philadelphia makers. They also participate in many local craft shows and host frequent events.
The Gables is a beautiful, Victorian style bed and breakfast in University City. They're nestled on a quiet residential street, and offer a fabulous breakfast with a side of warm hospitality.
Cornerstone is another bed and breakfast located in University City. They define themselves as a "cozy urban inn." This beautifully restored church-stone mansion was built around 1870, and is family owned and operated.
If you're traveling to Philly, you will most likely find yourself at 30th Street Station anyway. All of the trains and center city airport shuttles head here. 30th Street Station opened in 1933, starting with just two platform tracks (It's now one of the busiest train stations in the country). While you're there, take a moment to look UP. The magnificent waiting room is faced with marble and the coffered ceiling is painted in gold, red and cream. While you're there, stop by the porch on the South side of the building. It's a recently revitalized outdoor area used for community events, exercise classes, and food vendors.
ART MUSEUM
This part of town, of course contains the Philadelphia Museum of Art , as well as many other prestigious museums. It's generally a quieter part of town. The Art Museum connects into Philadelphia fabulously huge Fairmount Park, making it a great part of town for dog owners and outdoorsy city dwellers.
The Barnes Foundation is home to one of the most impressive Post-Impressionist and early Modern art collections in North America. For ninety years, this body of work was housed in Barnes's Estate in Merion, Pennsylvania. The newly constructed 93,000 sq. ft. museum was designed by architects Tod Williams and Billie Tsien, and is described as a "gallery in a garden, a garden in a gallery." Stop by on Friday evenings for live music and special events, or visit for free the first Sunday of every month.
OCF Coffee House is an awesome, bright space in a renovated warehouse. They have lots of space, perfect for spreading out your work of socializing with large groups. They're pet friendly and have several other locations throughout the city.
Eastern State Penitentiary was at one time considered to be the most famous and expensive prison in the world. It's known for grand architecture, and housing notorious criminals like "Slick Willie" Sutton and Al Capone. You'll notice its foreboding high stone walls as you make you way around the neighborhood. It's now a museum year-round, with a spooky night time haunted house tour around Halloween.
Jack's Firehouse is a large, lively pub-style restaurant with great food. They're set in an old 19th century firehouse, directly across for eastern state penitentiary. The ambiance includes a large mahogany bar and "urban waterfall" in their patio area. They're also got one of the best brunch menus in the neighborhood.
Trio is an Art Museum area favorite. It's a little hidden in the neighborhood, with delicious Pan-Asian, Thai influenced food. Ask to sit on their lovely 2nd floor deck, and be sure to BYOB.
RyBread Cafe is another little nook of a café/coffee shop with a beautiful outdoor seating area and delicious food. A cross-country road trip inspired the owners to open this cute café, with sandwiches named in honor of the places they visited.
5 years ago, Northern Liberties was considered thee "Up-and-coming" Philadelphia neighborhood, but now it's pretty well "up". No Libs now contains a great mix of old historic Philadelphia homes, paired with new industrial modern architecture. The residents are primarily young working professionals, and older established Philadelphians. 2nd street and the area around The Piazza have become one of the most lively bar and restaurant scenes in Philadelphia.
Café La Maude feels like you've momentarily time traveled to a sophisticated Parisian café. It's a great place to hang out with your lap top, enjoy pastries, paninis, expertly crafted lattes or fresh squeezed orange juice.
City Planter
(next door to café la maude) is a floor to ceiling, light-filled and incredibly green space. They specialize in garden planters, terrariums, and the plants themselves. It's a great stop for small unique gifts, or indoor plants. They have a huge range of shade loving plants for habitants of Philadelphia's many low-light row homes.
Emmanuelle
is a dark, sultry little speak-easy style bar tucked in the back of the piazza. It has a different, more elegant vibe than many of the gastro-pub style bars you'll find in Northern Liberties. They have a great selection of old fashioned cocktails. Just tell the friendly bartenders what you like, and they'll concoct something magical for you.
The Abbaye is a fabulous little bar with an authentic neighborhood feel. They have an extensive rotating beer list, friendly service, and the daily specials never disappoint. Outdoor seating is available in warmer months, and Quizzo happens every Thursday.
Jerry's Bar 
 is the new kid on the block in no libs, and quickly becoming a neighborhood favorite. This once dive bar was purchased by former regular customers and renovated, the results are pure magic. Sit out on their gorgeous patio for brunch, or stop by later in the day for Jerry's cocktails and potato gnocchi. It's a little bit gastro pub grunge, a little bit fancy, very representative of this neighborhood.
North Bowl
has been a neighborhood favorite for years. It's filled with lively music, arcade games, 2 bars, and of course bowling. It's virtually impossible not to have fun here. A word of warning, show up early if you want to bowl.
Paesanos Forget about that Philly cheese steak, just go to Paesanos. Their Gustaio sandwich (smoked lamb sausage with sun dried cherries) is simply to die for. In fact, all of their sandwiches are. It's cheap, fast, gourmet and authentically Philadelphian. Their sister restaurant Modomio is equally mind blowing, make sure to get your reservations well in advance if you plan to dine with them.
FISHTOWN
Of all the neighborhoods in Philadelphia, Fishtown probably wins the award for most changed in recent years. The main stretch along Frankford Avenue has been revitalized with an array of interesting boutiques, bars, and restaurants. It's one of the more affordable parts of town, which makes it ideal for new businesses and young families. It has a great hipster vibe and very Philadelphia sense of neighborhood pride.
Rocket Cat is a very down-to-earth coffee shop/café that's been around for more than a decade. During the week the place is full of folks working on their laptops, and artists collaborating over coffee. They have some great vegan and non-vegan lunch options, and their ever popular Thai iced coffee in the summertime.
Little Babies takes ice cream to the next level. It's hand made daily, in both dairy and non-dairy varieties. With flavors ranging from chocolate salt malt to cantaloupe creamsicle, everyone can find a variety to please their palette. Little babies shares a whimsically decorated back courtyard and front green seating area with their neighbors at Pizza Brain , the world's first pizza museum and artisan pizzeria.
Adorn Boutique is the petite brick and mortar home for owner Sarah Lewis's jewelry line. It's filled with natural light, gemstones, and wall-to-wall stylish, bohemian jewelry. Adorn uses only reclaimed metals and ethically sourced gems.
Steep and Grind is another newbie in town, and one definitely worth visiting. They've got a great selection of coffee drinks and teas, and a growing lunch menu. Try their homemade chai lattes, available in a wide variety of flavors. Shimmery wallpaper, modern furniture, and a killer indie playlist further add to the enjoyment.
Two Percent To Glory is a distinctive, meticulously curated collection of high end vintage goods. The "Two percent" in the boutique's name refers to the percentage of your purchase that goes to charity. Sarah, the shop's owner, has a passion for beautiful things and their story. She sources or makes all of the products herself. Two percent's originality have quickly been noticed by many stylish Philadelphians, as well as beatnik brands like Philly's own Free People.
Bottle Bar is both a bar, and carry out shop. Grab your beer from their truly extensive selection, and then hang out at the bar or take it back to your place. They've got a lively lofted area with foosball and fun that may sway you to stay.
Loco Pez
is a grungy, cool little spot specializing in LA Style street food. They refer to themselves as a "defunct Fishtown dive retooled into a friendly neighborhood pub 'n taqueria." It's a pretty accurate assessment. Order a cerveza and just about anything on the menu.
Taconelli's Pizzeria is an experience, not just a meal. This is not the quick corner shop pie you're used to. It's recommended that you call ahead to order your dough, but not always necessary. Sit back, relax, it'll be worth the wait.
OLD CITY
Old city is a part of town with the highest concentration of boutiques and art galleries. It borders Independence mall and the US constitution center http://constitutioncenter.org, one of the most historic parts of the city. After dark, old city turns into a nightlife hot spot.

Menagerie Coffee is another new kid, making a big impression in this historic neighborhood. It's all about the details; fern shapes on the top of your latte, gorgeous mint light fixtures and tree stump side tables, the perfect dusting of sugar on your ham sandwich brioche roll. It's a sweet little spot worth your time.
Third Street Habit is perhaps the most "high end" boutique in old city. Their collection is small but mighty. It's hard to find a piece in the store that you wouldn't want to take home with you. They have a gift for choosing clothing that's on trend and chic, and the staff is always friendly and helpful.
The Clay Studio teaches many classes and workshops, including a monthly date night wheel throwing session. They have a gallery that's open to the public where they unveil their exhibition of the month on first Friday.
Art In The Age is a boutique/gallery/artisanal spirit producer based in Philadelphia. They have a beautifully curated collection of clothing and home goods and offer frequent events and exhibitions. They don't sell their spirits in store, but keep your eyes out for root, snap, rhubarb, and sage around town, or find them at any Philly liquor store before you hit the road.
Smak Parlour is fierce and feminine boutique located on Market Street. They offer a great variety of fun fabrics, graphic ts and trendy accessories at a reasonable price point. Keep an eye out for their "fashion truck", which is essentially a condensed version of their shop on wheels.
Eulogy is a casual pub style restaurant in old city with a selection of over 300 beers. They offer a full menu of American and Belgian style foods.
Mode Modern is a furniture and home goods store specializing in mid century modern furniture. Stop by and marvel at their museum quality collection of vintage finds, or browse their selection of new items from Herman Miller and Modernica.
SOUTH PHILLY
South Philly, (meaning South Street, and everything further South) has been and continues to go through a state of transformation. Despite all of the changes, it is a very close-knit collection of neighbors. Despite length or residence or cultural background, it seems as though you can't walk a block without bumping into someone you know. People still keep tabs on their neighbors and everyone has their favorite local shops that they frequent simply because of the relationship with the owner or other patrons. South Philly is driven by a strong code of loyalty and community.
Philadelphia's Magic Gardens is a project of passion by mosaic tile artist Isaiah Zagar. This 3000 square foot, once abandoned lot has been transformed into a gallery, sculpture garden, and work of art. In 2002, the owner of the lot decided to sell. The local South Philadelphia community joined together to form a non profit organization that preserved Zagar's work. PMG is open to the public year round, and other examples of Zagar's distinctive mosaic art can be found throughout South Philly.
Royal Tavern serves the best burgers in the city, it's what dreams are made of. They have an extensive craft beer selection, and quite a few options for vegetarians and vegans. The ambiance is dark and usually pretty quiet. It's great atmosphere for a casual date.
B2, on the corner of Passyunk and Dickinson is one of the best coffee shops in the city. They offer a great selection of vegetarian and vegan items, one of their most popular items being the smoothies. Give the peanut butter and banana smoothie a try, with a shot of espresso! They also have a constant showcase of amazing local artists.
POPE , short for pub on Passyunk east is, is directly across the street from B2. It's a friendly neighborhood bar with a great beer selection and beloved jukebox. They serve classic American food, and brunch on the weekends.
Fante's in the Italian market is heaven for those who cook and believe in the old "right tool for the job" philosophy. They host frequent demonstrations and book signings, making even the most amateur of chefs feel welcome.
Moon and Arrow has lived along fabric row for about a year now. It has become know as one of the most charming and inspiring shops around. They feature their own custom jewelry line, select vintage pieces (for guys and gals), and one-of-a-kind treasures for home and hearth.
CENTER CITY
Most cities would refer to this part of town as downtown, but in Philadelphia it's Center City. This is the hustle and bustle part of the city. It's where skyscrapers, hospitals and big business are located, but also contains some of the most extravagant residences in Philadelphia. Center City is home to a variety of lush parks, shopping and dining.
Di Bruno Brothers is part gourmet grocery store and part café. They have 4 locations around the city offering the best meats, cheeses, chocolates, and gourmet oils. Upstairs at DiBruno Bros is the café located on the second floor of their Rittenhouse Square location. It's a very popular lunch spot within the bustling Center City business district.
Nodding Head is a calm and friendly brewery/restaurant located on Sansom Street. With a large, open floor plan you can sip one of their handcrafted beers, enjoy the game, or play darts with some friends. They've won a long list of awards for their brews, but they don't like to brag about it.
Le Meridien = is a chic, modern, boutique hotel on a quiet side street just across from city hall. Striking features and architectural details are sure to please even the most particular of guests.
After nearly 50 years in center city Philadelphia, Knit Wit , and remains a big name in Philadelphia's upscale clothing scene. They specialize in clothing and accessory lines that accommodate styles from urban chic to feminine classic.
Tria is a relatively casual but elegant neighborhood bar specializing in wine, cheese, and beer. They have two locations in the Center City neighborhood, and offer fermentation education classes every Sunday.
Talulah's Garden is located in Center City, on Washington Square. The garden itself is a romantic, green hideaway in an otherwise metropolitan area. The food is delicious and the ambiance elegant, without being pretentious.
The Corner in Midtown Village features simple, delicious American style cuisine. It's a great space with great food. Be sure to ask for second floor seating and enjoy the fabulous view!
Famous Philadelphians: The Roots (Questlove has a home in northern liberties), Will Smith, Tina Fey, Patti LaBelle, Grace Kelly, Noam Chomsky, Alexander Calder- sculptor and creator of the mobile (his grandfather created the william penn statue on the top of Philadelphias city hall)