[2021 New Year Party Decoration Ideas] 4 Ways Get Your Friends And Family Right Into New Year Mood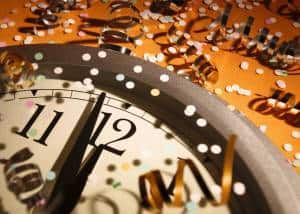 This blog is updated in 2021
I was a very active child (just ask my dad –  he will probably tell you that I am the reason for his grey hair) and I loved to make noise in New Years' eve party favors.  New Year's Eve was a great time to be LOUD. There are many ways to make noise words.
So, let your Happy Buddies ring in the New Year (seriously, your ears will be ringing) with one of these great ideas…
Amazing Info On This Page
1.  Pots and Pans 
The best memories I have of New Year's Eve are the ones when my parents would not only let my brothers and I stay up until midnight, but also they would let us run around outside our house banging pots and pans.
I loved the freedom of being allowed to go bananas. 🙂
Just pull some pots and pans from your cupboards, set your kids up with spatulas or wooden spoons, and as soon as the clock strikes 12, head outside and bang away.  Don't forget to shout, "Happy New Year!" to all the people you wake up. 🙂 This will be the best new year's eve party ideas 2021 ever!
2.  Balloon POP
If you're not afraid of the sound of popping balloons (the Happy Hubby is not a fan), then this is a great idea for your Happy Home.
How Does She? is blowing up balloons and labeling them with each hour leading up to the final moment.
As each hour strikes, the Happy Buddies can take down the corresponding balloon, pop it, and find activity inside.
Or, use a funnel to pour confetti (make your own confetti by recycling all those paper holes from the hole-puncher) into a deflated balloon.  Blow the balloons up and have them floating around until the clock strikes 12 when the kids can try sitting on them to bust out some noise.
Instead of activities or confetti, you could also fill the balloons with money (woot woot!), homemade coupons (good for 30 extra minutes before bed, etc.), or even an encouraging note from you. 🙂
All the content in this blog is the property of aninspiring. Kindly refrain from plagiarising the content of this blog.
3.  Homemade Noisemakers
Make your own new years noise makers craft by pouring a handful of beans, rice, buttons, or beads, into an empty water bottle (or paper plate).  Glue the cap on so that when midnight hits there won't be an unexpected shower of beans – or I guess that could also be a lot of fun. 🙂  Have your Happy Buddies decorate their shakers with stickers or construction paper.
4.  Bubble Wrap Stomp
Grab some bubble wrap (make sure it's the kind with the BIG bubbles) from your local packaging supply store for some real new years horn sound effect.  Lay it out on your driveway or another indoor hard surface.
When the clock strikes 12, have everyone stomp on the bubble wrap.  You will not even believe how much fun is to stomp on the Stomp Floor to make noise words.
Happy New Year Noise-Making! 🙂
Staying In & Keeping It Cozy on New Year's Eve ☕️
All the content in this blog is the property of aninspiring. Kindly refrain from plagiarising the content of this blog.