Top 14 Luxury Chocolate Advent Calendar 2021 For Sweet lovers Countdowning to Christmas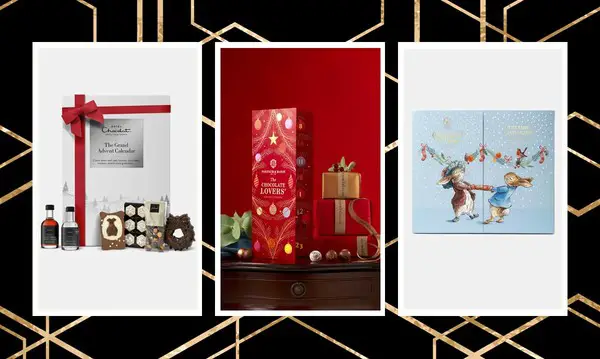 Forget all these new-fangled options – the original and best way to countdown to Christmas will always be a chocolate advent calendar – especially a luxury one. Am I right?
This year has been a tough one, to say the least – so we all deserve a big treat as we approach the festive season, and there's no better way to start the day than with a divine little indulgence with your cup of tea.
There are some mouth-watering chocolate advent calendars up for grabs this year, from Hotel Chocolat's iconic Everything Advent Calendar to Reese's offering that will send peanut butter choccy fans wild. This is going to be a hard choice to make – keep scrolling and good luck!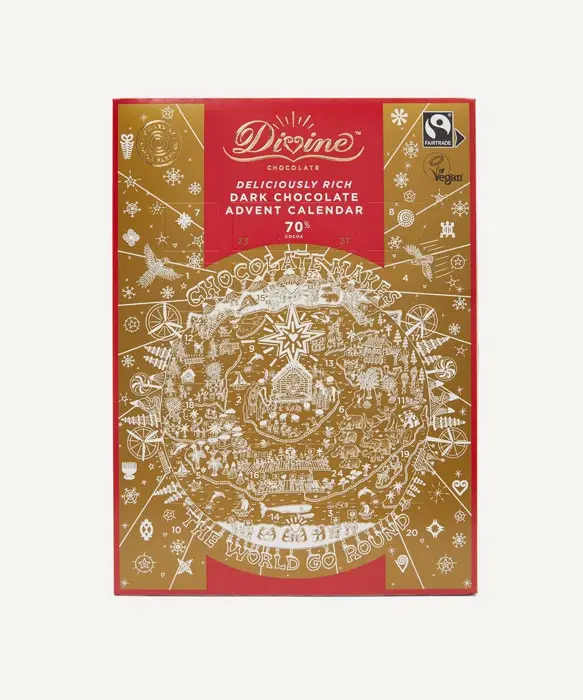 Divine Chocolate dark chocolate advent calendar, 6.95, Liberty London
If dark chocolate is the only one for you, then it has to be the fairtrade dark chocolate advent calendar from Divine. Each December morning means a new window to open, with a piece of delicious dark chocolate – and an interesting world fact – behind every one. There's also a milk chocolate version!
Highlights: The chocolate treat is the same every day, but you can be satisfied by the fact that the Ghana-based company uses only fairtrade ingredients and uses Ghanaian cocoa beans – some of the most sought-after in the world.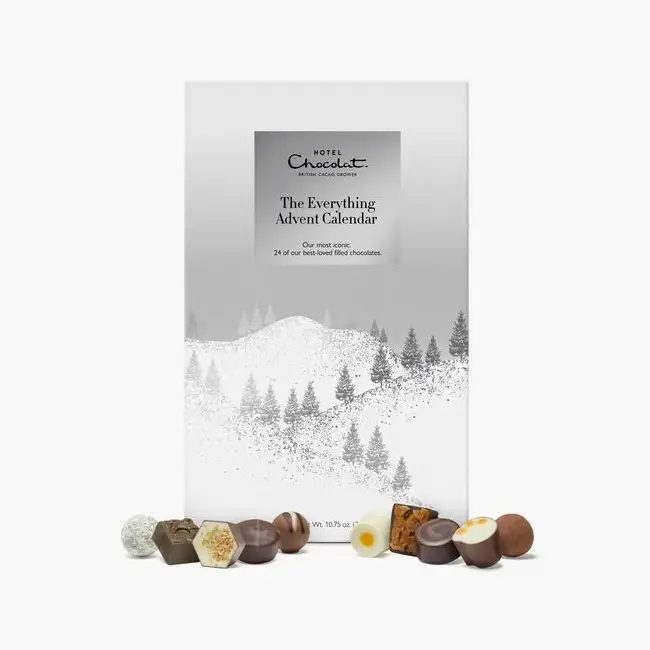 The Everything Advent Calendar, £26, Hotel Chocolat
Hotel Chocolat's Everything advent calendar really is a gourmet option for serious chocolate fans – it features 24 of the luxe brand's best-selling chocolates from all their flavour genres. So hard not to eat them all at once!
Highlights: Rasberry Smoothie, Salted Caramel Cocoa Vodka and the Apple Strudel chocolate.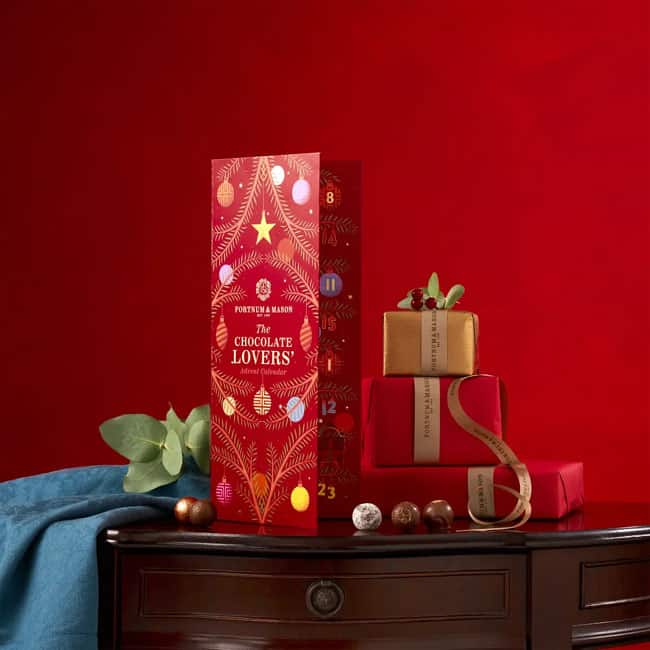 Fortnum's Truffle selection advent calendar, £35, Fortnum & Mason
Truffle fans – this one's for you. A truffle treat every day, and not just any old truffle – a premium Fortnum & Mason's truffle at that!
Highlights: Marc de Champagne, Christmas Pudding, Butter Biscuit and the Salted Caramel truffle.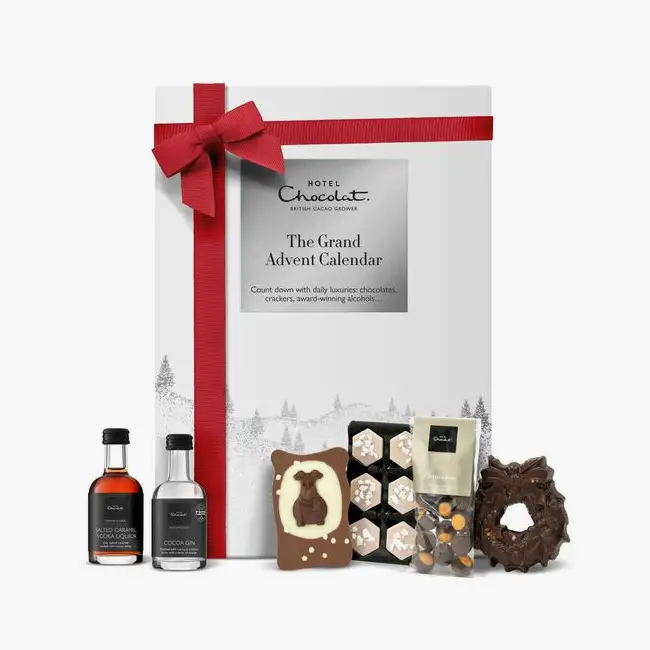 The Grand Advent Calendar, £68, Hotel Chocolat
Want to take your chocolate advent calendar game to the next level? Hotel Chocolate's deluxe option features 24 decadent chocolate snacks including slabs and crackers and some award-winning chocolate-themed liquors. We don't recommend having this one for breakfast, but it'll be something to look forward to at the end of every day.
Highlights: Salted caramel vodka liquor, salted caramel & pecan nano slab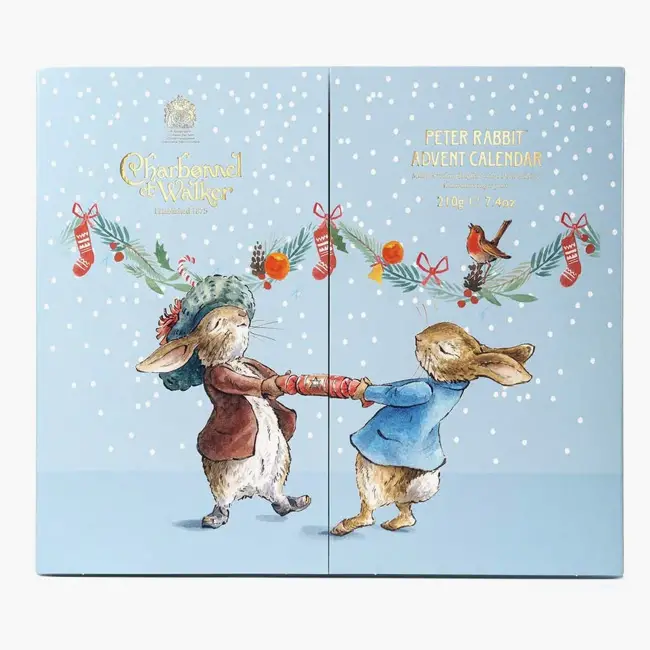 Charbonnel et Walker Peter Rabbit advent calendar, £25, Amazon
This beautiful chocolate advent calendar contains 24 truffle treats which are hand finished to the traditional recipes of Parisienne chocolatier Madame Charbonel. Pre-order now to get one in time for December!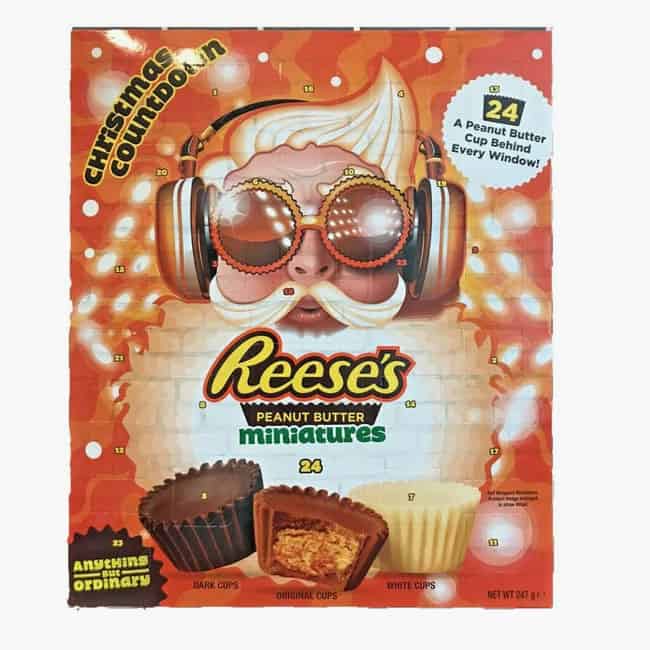 Reese's peanut butter miniatures advent calendar, £11.99, Amazon
There's a delicious Reese's peanut butter cup behind every window in theis chocolate advent calendar. There's nothing quite like the combo of salty peanut butter and sweet delicious chocolate – and there's a special surprise waiting behind door number 24!
Highlights: White peanut butter cup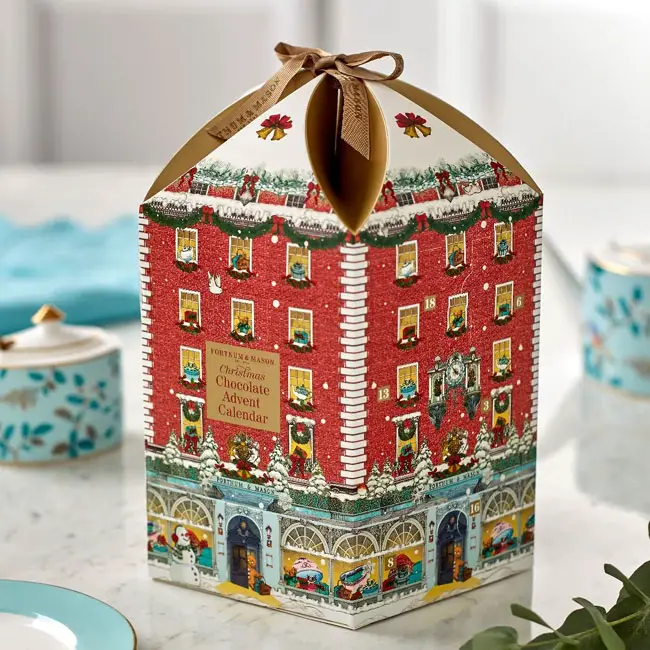 Fortnum's Piccadilly advent calendar, £22, Fortnum & Mason
Fortnum's carousel-shaped chocolate advent calendar hides a festive shaped treat behind each door made from their high-grade Colombian milk chocolate with notes of cocoa and malt and a delicate floral finish.
Highlights: Each chocolate is the same recipe, but there are lots of cute Christmassy shapes to discover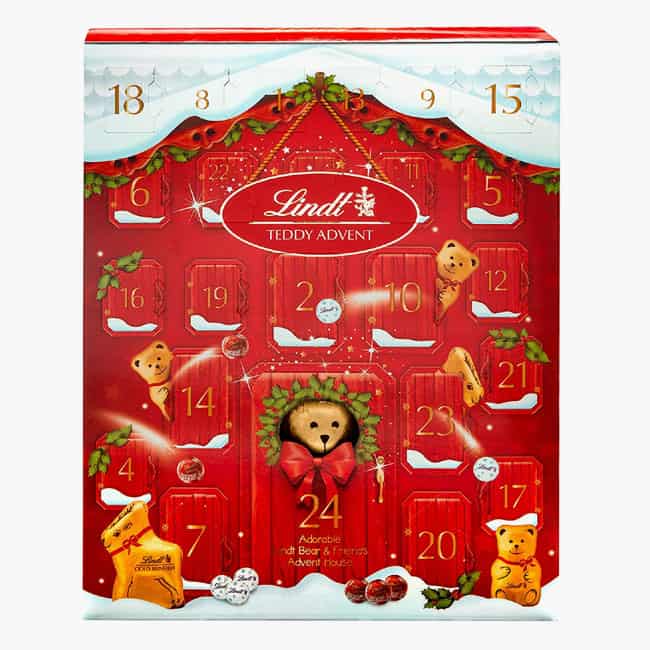 Lindt Teddy Advent calendar, £8, Amazon
Lindt chocolatiers have 165 years in the trade so you can be sure this chocolate advent calendar is going to be delicious. There are 24 Lindt choccy treats, including their gold-wrapped teddies and reindeer as well as Mini Truffles and Swiss Milk Napolitains.
Highlights: The full-sized gold-wrapped Lindt chocolate teddy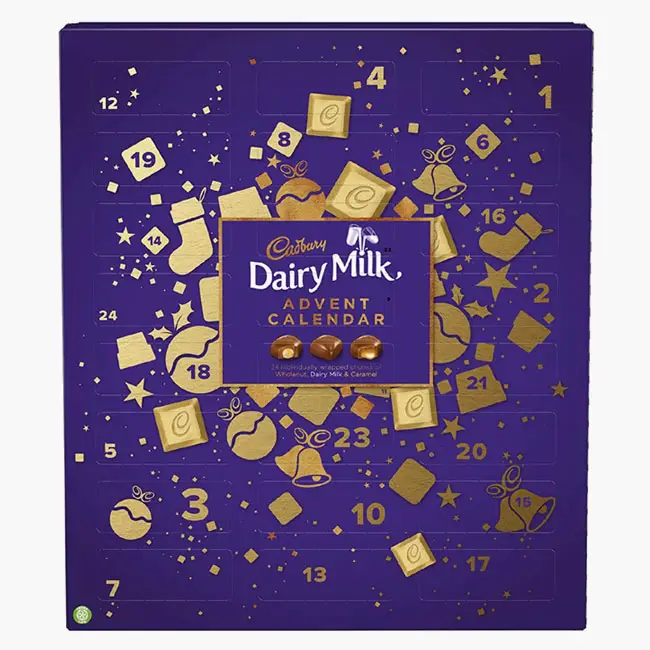 Cadbury Dairy Milk chunks advent calendar, £11.99, Amazon
The chocolate advent calendar for those who want a classic treat to enjoy as they countdown to Christmas. Filled with creamy Cadbury Dairy Milk filled with walnut, dairy milk and caramel.
Highlights: Call me old-fashioned, but there's nothing quite like caramel-filled dairy milk!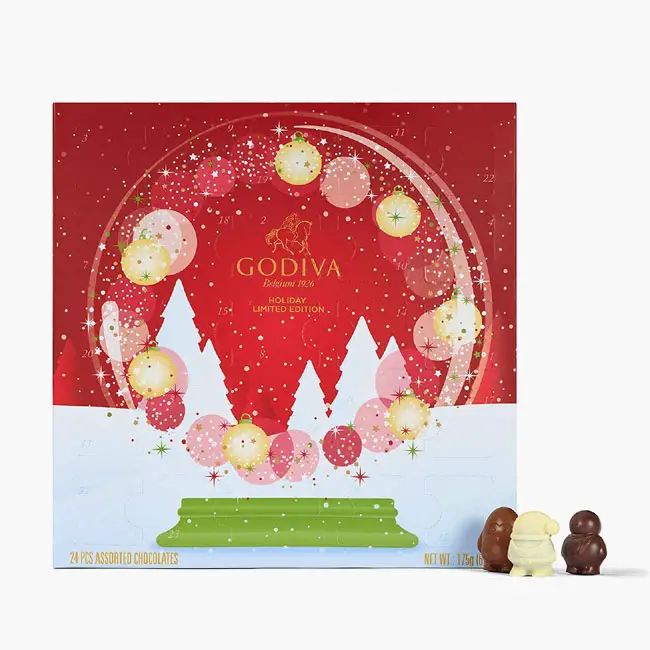 Godiva Chocolate Christmas 2021 advent calendar, £20, Amazon
Godiva's luxury chocolate advent calendar ships at the end of October, but order now to avoid disappointment, it's a limited edition, so once it's gone, it's gone! The Belgian chocolatiers have served up a variety of milk chocolate almond bites, dark chocolate carrés and a selection of milk, dark and white sujets.
Highlights: Milk chocolate hazelnut praline, chocolate ganache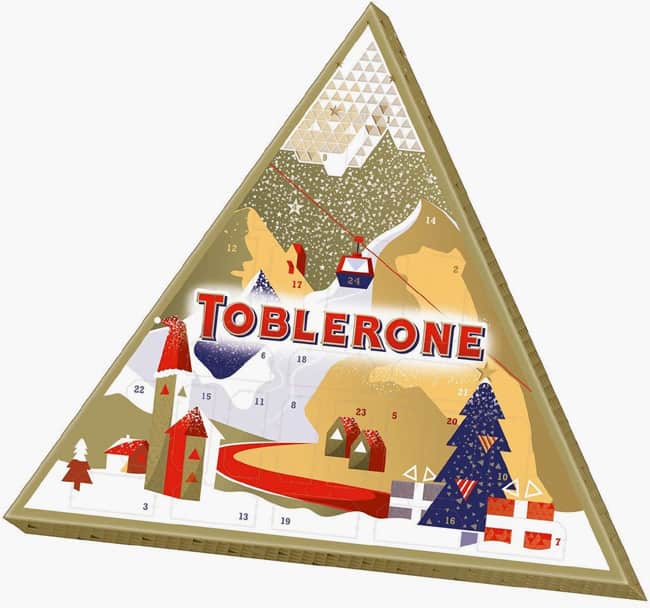 Toblerone advent calendar, £9.99 Amazon
The ultimate chocolate advent calendar for fans of the famous Swiss choccy triangle. There are 25 treats in this one, which is a nice touch since most of the others stop at 24!
Highlights: The salty crunchy almonds Toblerone edition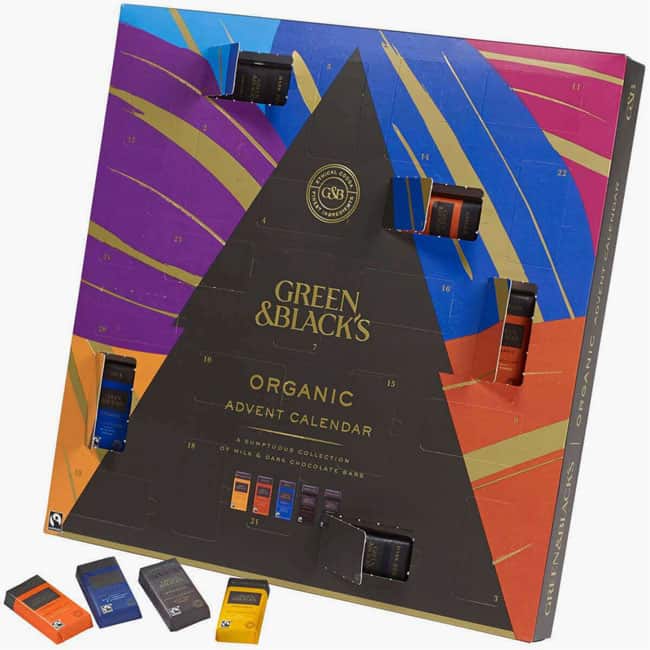 Green & Black's organic chocolate advent calendar, £12.99, Green & Black's
There are 24 mini bars or dark and milk chocolate to enjoy in Green & Black's organic chocolate calendar – and the flavours are just amazing!
Highlights: Milk with butterscotch, Dark with Ginger.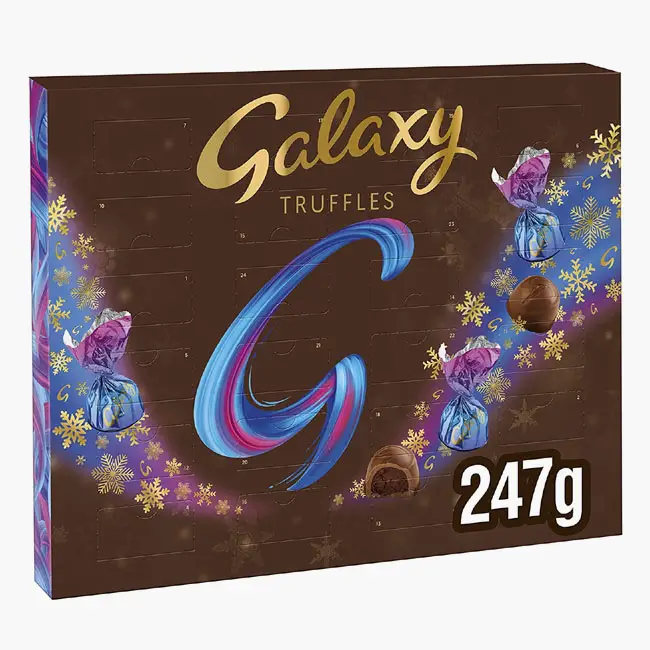 Galaxy truffles premium advent calendar, £9.99, Amazon
As if Galaxy wasn't yummy enough to start with, you can get a delicious Galaxy chocolate advent calendar with 24 individually wrapped truffles to open.