[2021] How to Mince and Freeze Garlic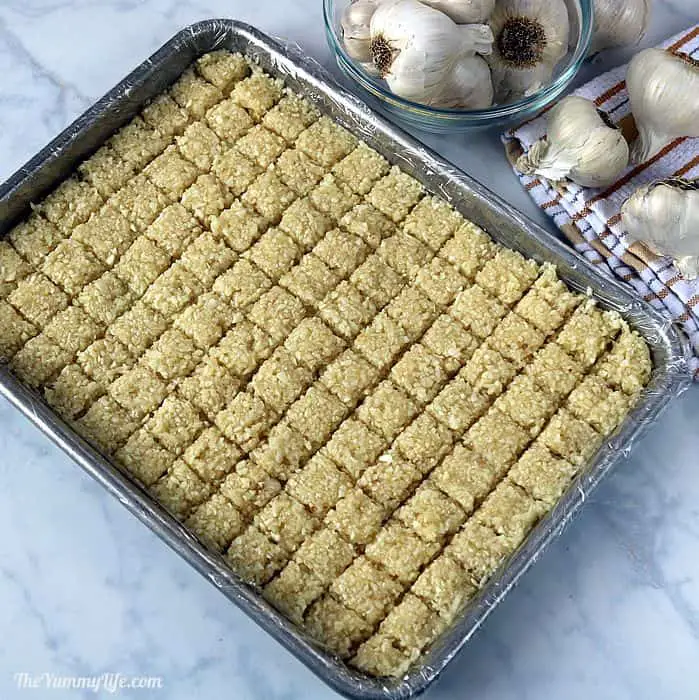 This blog is updated in 2021
If you cook with garlic regularly as I do, it can be tedious to peel and mince it for meal after meal. We're big garlic eaters. In fact, hardly a day goes by that I don't add garlic to something I'm cooking. But, honestly I get tired of the prep part of cooking with garlic. Peeling it, mincing or chopping it, and often I have a bit more or less than I need.
I've solved that problem for good with this easy method for mincing a bunch of garlic in advance and freezing it in easy pre-measured teaspoon portions. When I need garlic for a recipe now, I simply open my freezer, pull out a bag of frozen garlic, and break off a square. It's easy to portion, easy to freeze, and especially easy to break off pieces of garlic as I need it.
In addition to convenience, it's a money saver to buy garlic in bulk and prep it in advance. This freezer garlic is much less expensive than those jars of minced garlic at the store, and it tastes so much better! I often buy a big bag of garlic bulbs or peeled garlic cloves when I'm going to be doing a lot of cooking. But, invariably, I still have a bunch of garlic left, and I don't want to let it spoil. The mince-and-freeze method I'm explaining here is a great way to use up leftover garlic. Or, you can buy garlic specifically for the purpose of mincing and freezing it ahead. I can't tell you how convenient it is to be able to have garlic ready to use whenever I need it.
This method is different from others I've seen for freezing minced garlic. I've tried them all. One way is to mince the garlic, add a bunch of oil to it so that it doesn't freeze solid, and scoop out what you need. That method uses more oil than garlic, dilutes the flavor, and makes it difficult to measure. Another method I've tried is freezing minced garlic in mini ice cube trays. That works, and it makes equal portions, but it's sometimes difficult to remove from the trays, and it's virtually impossible to wash the garlic odor from the plastic trays.
WARNING: The USDA advises against storing minced garlic in oil in the fridge or at room temperature, because there is risk of producing botulism toxins. If you want to mince garlic ahead and store it, freezing is the safest way to go.
Step 1. Start with fresh garlic.
You can buy whole garlic bulbs and peel them yourself or buy them already peeled.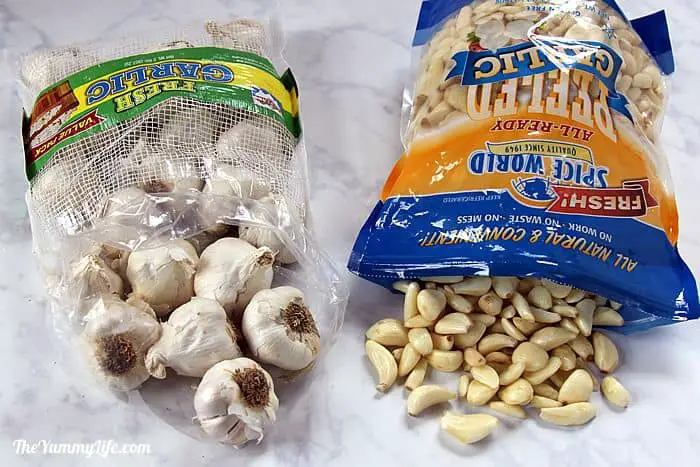 Step 2. If your garlic isn't peeled, here are 3 easy options for peeling it.
OPTION 1– Use a mason jar. Place unpeeled garlic cloves inside, screw on the lid and shake it like crazy until the peels fall off. Since the jar is clear, it's easy to see when the job is finished.

OPTION 2 — Use a garlic peeler tube. Simply insert a few cloves inside the tube, press with your palm as you roll the tube against the counter, and the peels come right off.
view on Amazon: garlic peeler tube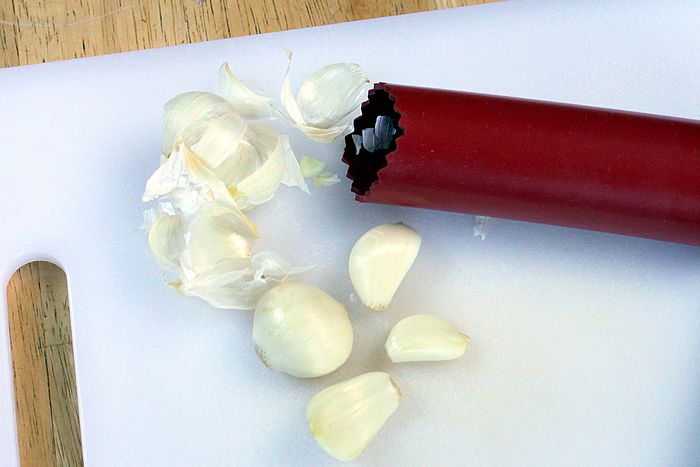 OPTION 3– Use 2 bowls to shake off the peels. This is a good way to peel larger quantities of garlic cloves at one time. Here's a video that demonstrates this easy method.
Step 3. Choose your favorite oil. The oil keeps the garlic from freezing too hard; that way it's easy to break off pieces for use in recipes. You can use vegetable, grapeseed, canola, or olive oil–whatever you prefer. I normally use a neutral tasting oil so that the frozen garlic can be used in a variety of recipes.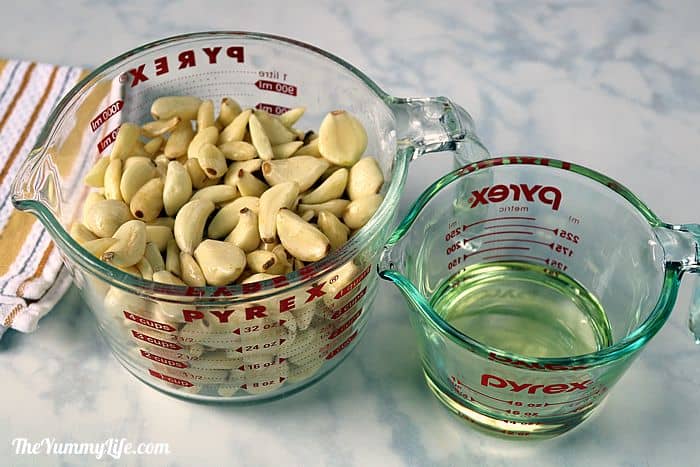 Step 4. Add the garlic cloves to a food processor fitted with the metal blade. Process in pulses until the garlic is evenly minced, stopping and scraping down the sides as needed. Add oil and pulse a few more times, just until mixed (don't overdo it, or the minced garlic with turn into a paste).
view on Amazon: 14-cup food processor –rated #1 by Cook's Illustrated America's Test Kitchen.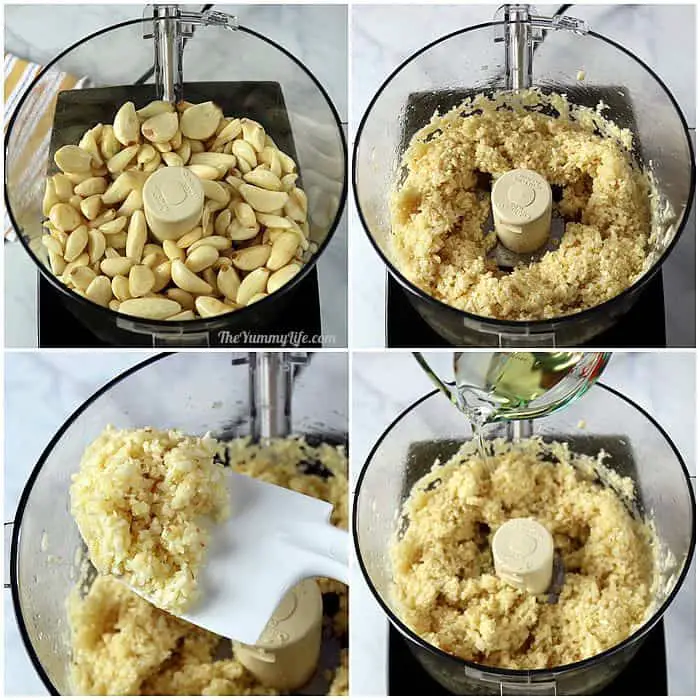 Step 5. Line a shallow pan with plastic wrap. (NOTE: I use a standard 9×12 quarter baking sheet pan, and my portions are based on that size.) Spread the minced garlic evenly over the pan and pat it down with the back of a rubber spatula to make it smooth and flat.
view on Amazon:  
baking sheet set with lids  I have two sets of these baking sheets; they get daily use for numerous cooking tasks. I use the small one (9×12 quarter baking sheet) for freezing the minced garlic; the lids that come with the pans are convenient for storage, stacking, refrigerating and freezing.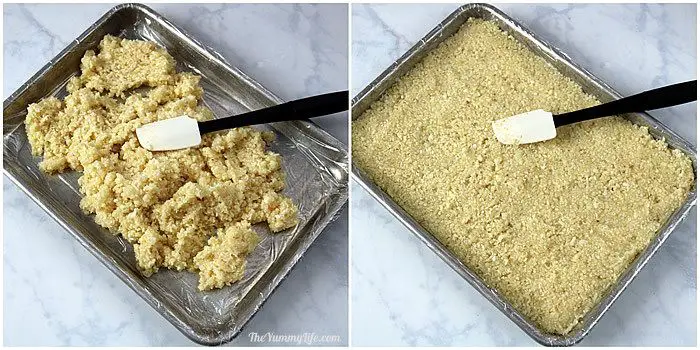 Step 6. Use a scraper/chopper tool or large knife to make 1″ cuts in both directions (9 cuts on the short side by 12 cuts on the long side). The result is a grid of 1″ squares; each should measure approx. 1 teaspoon of minced garlic.
TIP 1: If you're using a different size pan, after spreading the minced garlic in the pan, measure out a teaspoon of the garlic to estimate the size you should make your grid cuts.
TIP 2: Close enough is good enough! Don't sweat making every square exactly the same–it's hard to be that precise. Make your grid marks as uniform as possible, but don't worry about perfection. Garlic is something that is fine to add to recipes in "ballpark" measurements.
view on Amazon:  scraper/chopper (it has 1″ ruler marks to make it easy to cut a 1 inch grid)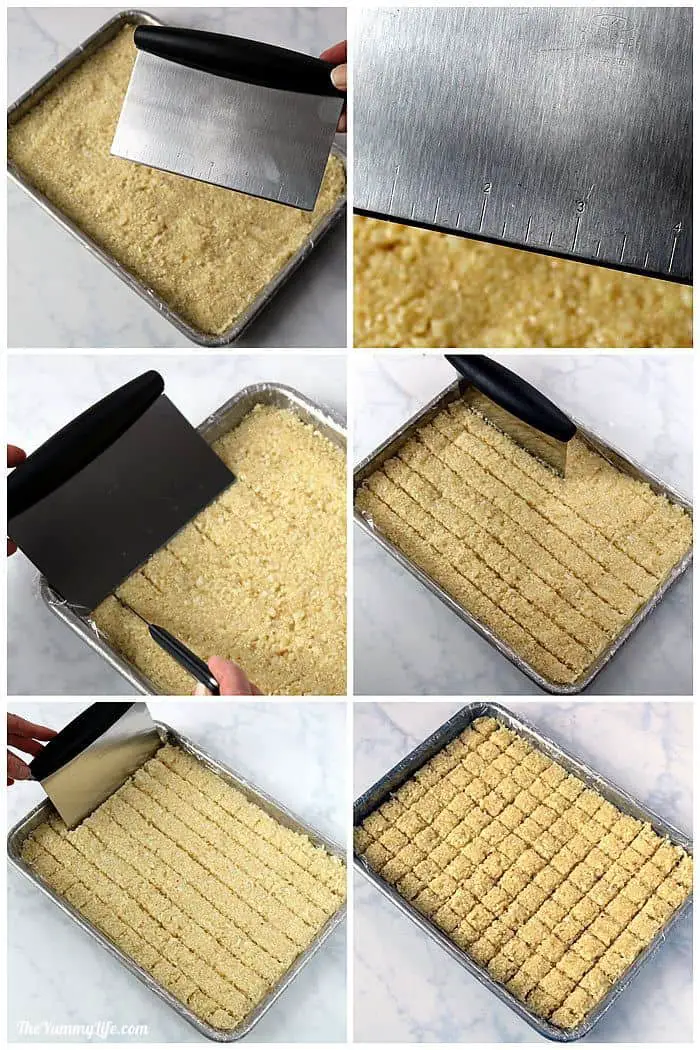 Step 7. Cover the pan with plastic (or use the lid if your pan comes with one), and freeze it until solid–at least 4 hours. Then, following the pre-scored lines, use the scraper/chopper or a large knife to cut the frozen grid into 4 equal large rectangles. Wrap each frozen rectangle tightly in plastic and place them inside a Ziploc freezer bag.
TIP: Keep one of the frozen rectangles in a separate Ziploc bag and don't wrap it in plastic. Use this one first. It's easy to unzip the bag and break off as much garlic as you need if it isn't wrapped in plastic. Once that rectangle is used up, unwrap another one and transfer it into the same bag for current use.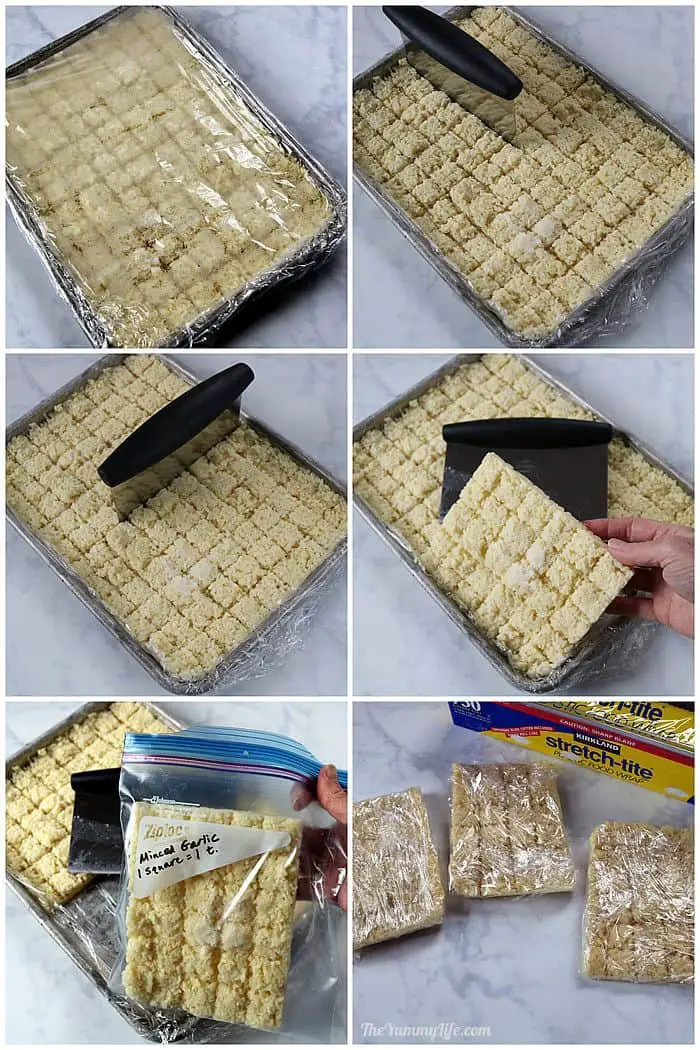 Now you have minced garlic ready to use whenever you need it. It's SO convenient to just open the bag and break off however many squares (teaspoons) you need.
To use frozen minced, garlic, break off as many pieces as you need for a recipe. It should thaw quickly at room temperature, or you can zap it for 5-10 seconds in the microwave. If using for saute, soups, or sauces, frozen garlic may be placed directly in the pan. It will thaw and break apart quickly from the heat of the pan.
EASY MEASUREMENTS:
1 square of minced garlic = 1 teaspoon = 2 garlic cloves
3 squares of minced garlic = 1 tablespoon = 6 garlic cloves
12 squares of minced garlic = 1/2 cup = 24 garlic cloves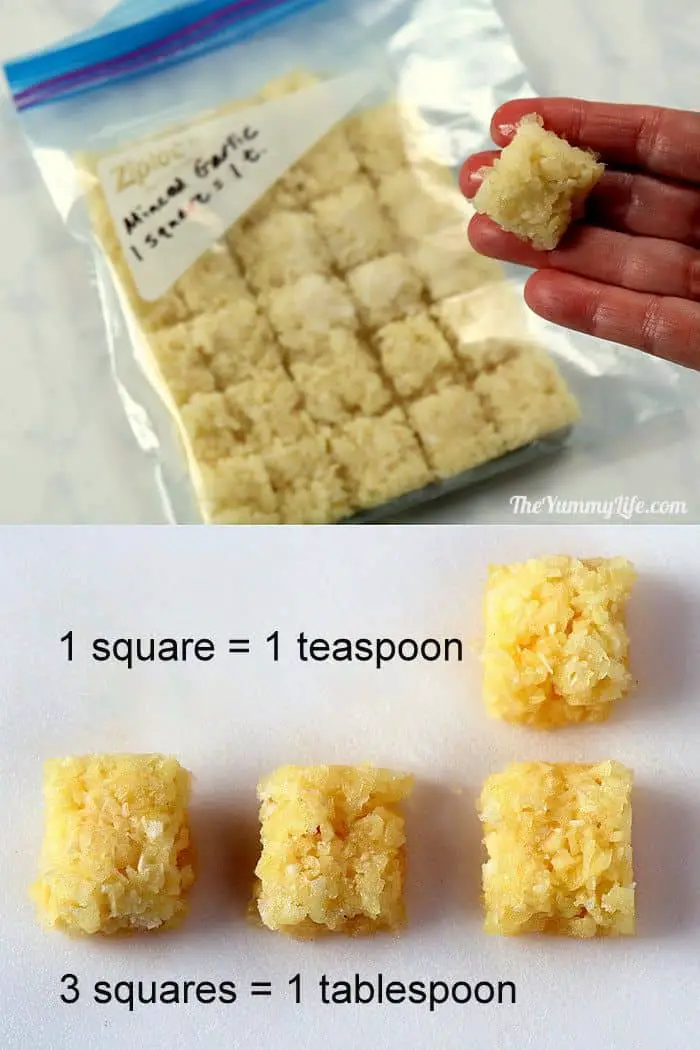 Once you get used to the convenience of having minced garlic pre-measured and on hand, there's no going back!