Hello Kitty & Flamingo Collaboration on Hello Kitty's 45th Anniversary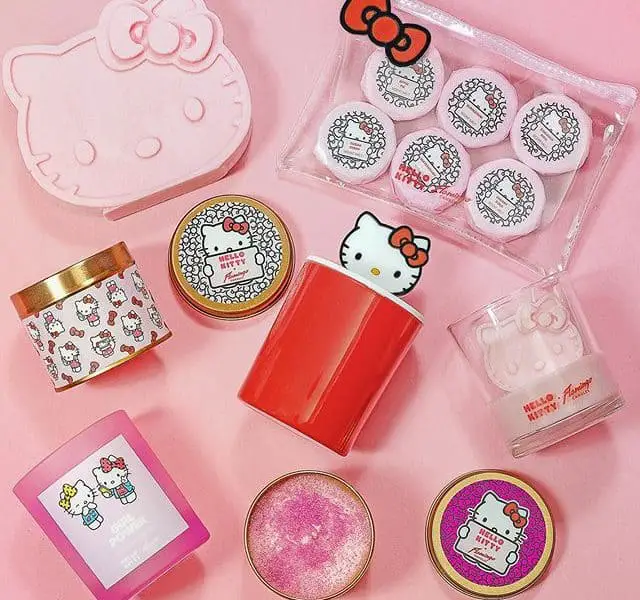 Calling out to all Hello Kitty fans. Flamingo Candles, which has collaborated with the likes of Frieda Kahlo, has now created an adorable collection with Miss Kitty herself. The brand's website describes the collection as a "babein' new range of candles created around fun, friendship and girl power." It really is just that.
Hello Kitty Fans looking for the best last-minute gift idea?
The brand announced a potential collaboration with Hello Kitty on its Instagram @flamingocandles in advance, with a cheeky teaser pic of Kitty's iconic bow, but now it is finally here.
The oh-so-cute candles were put on sale on the Q4 of 2019 and Kitty fans across the globe are absolutely adoring it. A launch party occurred in light of the new collection as well as celebrating Hello Kitty's 45thanniversary, which included everything Kitty themed – even the cocktails and snacks.
View this post on Instagram

We had such an amazing time celebrating Hello Kitty's 45th anniversary and the launch of our #HelloKittyxFlamingoCandles collab at our unit last night! Pink and red errrrthing❤️💗 Swipe for more pics💕 @hellokittyeu #HelloKitty #HelloKitty45 #FlamingoCandles #Tonyrefail
Beautician and lover of the iconic Kitty character, Shona Grady, said "I'm so excited for Flamingo's new Hello Kitty candle drop! I have loved Kitty so much ever since I was little and I always think it is so cute when different brands collaborate with her. I cannot wait to try all the different scents and I think they really nailed the fragrances as they all express Kitty's personality and style so well."
Grady's salon, Unique Beauty, will be offering the candle collection with their luxury massage package.
The collection coordinates with the Kitty theme, using her staple colors and quirky style. The sixteen-piece range is varying in pastel tones and succulent scents. Not to mention they are all hand poured with pure soy wax and proudly the collection is vegan-friendly. Yes you heard it correctly, vegan-friendly!
Whether you opt for a candle in the shape of Kitty's face or veer towards a candle in a tin with a subtler Kitty touch, there's something for every Kitty fan out there.
The collection is available on flamingocandles.co.uk and the prices are more than reasonable ranging from £10-£16. As Grady said, "of course the packing is oh so adorable".
So, even If you are not a Kitty fanatic yourself, it is undeniable that this collection is to die for and cuteness overload. With Christmas around the corner, any of these candles would make a fabulous and affordable little gift for any Kitty fan. Be sure to check out the super cute collection as it will be sure to sell out quickly.