[2021 Basic Halloween DIY] Entertaining Bones And Blood Halloween Invites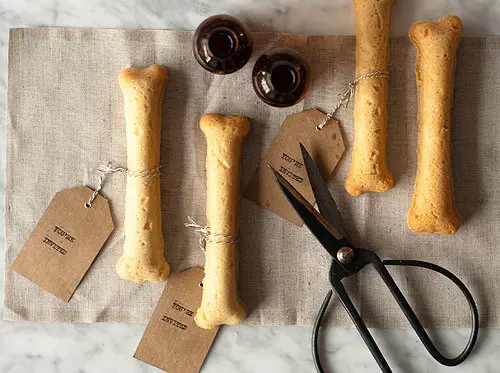 This blog is updated in 2021
It's officially October, which means it's time to pull out the sweaters, admire the changing leaves and line your mantel with way too many miniature pumpkins. But more importantly, it's time to start planning your Halloween party! If you usually wait until the last minute to make Halloween plans, cobbling together costumes and food the day of, fear not. AnInspiring has you covered! Each week until Halloween, we will treat you to marvelous tricks for making your home deliciously spooky. This week, we're kicking off the month with two easy and refreshingly non-digital invite ideas that will have your guests shrieking with anticipation. Check out the directions for both projects after the jump! — Max
Inspired by dog bones with evidence tags attached to them, these invites are one part chilling and two parts delicious! Even better, they can be made with a few simple ingredients. For this project you'll need:
a bone cookie tray (We used one by Wilton's.)
plain gift tags with string (We used ones from Martha Stewart.)
a recipe and ingredients for your favorite cookie (We suggest either sugar cookies or meringue for a bone-like color and texture.)
a typewriter and/or pencil
Directions
1. Bake your cookies, following your recipe or the directions on your cookie tray. Make a few more than the number of guests you plan to invite, just to be safe.
2. With a typewriter, type your invite information onto your gift tags. We found that the typewriter functioned better after taping the tags to a piece of paper and then feeding it through the typewriter as usual. Although you can put all information on one side, we decided to put the phrase "You're Invited" on the front and all other information on the back.
3. Tie your tags around your bone cookies and presto! Invites done! For an added touch, you can put your bones into tiny fabric or plastic evidence bags.

Tips: If you happen to be a dog parent, remember to get your dog his/her own dog bone chews!


Bloody Invite Cards
The next invite is a glamorous yet delightfully inexpensive option, perfect for all the vampire fans out there. For this project, you'll need:
a computer
a printer
glue
red glitter
Directions
1. Download our handy-dandy invite template as a PDF here: Bloody Invite PDF.
2. Print as many as needed onto white 8.5 x 11″ paper or card stock.
3. Fold paper into quarters so that it becomes a card with your invite text on the front.
4. On the front of the card, draw a thick line of "blood" with your glue, with a few lines "trickling" down into the text below.
5. Using a spoon, slowly shake your red glitter over the glue on your card. Let sit for a few minutes, then shake off the excess glitter.
6. Once the card has dried, write your party information (date, time, location, etc.) on the inside.
7. Ta-da! That's it! Now run off to find some mortals to invite to your party!