Emotional Support Animal Psychology: Here's How To Make Your Dog A Therapy Dog For Yourself (2021)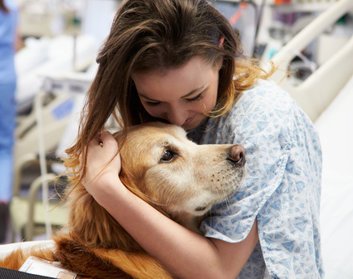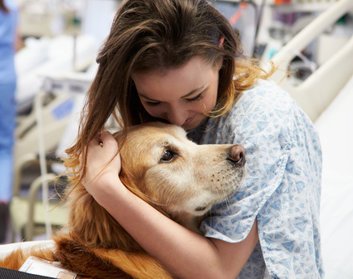 Source: Best Health magazine; March/April 2014; Image: Thinkstock
Therapy dogs and their handlers visit schools, nursing homes, hospitals and rehab facilities across Canada, brightening the day for those they visit. Marcia Murray-Stoof, a former therapy-dog owner and the director of evaluators at Therapeutic Paws of Canada, says these are more than social visits. She recalls a visit to a nursing home with another volunteer: 'One gentleman would come out of his room only for meals. He rarely spoke to people; he was really shutting down. Then we came by with a border-collie therapy dog and asked if he'd like a visit. His face lit up and he said, 'Now, that's a dog!' Turns out he had grown up on a farm with border collies. He followed us out of the room when we left'the nurse was amazed.'
Moments like that bring joy, says Murray-Stoof. 'You feel proud of your dog.' And it's clear that the dogs love the attention.
Why dogs?
Canines offer support that's often missing elsewhere. 'Dogs are non-judgmental,' says Leslie Jack, the Ontario therapy dog advisor for St. John Ambulance. 'They don't get deterred by physical or mental illness, confusion or crying.' Currently, St. John Ambulance's national therapy dog program has 3,000 dog and owner (or handler) pairings across the country. As the demand for visits increases, they're always looking for new volunteers.
How to qualify
A potential St. John Ambulance therapy dog can be almost any size or breed, but must be at least one year old and well socialized with people and other dogs. Check with individual branches for more criteria.
Handlers must be at least 18 years of age, available for orien­tation meetings, and able to vol­unteer at least once a week.
The next step is an evaluation. 'The dog is put through scenarios with crowds, wheelchairs and other distractions in a 60- to 90-minute session,' says Jack. 'We see if they're observant and under control.' If your dog is successful, you will be partnered with an experienced volunteer for at least 10 visits. 'New volunteers start with a mentor,' says Jack. 'We help them start conversations, and teach them about confidentiality issues'there is always support.'
This article originally appeared in the March/April 2014 issue of Best Health. Subscribe today to get the full Best Health experience'and never miss an issue!