[2020 Easy Dessert Recipe] Pumpkin Fondant Fancies By Rachel Khoo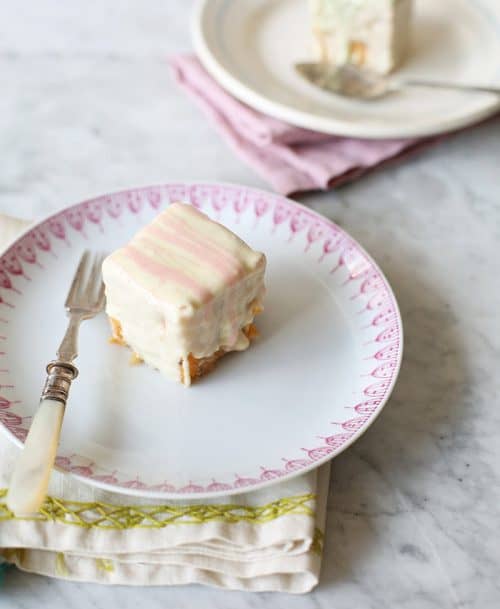 This blog is updated in 2020
Just in time for Halloween this weekend, we have a neat little french fancies cake called a pumpkin fondant fancy with white chocolate fondant icing. It is a white chocolate fondant recipe by pastry chef, food writer, and television personality, Rachel Khoo, adapted from a recipe in her fifth and most recent cookbook, Rachel Khoo's Kitchen Notebook. The fondant recipe is made up of a hazelnut sponge, which incorporates freshly grated pumpkin, and is covered in white chocolate.
I've never used freshly grated pumpkin in baking, always steamed, but Rachel's comparison to grating carrot makes perfect sense. Though Rachel used pink and green food coloring to lightly color the accent chocolate fondant icing, you can choose to keep with the Halloween theme and do something more autumnal. The promise of moistness and the combination of flavors is so intriguing, I can't wait to make these. Having perfected my lamington technique a few years ago, making these chocolate fondant fancies should be —  literally — a piece of cake! —Kristina 
What Rachel loves about these fondant fancies tips: Over in the States, you guys are used to baking with pumpkin, while we Brits are slightly more dubious of this vegetable considered ever-so-savory. But, as you well know, just like a carrot, it makes for an extra-moist french fancies cake. One of the most famous store-bought coffee fondant here in Britain is the Mr. Kipling fondant fancy, a delicate little packaged french fancies cake with a very uniform drizzle of chocolate fondant icing. These are a lot more rustic than the factory-manufactured kind, but that's what I like about fondant fancies.
Photography by Lara Messer | Food styling by Frankie Unsworth 
All the content in this blog is the property of aninspiring. Kindly refrain from plagiarising the content of this blog.
Pumpkin fondant recipe with white chocolate fondant icing
Ingredients
– 4 eggs
– 1 ¼ cups granulated sugar
– 1 ¼ cups all-purpose flour
– 2 ½ cups ground blanched hazelnuts
– 4 tsp baking powder
– 1 1/3 lb pumpkin, peeled and finely grated
– 17 1/2 oz white chocolate, broken into pieces
– 3/4 cup heavy cream, plus 3 tbsp
– a few drops of food coloring (I used a touch of pink and green)
Method
1. Preheat the oven to 325°F (fan-forced). Butter and flour a 9-inch square pan.
2. Put the eggs and granulated sugar in a large bowl and whisk until thick and fluffy. In another bowl, mix together the flour, ground hazelnuts, baking powder, and salt. Add the flour mixture to the eggs and sugar and fold together quickly and lightly. Add the pumpkin. Once they're incorporated evenly, pour the batter into the prepared pan.
3. Bake in the center of the oven for 60 to 80 minutes (fan-forced), or until a skewer comes out clean (without a fan, cooking time will be longer. Please be guided by the skewer test, checking every five minutes.) Let cool for 5 minutes, then remove from the pan and transfer to a wire rack to cool completely. Refrigerate after it comes to room temperate, so it is firm upon cutting; this will help you get really straight edges on the vegan fondant fancies.
4. Cut the vegan fondant fancies into 1 1⁄2-inch square. Set the squares on a wire rack set over parchment paper.
5. Meanwhile, melt the white chocolate with the cream in a heatproof bowl set over a pan of just-simmering water (don't let the bowl touch the water). When melted, remove from the heat. The chocolate should be runny enough to drip down the cake.
6. Place a piece of cake on a slotted spoon, fork, or angled spatula. Spoon over the chocolate fondant icing evenly and leave to set on the wire rack for 30 minutes. If you find it easier, delicately ladle the chocolate fondant icing over the top of the squares as they sit on the rack, letting the excess drip onto the parchment paper beneath (scooping up the icing to recycle for the other vegan fondant fancies).
7. Take the remaining melted white chocolate (if it's starting to set, reheat gently over a pan of simmering water). Divide this batch of chocolate in two, placing in two separate bowls, and color the two batches with 2 different colors (I used pink and green). Once the first chocolate layer has set, drizzle the two colored white chocolate decorations over the top and let sit for 10 minutes. Serve within the day.
About Rachel: Rachel Khoo is a pastry chef, food writer, and television personality whose latest book, Rachel Khoo's Kitchen Notebook, features all of the recipes and more from her TV show for BBC Worldwide, Rachel Khoo's Kitchen Notebook: London and Rachel Khoo's Kitchen Notebook: Cosmopolitan Cook. Her most recent show, Rachel Khoo's Kitchen Notebook: Melbourne, aired in Australia on SBS in July 2015 and will be available elsewhere later this year. She regularly writes a recipe column for the London Evening Standard and the Daily Mail's Weekend magazine, and will soon be launching a new lifestyle site called Khoollect. Khoollect is already available on Instagram here.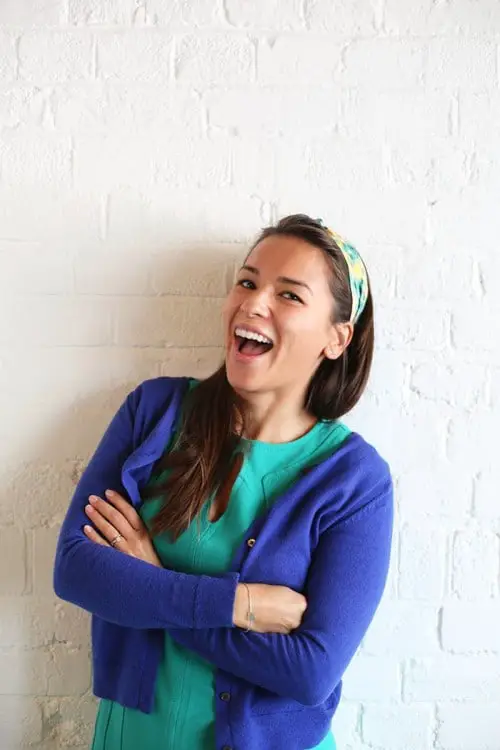 All the content in this blog is the property of aninspiring. Kindly refrain from plagiarising the content of this blog.