[2020] DIY Watercolor Bud Blocks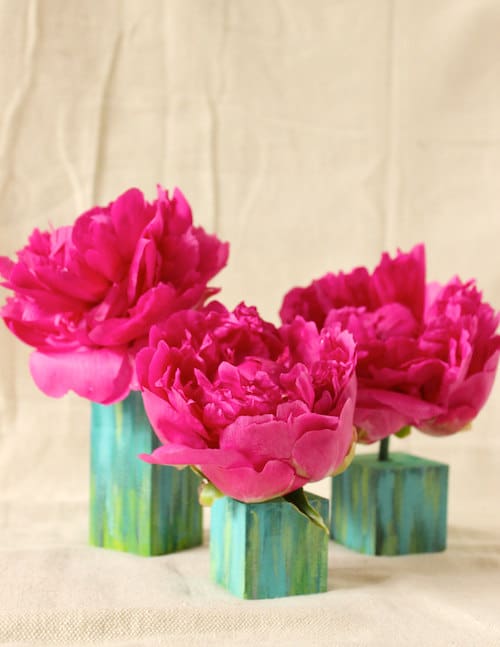 This blog is updated in 2020
I'll be the first to confess that I don't know the names of most flowers. I don't seem to have an eye for styling arrangements; and even if I did, my cat would probably treat them to a death-by-swatting in about 2.5 seconds. However, none of these things keep me from snatching up grocery store flowers every now and then because their bright colors make me so darn happy. When I do, I rely on simple vessels that let the flowers shine on their own. In this project, I give big, beautiful pink blooms a home in a simple, modern block vase. It's the perfect project for Color Month because we're using pink's complementary color green to create a bright, beautiful composition, and watercolors are your no-fail path to learning a little about how colors blend. –Mandy Pellegrin
The full how-to is after the jump…
MATERIALS:
wooden blocks in several sizes
watercolor paints in greens, blues, and white
paint brush
Mod Podge (optional)
TOOLS:
electric drill
3/8″ drill bit




Directions:
1. Drill a hole almost all the way through the center of each block .
2. Use your watercolors to paint each block. The beauty of watercolor paints is that it's nearly impossible to mess up when you're aiming for something more abstract. Keep adding beautiful layers of paint until you're satisfied. Add in a little white to lighten it up. Add water to blend together.
3. (Optional) If you want to be able to put a bit of water in each block to keep those buds alive, pour a small amount of Mod Podge into each hole. Rotate to coat, and allow to dry.
4. Trim your stems, and pop your blooms in.