DIY Quarantine Crafts: Small Cup Jacket Leather Craft Project Inspiration 2020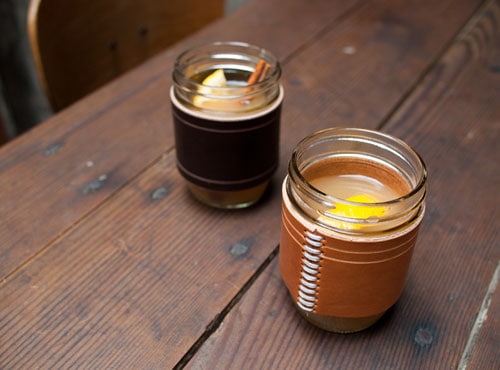 This blog is updated in 2020
There's something infinitely comfortable and classic about Kerr jars. They remind me of visiting my great grandma in Oklahoma and having jam at breakfast as a kid. Their look is timeless, they are easy to find and they are wonderfully replaceable when I fumble and drop one on the kitchen floor. However, a no-handle glass cup is definitely not the way to cradle a hot drink. Using some simple leatherworking skills and a few new tools, you can make a great insulator jacket. (And yes, I'm purposely avoiding the word "koozie.") — Matt
See the full how-to after the jump . . .
Materials
leather scrap (I used 11oz bridle leather)
waxed cord thread
half-pint mason jars
Tools
rotary knife
metal ruler
leather needle
leather hole punch
leather edger
Instructions
1. First cut some leather rectangles to create the wrap. These jars are mostly straight cylinders, so don't worry about any curvatures. If you're using a different shaped cup, you can adjust the pattern. Cut your leather to a 2 1/4″ x 8 7/8″ rectangle.
2. Using a tool called an edger, you can round the hard edge of the leather. It's a simple tool to use — just push it against the edge of the leather, and it will trim the corner. I edged the top and bottom, just on the front side.
3. For a decorative element, I used a stitch groover to cut small channels into the leather. It has an adjustment guide on it, so you can set it to different depths and make multiple parallel grooves. This is normally used to sink your stitches, but left open, it creates a nice contrast design in the leather.
4. Once your pieces are edged and designs have been cut, it's time to punch holes for sewing. I used another tool, called a stitch spacer, to make perfectly spaced marks for punching holes. Make sure you start your spacing at the same place on each side so your holes align, and use a straight-edge or ruler to keep the line straight to the edges. Then with your hole punch, create holes along the stitch marks.
5. The last step is stitching. I knotted an end, started at the bottom and fully laced the seam once. Once completed, I laced back down the seam again for a strong doubled stitch. At the end, I pulled the remaining thread up through the underside of the stitch. The cord is so waxy that it will hold itself in place.
You can certainly experiment with the design on the sleeve and the stitch patterns. Maybe try stamping patterns into the leather using tools or stamps or even something like a rock to create interesting patterns and textures. There are many ways to customize it.