DIY Project in 2020: Scrap Wood Part I – Napkin Rings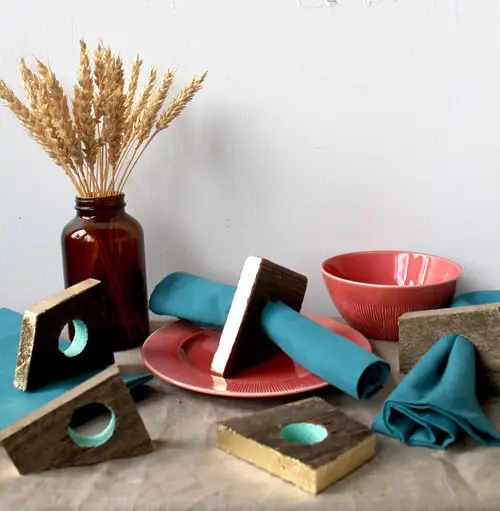 I've been slowly moving into my new studio over the past couple weeks. Piles of stuff are, I'm sad to say, everywhere. It's been an enjoying the chaos, however, because the sight of certain materials thrown together on the floor has inspired a few recent projects. Such is the case with today's two DIY projects, which use this lovely old fence wood and a couple random materials I had lying around. First, I decided cut a few irregular pieces out of the wood. When I laid them on the table, they resembled little glaciers popping out of the sea. I decided to turn them into abstract napkin rings, with rough gold edges and a glacial blue pop of color in the center.
You can make these out of any kind of wood, with any color combination, or just leave them raw. I made mine a bit exaggerated in size, but you can use a thinner piece of wood for a more standard napkin ring size. Enjoy! —Kate
Materials:
scrap wood
gold leaf  sheets, adhesive, and sealant
drill with 1.25″ boring/paddle bit
sandpaper
paintbrushes
clamp
acrylic paint
Instructions:
1. Cut the scrap wood into irregular polygonal shapes using a mitre saw or jigsaw.
2. Sand the cut edges of each wood piece until they are smooth.
3. Clamp each piece of wood down one at a time, and drill a hole through the center of the wood. Sand the inside of the hole until it is smooth.
4. Apply gold leaf adhesive to the sanded edges. For porous surfaces like wood, you will need to apply a layer of sealant to the edges of the wood and allow it to dry before applying the gold leaf adhesive. Follow the instructions on your gold leaf kit for this part of the process.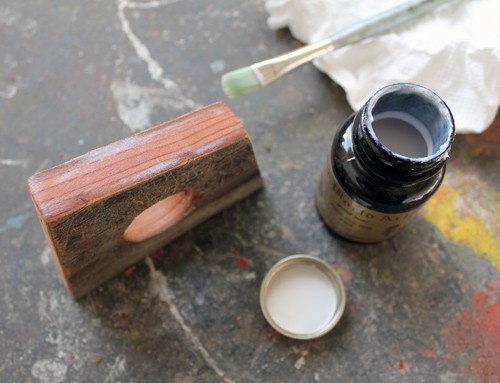 5. Use your fingers to apply the gold leaf to the edges with adhesive, then cover with a sealant and allow them to set.
6. Once sealant is dry, paint the insides of the rings with acrylic paint and set them aside to dry.
Done!