2020 DIY Project: Malachite Pumpkins by Hank and Hunt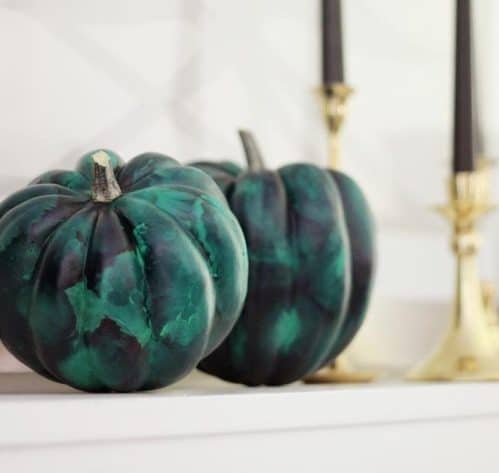 This blog is updated in 2020
This summer I redecorated my living room with a Palm Beach-meets-Seattle vibe, but I still wanted to decorate for fall. Bright orange pumpkins always pop in a room, but not necessarily in a good way. So when Grace invited me to partake in her D*S Pumpkin Project, I instantly knew what I was going to do: malachite pumpkins! I've been faux malachite painting with watercolors for fun lately, and adore anything in deep green. So I drew my inspiration from the naturally luxe shades of stone and decided to give my pumpkins a little makeover. This may seem hard, especially for those new to painting, but I assure you, if you can twirl a paintbrush in an uneven circle (the wigglier the better) you can make these chic versions of pumpkins! –Jenny Batt of Hank & Hunt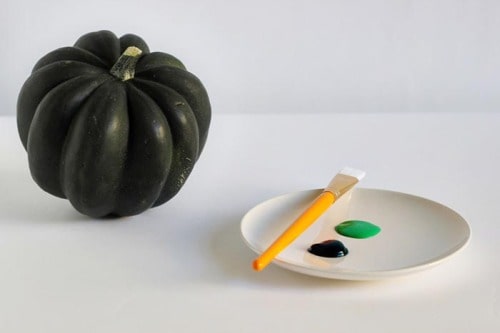 Supplies:
-two shades of "malachite green" paint, one light and one dark
-medium flat paint brush
-dark green acorn squash/pumpkins
-clear coat spray paint (optional but necessary if outdoors)
Steps:
1. Clean and dry your dark green pumpkins or acorn squash. I couldn't find any dark green pumpkins, or even small white ones, so I used acorn squash. Choose squash that look more like pumpkins and less like acorns.
2. For brighter malachite, lightly coat your pumpkin in a mix between the lightest color paint and darkest. For darker malachite, just leave as is. (Note: if you can't find dark green anything, grab a small regular pumpkin and spray paint green before starting.) Dip your brush in water, and dry on a paper towel before loading with paint. This will keep the brush from sucking up all the paint. Load the dark color on one side of the brush and the light color on the other side. Paint uneven circles with the lighter color in the center. Repeat in various sizes and shapes. Don't worry if it doesn't quite look right yet, this is your base. Let dry.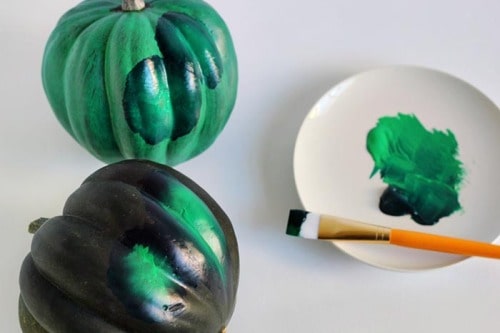 3. Once dry, load up your brush again with each color on each side and go back over your base circles with squiggles. Wiggle the brush a bit as you retrace the circle. You should start to see lines like malachite. Repeat on all the circles. Experiment with what color styles you like by adding variations or by painting lines with just the corner of the brushes. The best part is the more layers you have, the better it looks. Just remember to wait until each layer is dry to recoat, or the paint will blend into a solid medium green.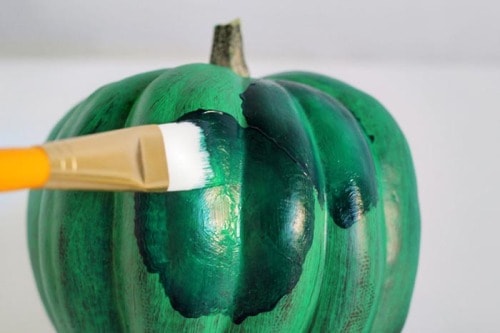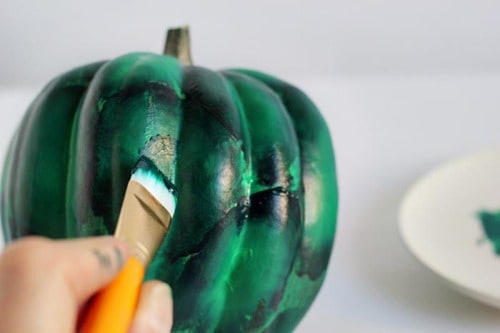 4. Let cure over night. Spray with clear coat to keep the acrylics from sticking to your mantle. Voila. Simple and chic.
Thank you so much for having me Grace! It was truly an honor! Happy Halloween everybody! xo, Jenny