2020 DIY Project: Leather & Wood Trivets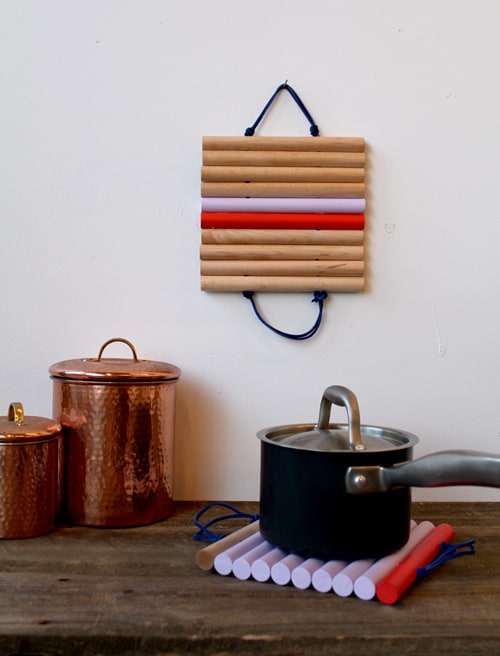 Around this time last year, Grace, Amy and I went to check out the "McMasterpieces" show curated by Sight Unseen as part of NY Design Week. We loved these pieces by Alissia Melka-Teichroew; they not only inspired one of our projects for last year's summer newspaper, but they've been haunting me ever since. I love the look of the brightly colored dowels and thin strips of leather, so I decided to make another Alissia-inspired project today: these simple wood and leather trivets. I've had a bright tangerine/lavender color combination running through my head this spring, and I was delighted to find the perfect navy blue leather cord to finish off the look. You can make these pretty trivets in just a couple hours, and they will look as pretty on your wall as they will protecting your table. Happy crafting! — Kate
Materials
four 48″ long 3/4″ diameter dowels (cut to 8″ lengths)
sandpaper
drill with 5/8″ bit
pencil or pen
ruler
high-gloss acrylic paint (I used Martha Stewart's line of acrylic paints from Michaels and I was very happy with them. The colors are beautiful and the paint spreads on really nicely…I highly recommend them!)
leather cord (available at art and craft supply stores)
scissors
paintbrushes
mitre saw (You need this if you don't have your dowels pre-cut.)
clamp and scrap wood
Instructions
1. Have your dowels cut to 8″ lengths, or cut them yourself with a mitre box and saw. Sand the edges and ends of each dowel until smooth. You need ten 8″ dowels per trivet.
2. Measure 2.5″ in from either end of the dowel and make a pen mark at both points. Repeat this step with every dowel.
3. Working one dowel at a time, clamp the dowel to a stable surface with a piece of scrap wood directly under the dowel and the marks facing upward. Drill straight through the dowel at both marks. Repeat with all twenty dowels. As an optional step, you may want to spray the painted dowels with a clear protective coat to preserve the finish.
4. Sand the dowels around both sides of the holes you made to smooth them out and remove any loose splinters.
5. Paint each dowel with an even coat of acrylic paint. If you want to leave some dowels plain as I did, you can rub a little olive oil into them to bring out their natural tone. Allow all dowels to dry. Remember to paint the ends, as well.
6. Cut two strands of leather cord to 36″. Holding the two strands together and knot them together 12″ from one end. Tie another knot 4″ from the first knot, creating the first handle. Thread the longer end of the pair of cords through the right holes in the dowels, and the shorter end of both cords through the left holes in the dowels. After you have placed ten dowels on the cords, tie a knot with the long end of the cords and pull it tightly against the right side of the dowels. Take the remaining cord length on the right and knot it together with the cord coming out of the left side, making sure the knot is tight against the left side of the dowels. Snip excess cord.
Done!