DIY Project in 2021: Copper Snakes Pumpkin By Liz Libre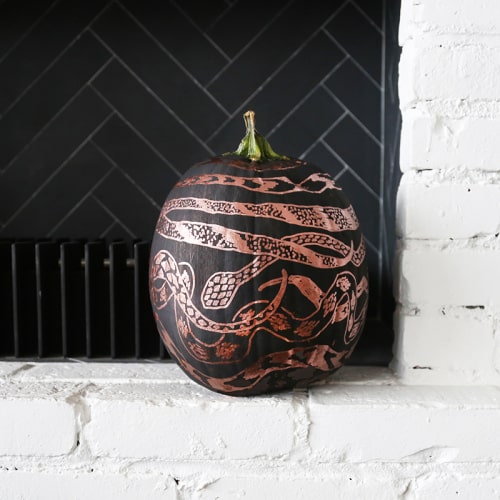 This blog is updated in 2021
I've been reading Halloween books to my four-year-old son before bed and all the same kinds of spooky things are mentioned: bats, mummies, skeletons, owls (are they really spooky?), witches. I realized I would use this project to paint something that really spooks me: snakes! Snakes totally freak me out, but if you forget the whole poisonous venom thing, the body of the snake and the patterns on their skin are actually quite beautiful. I really liked that contrast, so I decided I'd make a "spooky" but beautiful pumpkin. I hope this will inspire you to try some metallic painting on your pumpkins this year!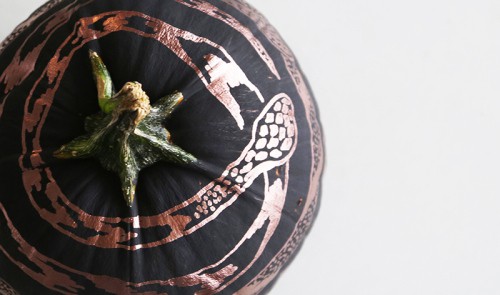 Click through for tips on replicating this look after the jump!
Materials:
-Pumpkin
-Copper paint pen (Liz used one from Sakura)
-Black matte paint
-Paintbrush
Steps:
1. Start by painting your pumpkin black. Liz chose a matte finish so the metallic pen would have more contrast. Let the pumpkin completely dry. Liz chose to leave the stem unpainted because she felt it added to the natural beauty of the pumpkin's shape.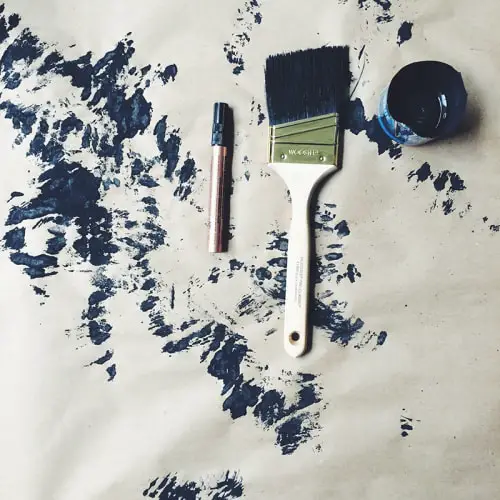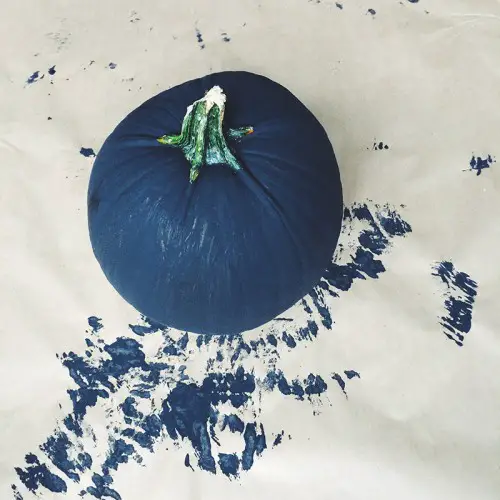 2. Using a metallic paint pen, start at the top of the pumpkin and make light marks to guide the general shape of the main snake you'd like to draw. Following from top to bottom, turning as you go, draw your first snake, adding pattern details as you see fit.
3. Once your first snake is done, move on to draw additional snakes, making sure not to smear the paint from the earlier snakes you've drawn.
4. Liz chose to make the pattern for each snake's skin a little different to add more interest. Consider adding stripes, a chevron or herringbone pattern, or even polka-dots. This is all about creating a nice mix of spooky and striking.