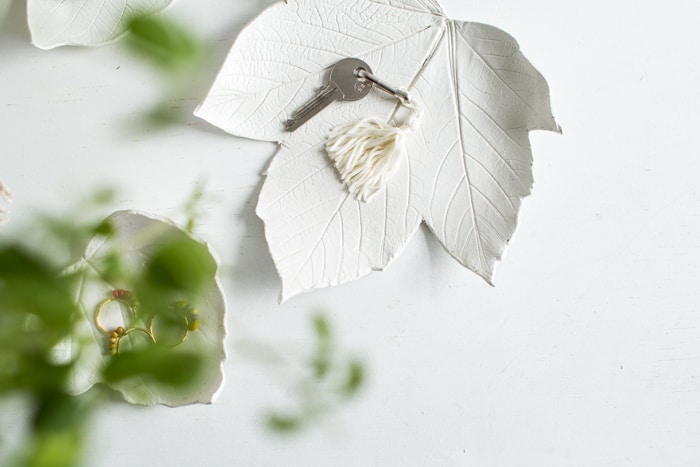 This blog is updated in 2020.
Keeping catchalls in key places is a great way to keep keys, loose change and jewelry organized. Making them beautiful is a fantastic way to add design elements to small spaces in your home. I wanted to explore an easy way to create natural detail using easy-to-source objects. What's better to use than plant leaves, which are available for free?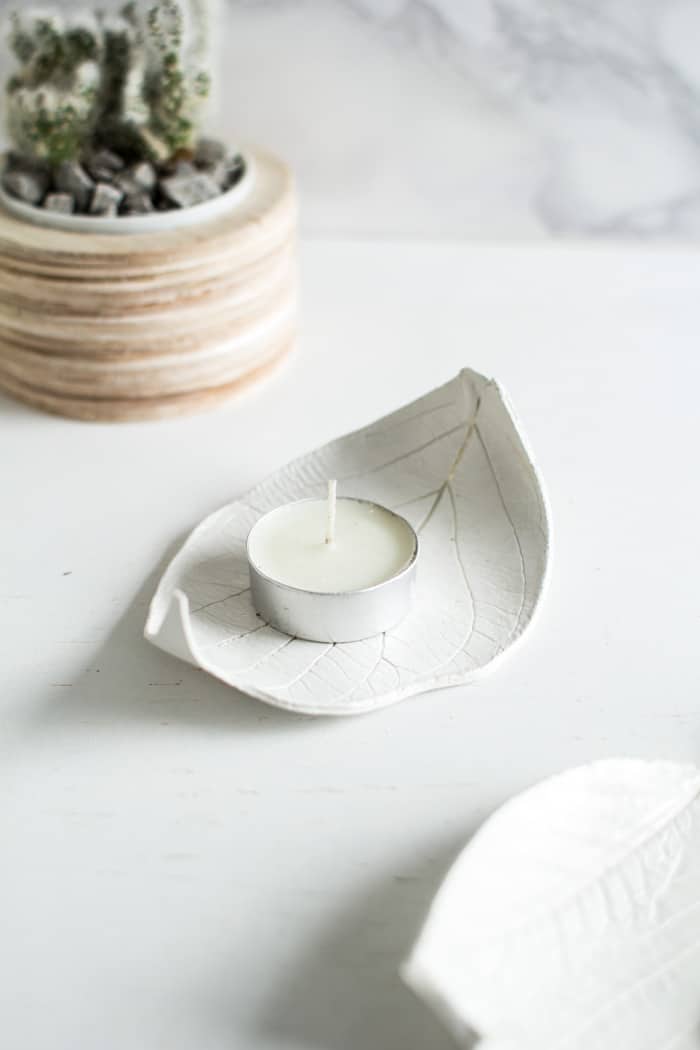 This took me back to my childhood, scribbling on paper placed over found objects such as pennies, stones and leaves to recreate the texture and detail found on them. Using these objects to print into clay gives a similar outcome, but one that can be manipulated in shape and dimension, too. The result? A timeless snapshot of nature's unique pattern and a useful spot to help keep you from misplacing your keys! –Fran
Materials
Leaves
Air dry clay
Roller
Craft knife
Gloss varnish
Paint brush
Steps
1. Break off a small lump of air dry clay and roll out flat and thin. The thinner you can roll your clay the more delicate and lifelike the leaves will look. Be careful not to roll it too thin, though, or your imprint will go right through the clay.
2. Lay the leaf over the clay facing upwards. Keep all of the edges within the area of the clay.
3. Use your roller to gently press the leaf down into the clay evenly, then peel back the leaf to reveal the pattern and shape it has left.
4. Cut around the edge of the shape using the craft knife. Try to do this as smoothly as possible and be careful not to rest your hand on the pattern and destroy it.
5. Lift the clay carefully and place into a bowl. This will give the leaf natural and gradual curves at its edges. Leave here to dry overnight. To make sure the clay is 100% hardened, remove the leaf from the inside of the bowl, turn both the leaf and the bowl over and place the clay onto the bottom of the bowl. This means the underneath of the clay leaf can dry fully while keeping its shape.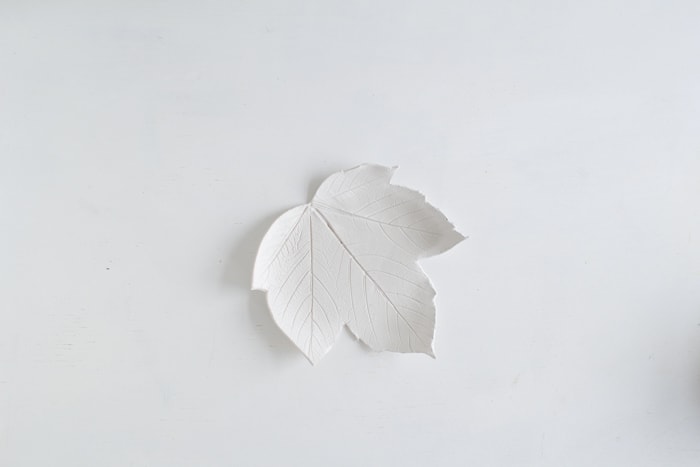 6. Once the clay is dry, you can paint on two or three light layers of varnish to protect the clay from damage and staining. Leave each layer to fully dry before adding the next.