[2020] DIY Josef Frank Inspired Menorah by David Stark Design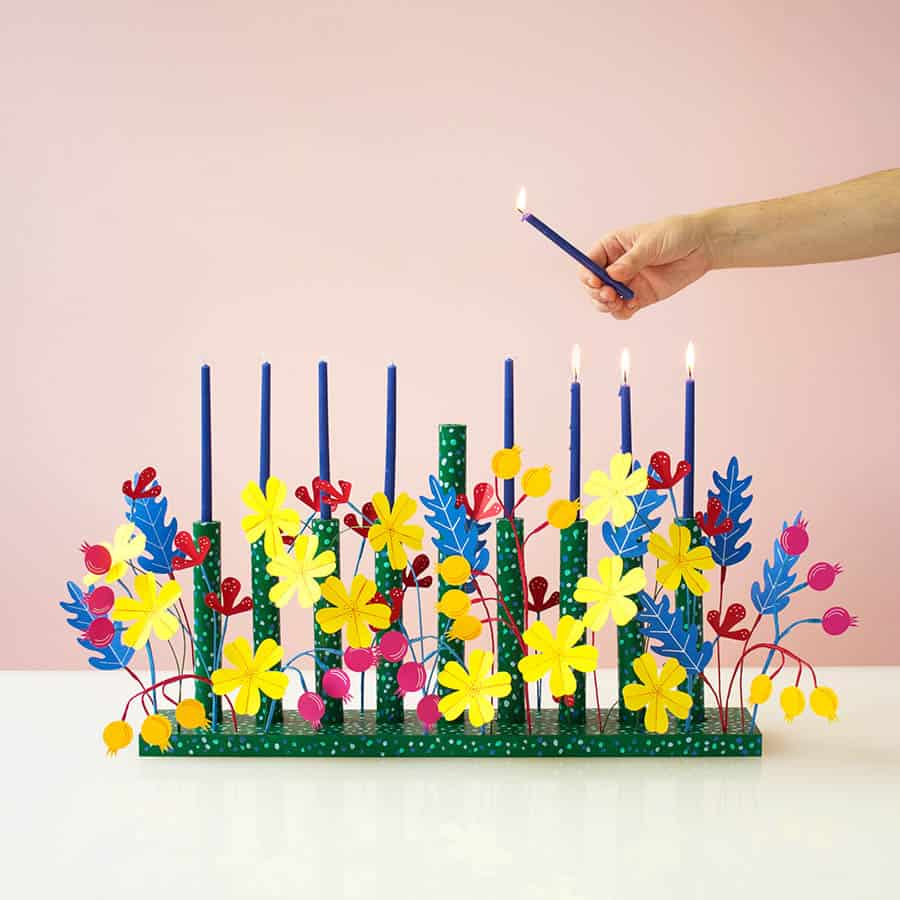 This blog is updated in 2020.
Chanukah is most often a blue and white affair, sometimes with a little silver thrown in, sometimes a little gold. But in ruminating on the holiday, we couldn't help but ask ourselves: "Why does it need to be?"
Now, we know that the bold, floral prints of Josef Frank are, perhaps, not the most likely of Chanukah inspirations, but that's exactly the point. We turned to a pattern we love entitled, "Vegetable Tree" as inspiration for this vibrant menorah – the perfect pop of color as we move into the darker winter months! We chose colored papers and floral shapes influenced by the motifs and palettes found in the print and are thrilled to share this how-to with you!
We opted to make our menorah base. But, it would be equally as charming to use a classic menorah you already own and wrap the wire stems around it. Or, pick up an affordable one and paint it! ––David Stark
SUPPLIES
1" x 4" wood board (cut to 20")
Coping saw (or other hand saw) and clamps
Two 1" dowel rods (either 36" or 48" long)
Drill with 1", 3/8", and 1/16" drill bits
Ruler and pencil
Acrylic paint and paint brushes
Red and white gel pens
Scissors and craft knife
Permanent glue stick or hot glue gun
Wire cutters
Bone folder
20-gauge straight wire (any color)
Various colors floral tape (we used: red, green, blue)
Various colors cover-weight paper (we used: red, hot pink, yellow, orange, blue)
Chanukah candles or LED candles
Craft cutter machine (optional)
PDF template (Link to download in Step 1 below)
INSTRUCTIONS
Step 1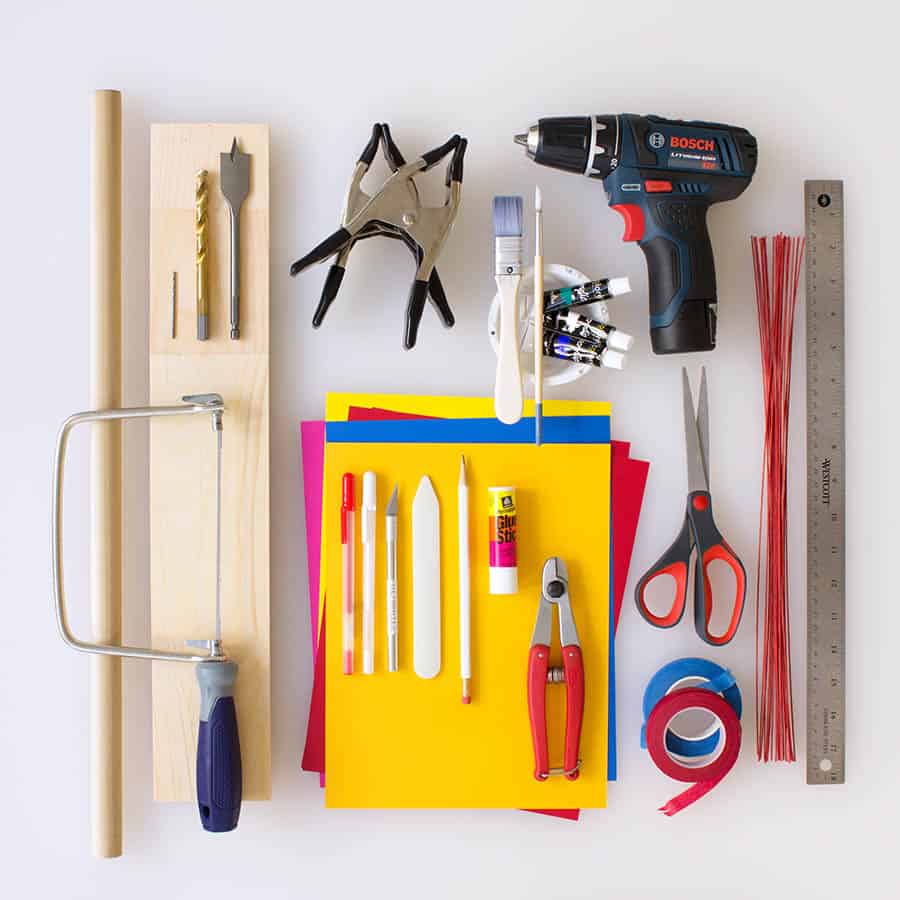 Download the PDF template.
Using your ruler, find the center of the wood board and measure nine 2" intervals along that center line. Using your drill with the 1" drill bit, drill approximately ¼" deep holes at each mark. Use clamps to secure the board in place if needed.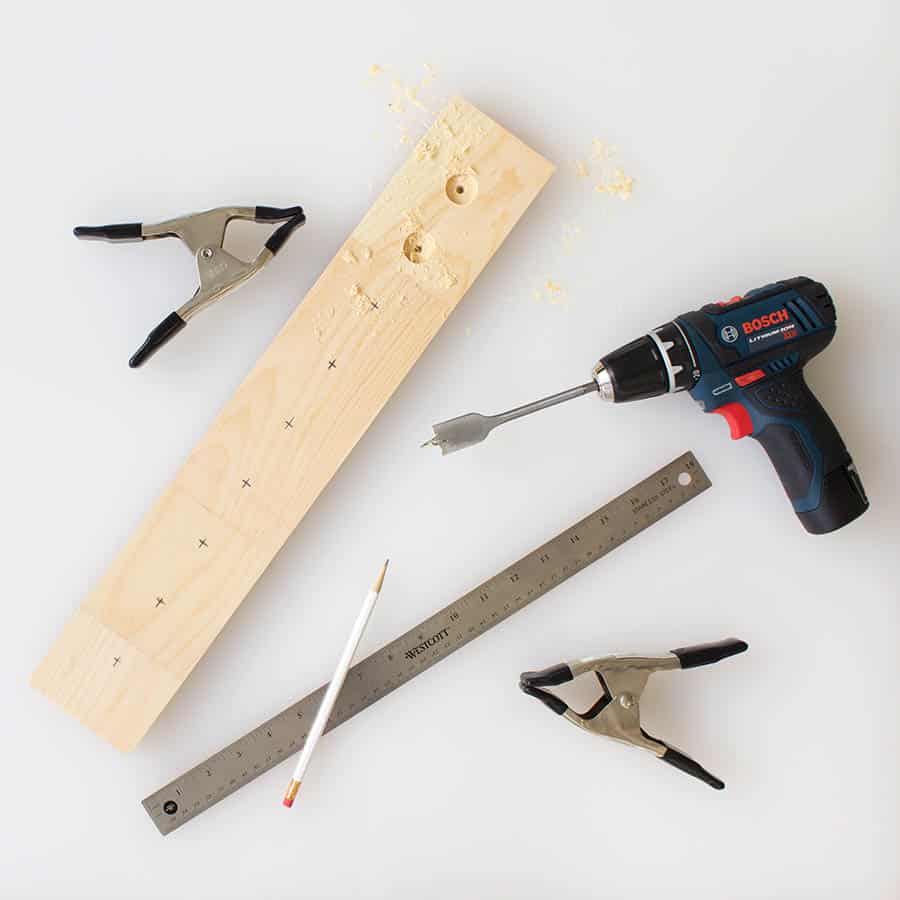 Step 2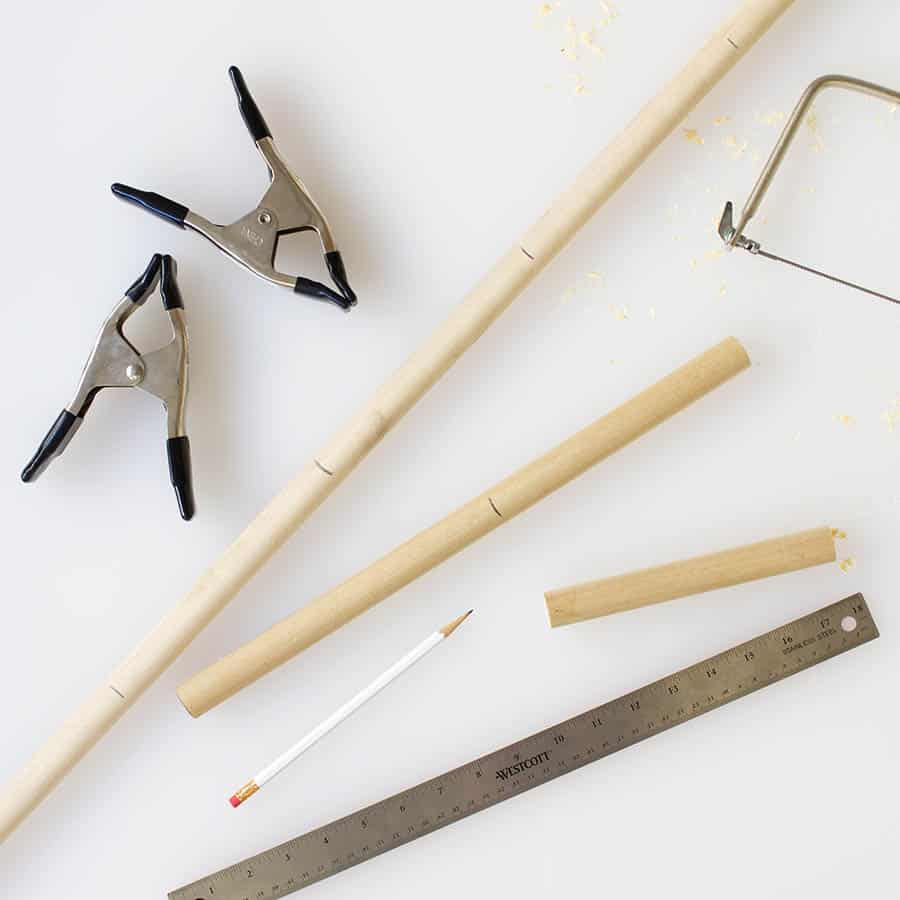 Using your ruler, measure eight 7" and one 9.5" lengths of dowel. Use your saw to cut each piece, being sure to cut as straight as possible. Use clamps to secure the dowels in place if needed.
Step 3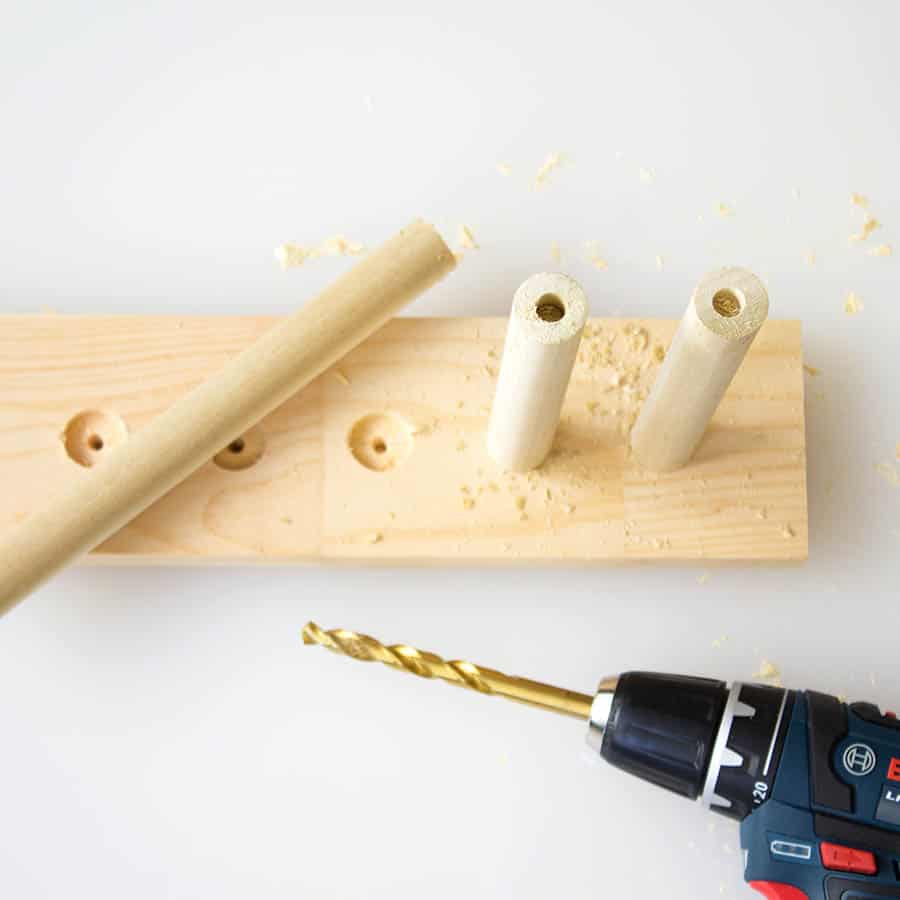 Assemble the menorah base by placing four 7" dowels at each end and the 9.5" dowel in the center. You may need to twist the dowels to secure them in place. Next, using your drill with the 3/8" drill bit, drill approximately ¼" deep holes on the end of each dowel. (3/8" is the width of our Chanukah candles, check yours before you begin and drill the appropriate size holes.)
Step 4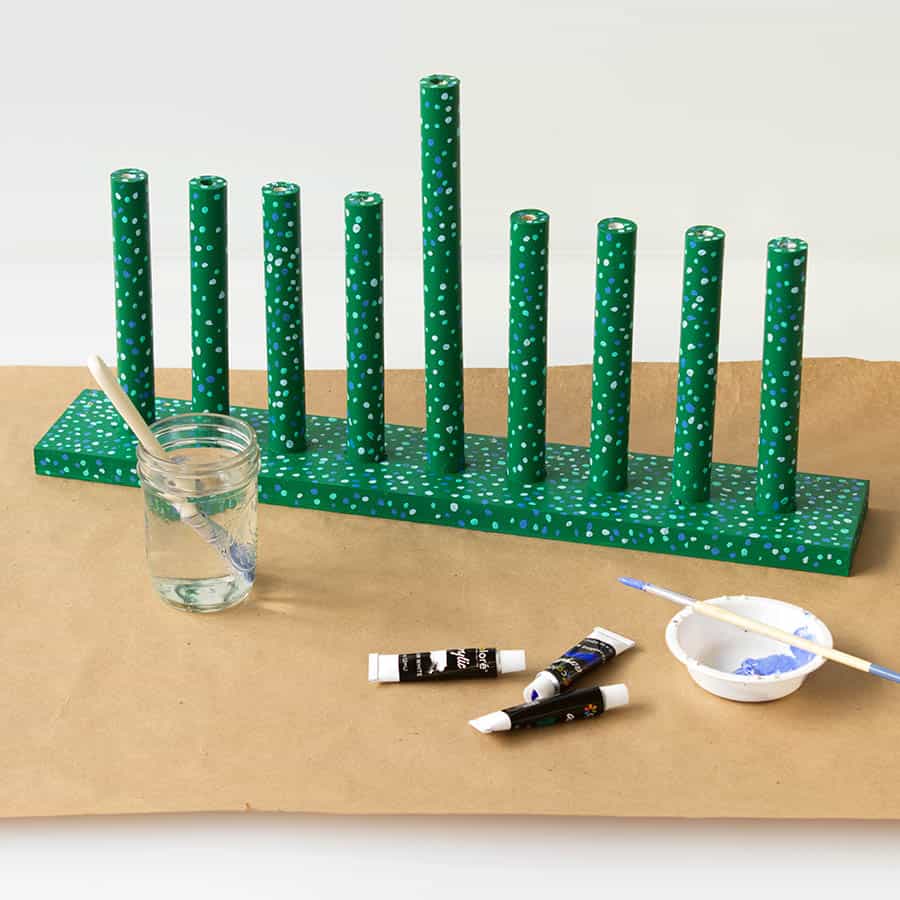 Paint your menorah! We painted a base color of dark green and added pale blue, turquoise, and grey dots. Allow the paint to dry fully.
Step 5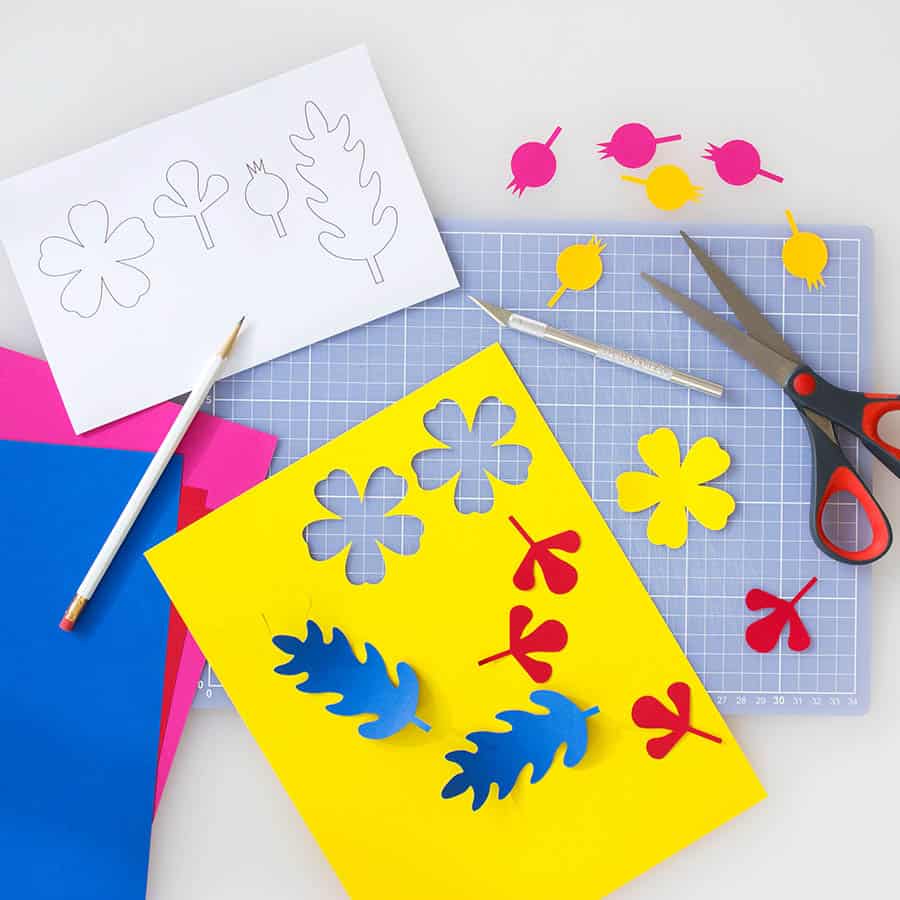 Use the template provided to cut out multiples of each shape. Or, use the SVG file to cut using a craft cutter.
Step 6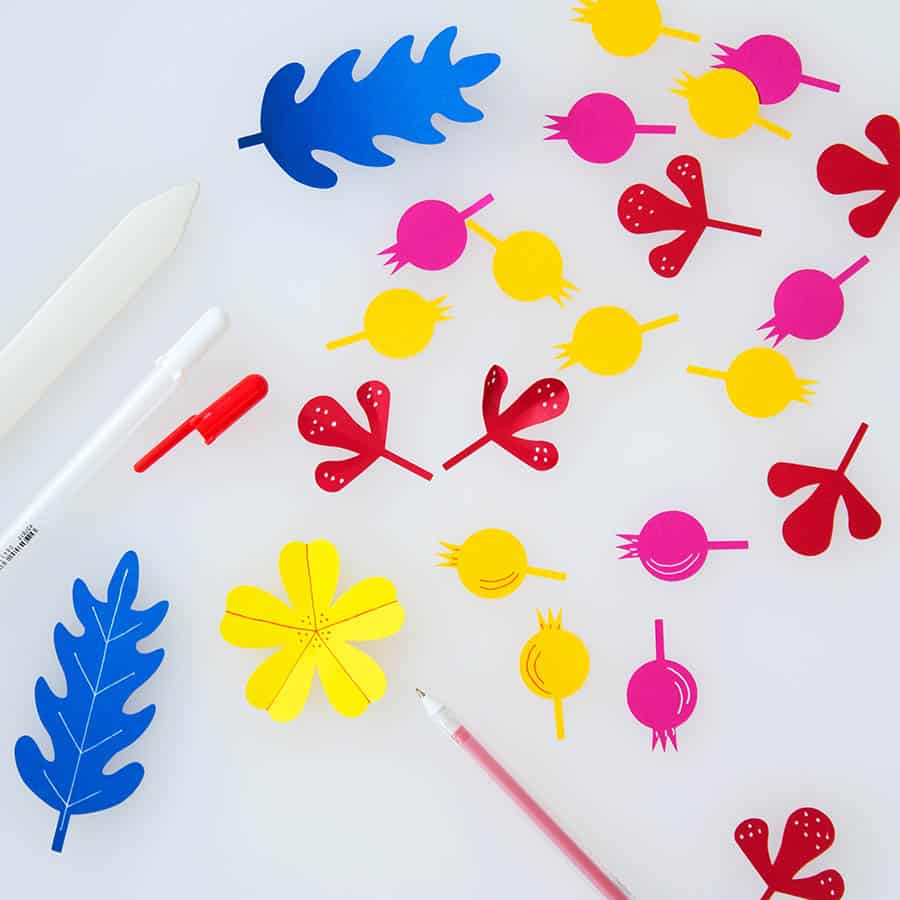 Using the red and white gel pens, add decorative details to the shapes and fold down the center or along each petal using a bone folder to press the crease.
Step 7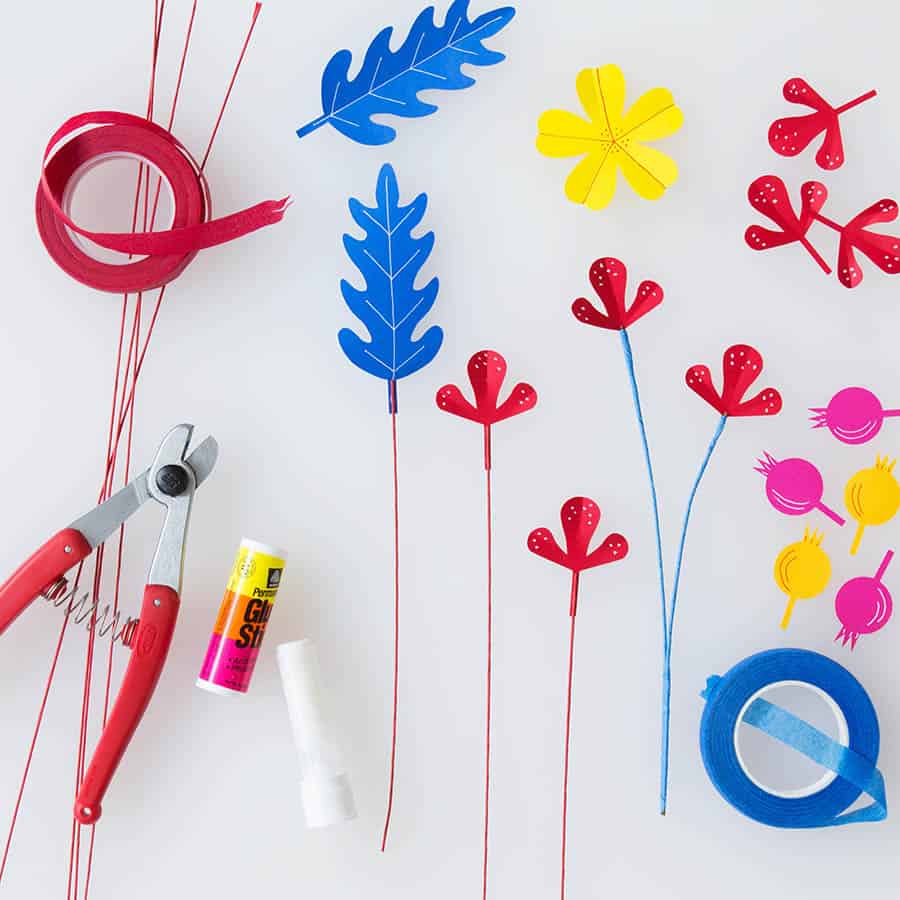 Apply a heavy layer of glue stick (or a line of hot glue) to the tab portion of each shape and press the wire into the glue. Once dry, cover the connection and the remaining length of wire with floral tape, occasionally attaching the wire stems together. For the yellow flowers, bend the wire and attach to the back of the flowers with hot glue.
Step 8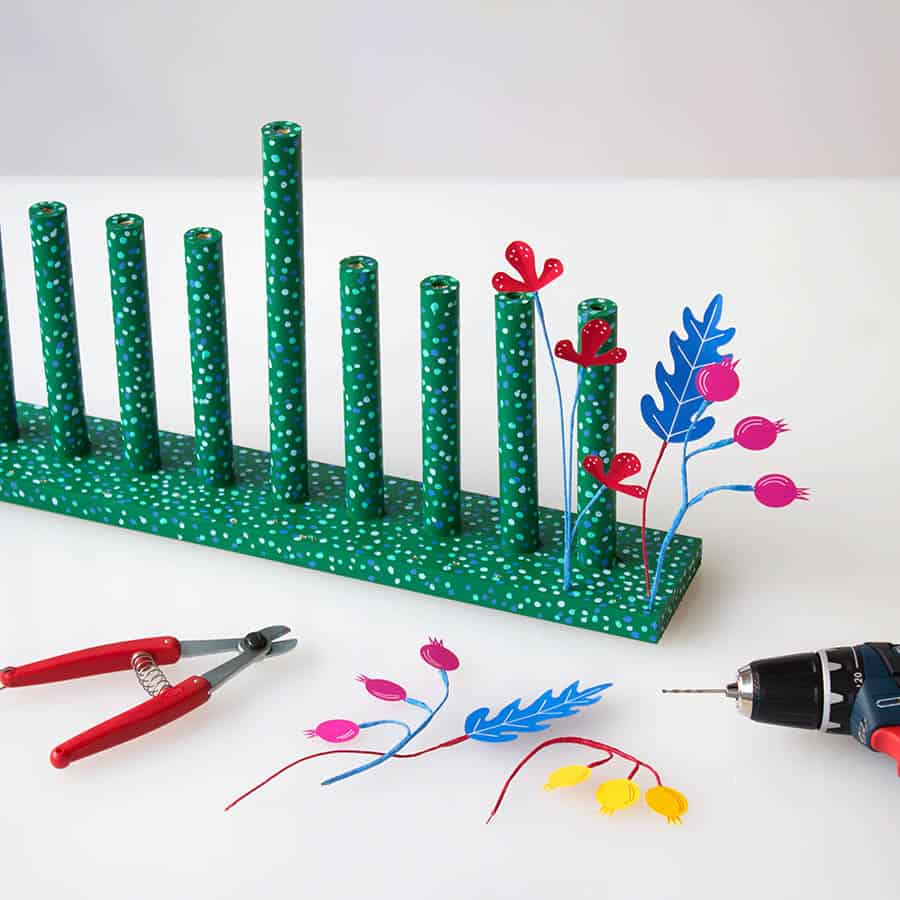 Using your drill with the 1/16" drill bit, drill holes into the menorah base and insert the wire stems into the holes. If you are using a menorah you already own, simply wrap the wires around it. We opted to keep our flowers low and pulled away from the candles. Be mindful of this when you are assembling. Dripped wax will not alight paper, but be cautious of the flames. We recommend if you are using this menorah with small children in the house, to use LED candles.