2020 Halloween Decor: Hanging Paper Lanterns (Simple DIY To Try In Lockdown!)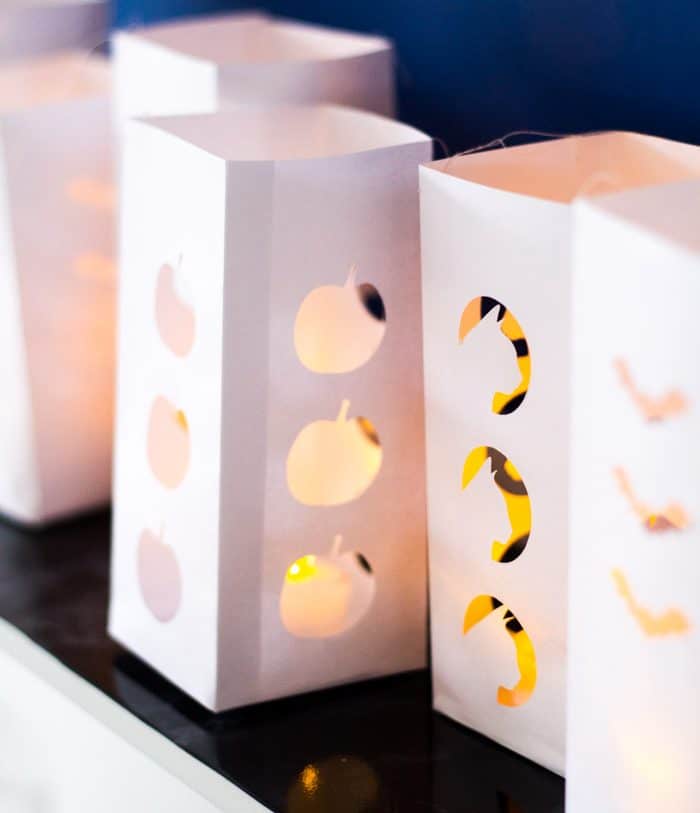 This blog is updated in 2020
When I'm making holiday decorations, I'm always brainstorming ideas to create interesting decor from materials I already own or are easy to get a hold of. Especially during the lockdown, I cannot go to supermarkets or stationery stores whenever I want to. These paper lanterns are made from a single sheet of printer paper and some clever cuts and folds. Using battery-powered tea lights makes them safe and versatile. You could hang these lanterns in a window, from a tree, or use them to decorate a shelf — anywhere you want to add something spooky!
All you need to do is decide if you want bats, cats or witches in hats! —Fran
Supplies
Printer paper
Craft knife and blunt-pointed object (for example, a skewer)
Steps
1. Measure 1/2″ into the length of the paper and score a line. Fold over to create a firm crease.
2. From the opposite side of the paper, fold in half using the score line instead of the edge of the paper to measure. Keep this 1/2″ tab folded over to help you line this up. Press the crease and fold in half again.
3. Unfold the paper and place in a landscape position. Measure 2″ from the bottom and score another line. This will create the template for your lantern.
4. Now you can either draw and cut each of the shapes freehand, or print out the shapes and transfer them onto your template. If you want to print out the pumpkins, you can get the template here. Turn the paper over so the print is facing down. In pencil, scribble over the printed areas.
You can also create your own designs using these bat and cat images.
5. Line up the pumpkins with the four equally sized sections on your lantern template. Hold the paper in place and draw around each pumpkin, keeping firm pressure on the pencil as you go. When you take the top piece of paper off, you'll be left with a pencil drawing of your pumpkin shapes.
6. Cut out each pumpkin. Firmly press a long piece of tape onto the outside of the 1/4" tab. Line this up with the inside of the opposite edge of the paper.
7. Fold in the bottom as if you were wrapping a present. Using the scored lines as a guide, fold in two opposite sides, creating points out of the other two sides. Fold these points into the middle and tape together.
8. If you want to hang your lanterns, thread the cotton onto two corners, leaving enough to hang it from wherever you choose. Place your lights inside using a little blue tac to hold the light in place in the middle of the lantern.