Learn how to make a hand-painted doormat with our handmade doormat step by step tutorial! A simple and fun way to personalize your front porch and cute DIY doormat design your own. Take a look at these doormat design images!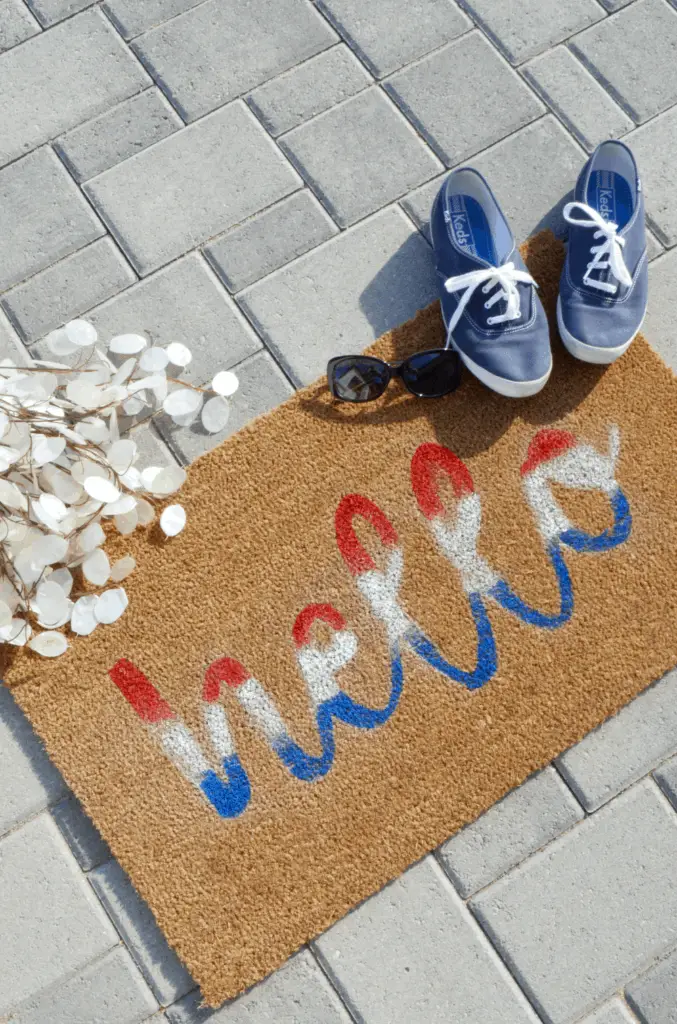 Could your terrace use a little facelift for summer? Try these easy hand-painted red, white, & blue DIY doormat for DIY doormat ideas to add a little personality to your front porch!
I'm so excited to bring you this custom DIY doormat tutorial to clothe your patio and welcome your guests. With a little prep, DIY doormat spray paint, and a quick DIY stencil you'll be ready to open the doors for a summer of enjoyment.
I love taking something simple and adding a little creativity to create an exclusive piece for my home. This DIY doormat without Cricut is an inexpensive way to give your home a customized look in just a few steps, for very little money.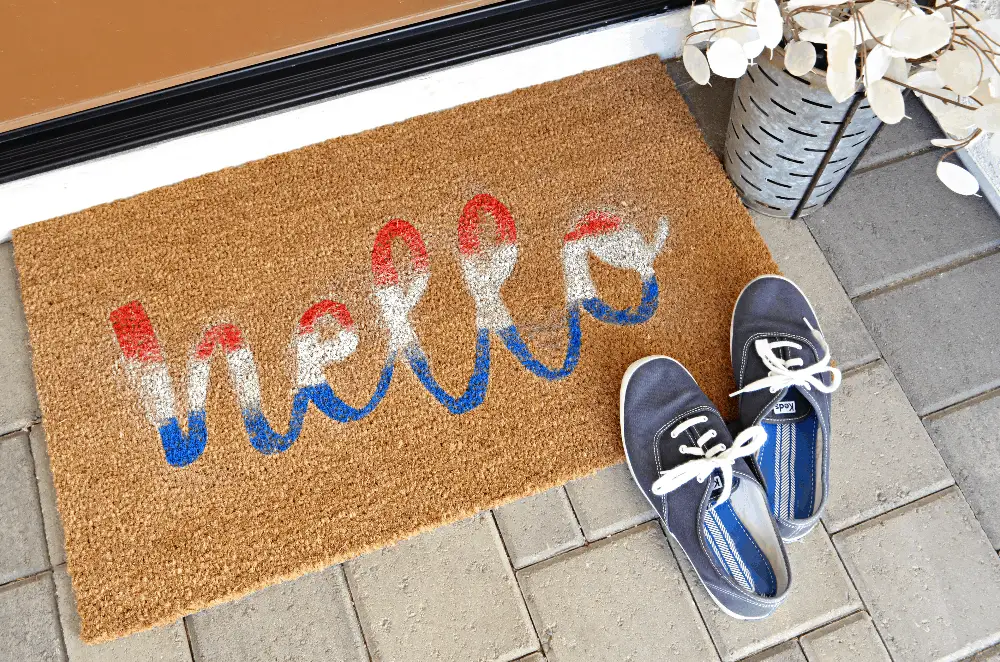 Supplies: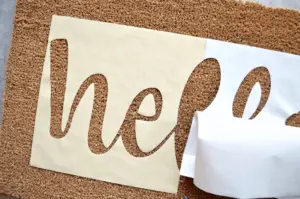 HOW TO MAKE DIY HAND PAINT DOORMAT?
Instructions:
Create your stencil using the freezer paper method or with adhesive vinyl.
Place your stencil in the preferred location on your pretty doormat. Iron on the freezer paper stencil or peel the backing paper back to set your vinyl glue.
Dip your paintbrush into the red paint first and begin marking the paint onto the top 1/3 of your hello stencil. Take care to use an up and down motion, especially around the edges, to ensure you create crisp edges on your letters.
Next, paint the base 1/3 of your hello with blue paint.
Paint the middle of the hello with white paint, making sure to make the inner white portion dense, and the outer edges towards the red and white more transparent to give it that gradient look. You may wish to slightly overlap the white on the colors.
Remove the stencil, and allow it to dry for at least 24 hours before using it. Finally, if you wish, add a clear coat to the painted area to protect it and make it last longer.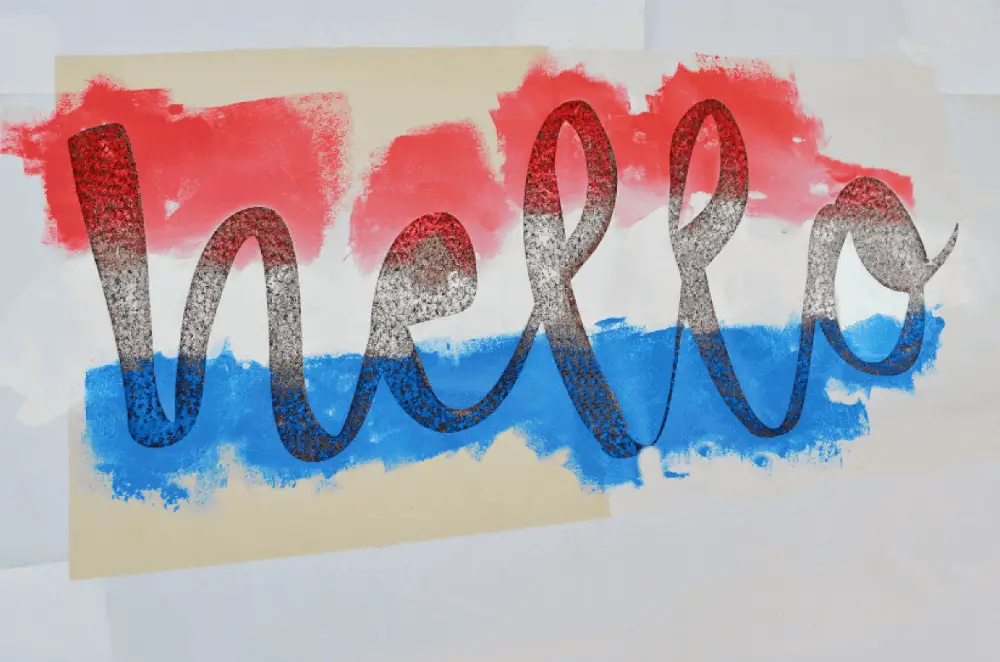 The final DIY mat is fun and doormat DIY are easy and perfect for giving your entry a fun summer vibe!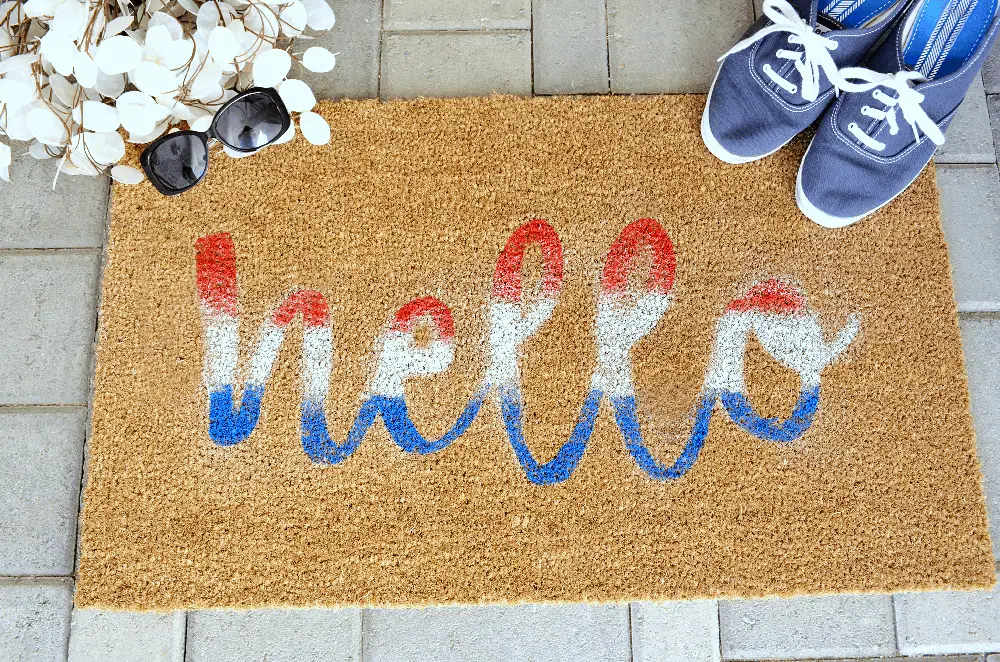 All the content in this blog is the property of aninspiring. Kindly refrain from plagiarising the content of this blog.