Crafts To Do During Quarantine: DIY Floral & Cactus Embroidery Projects For Beginners From A Year Of Embroidery[2020]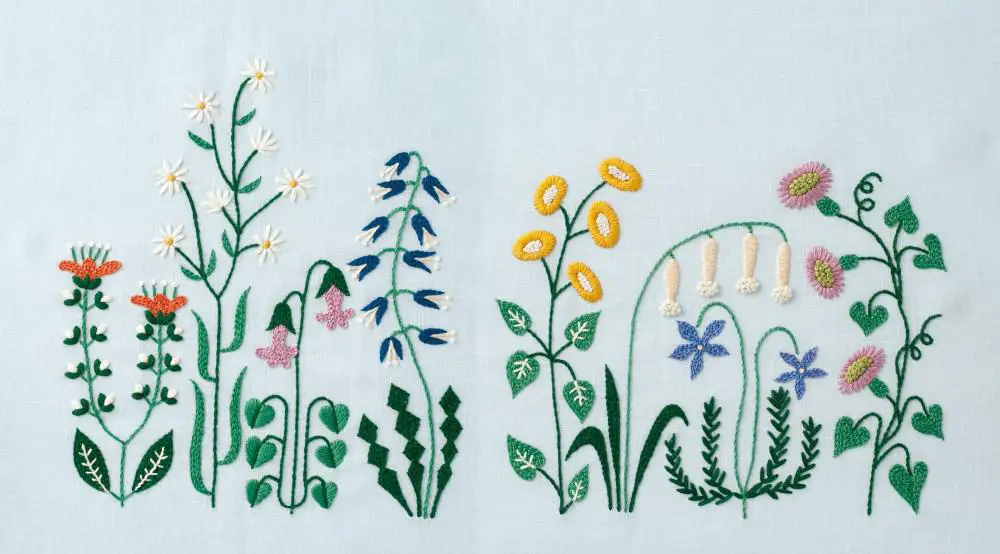 This blog is updated in 2020
I've always been into different forms of art, but I've never dabbled in sewing or embroidery stitches. Something about those two crafts like how to thread and knot embroidery needle has always threatened me, so I've never dared to use my hand to try them. But I've always been deeply infatuated embroidery, and it wasn't until recently that I started considering actually trying to make embroidery patterns and embroidery designs myself. A friend of mine is a very talented sewer and all-around DIYer, and after I told her that I'm not equipped with the skills to sew, she assured me that I am — that all people are — it just takes embroidery tutorial. Serendipitously, I came across A Year of Embroidery: A Month-to-Month Collection of Motifs for Seasonal Stitching, a new book by Japanese textile artist and designer Yumiko Higuchi, and I know how to embroider and DIY embroidery ideas.
Yumiko's book is so beautiful — page after page of simply-laid-out different types of embroidery in amazing colors and patterns, all of which have easy-to-follow stitching instructions and diagrams at the back of the book. The 38 embroidery logo vary in difficulty from beginner to advanced, so there's a little something for everyone. I was so exhilarated about this collection of how-to's that we asked Yumiko and Roost Books to share two of the book's stunning embroidery patterns and embroidery logo with our readers and they graciously obliged. Let's prepare the gifts for embroidery lovers! Below you'll find a list of DIY embroidery kit needed, tips for getting your project started, and templates to print out so you can execute these designs. Happy stitching! —Kelli
Image above: "Garden Flowers" pattern from pages 68-69, template HERE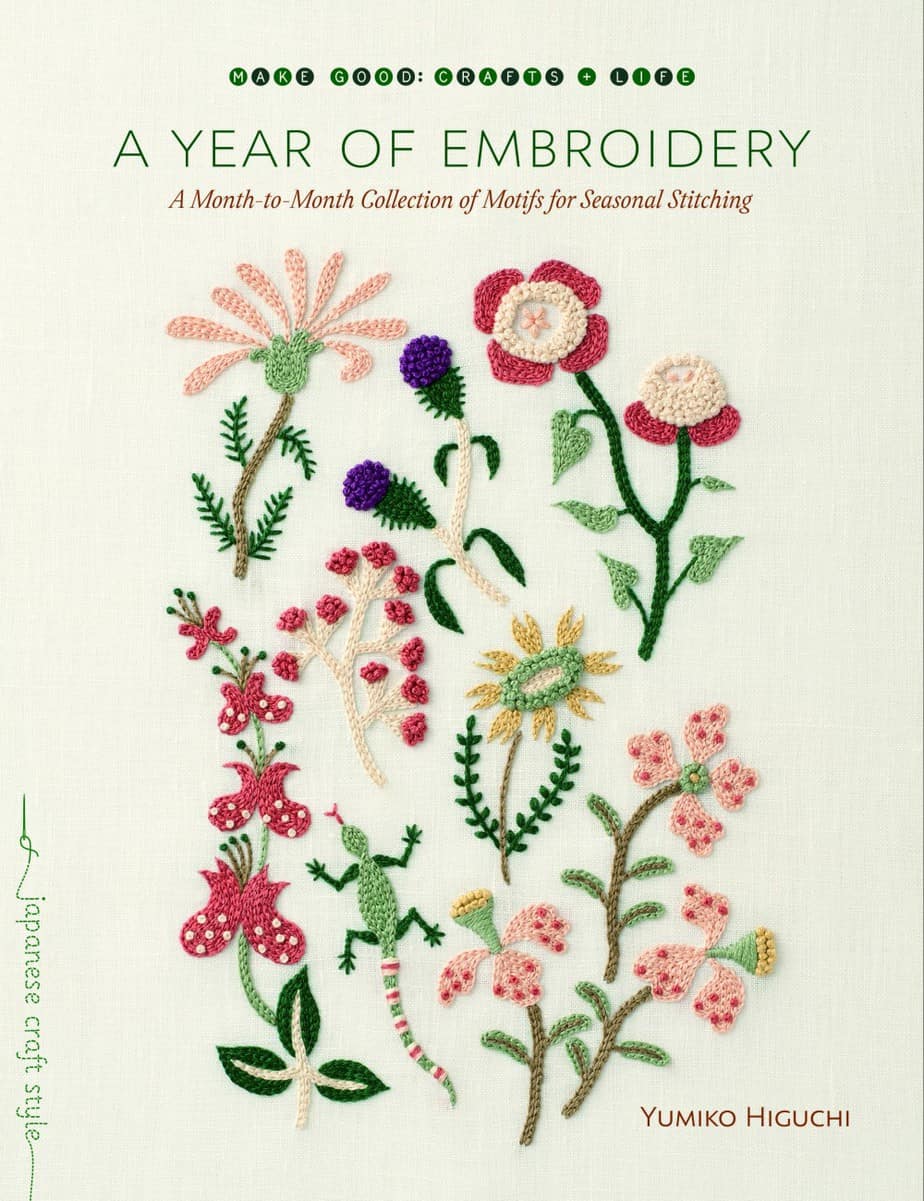 All the content in this blog is the property of aninspiring. Kindly refrain from plagiarising the content of this blog.

From A Year of Embroidery by Yumiko Higuchi, © 2018 by Yumiko Higuchi. Reprinted by arrangement with Roost Books, an imprint of Shambhala Publications, Inc. Boulder, CO.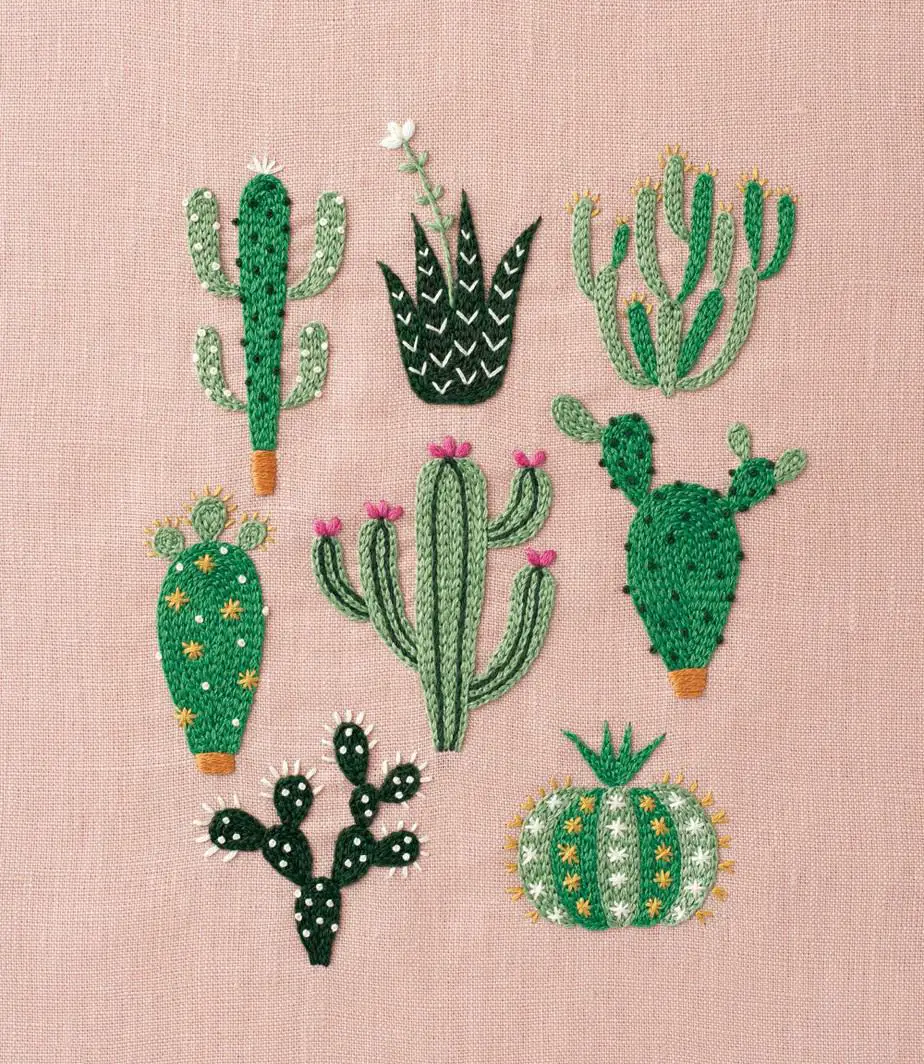 Image above: "Cactuses" pattern from page 78, template HERE.
Introduction from Yumiko Higuchi
"The changes of the seasons are woven into the themes of this month-to-month collection of embroidery designs. Each motif starts from one small stitch, but as my embroidery progresses through the seasons, I find myself considering the gentle turning of the world and the gradual cycle of all living things: flowers and plants, vegetables, birds and insects, snow and stars—and people as well. Spring nurtures its sprout, summer hoot for fun, autumn ignites brilliant colors, and winter deepens its tranquility. I find working on these designs a joyful, exciting time, and I feel grateful for the abundant blessings of nature.
Two of my favorite designs are dropped below, along with some embroidery basics if you are new to embroidery. Once stitched, you can also create small zakka crafts out of these finished projects, but you might also think carefully about stretching them on a panel as art to decorate your walls.
In this day and age when any and everything is available in a flash, I hope you will enjoy the forgotten comfort of working with your hands."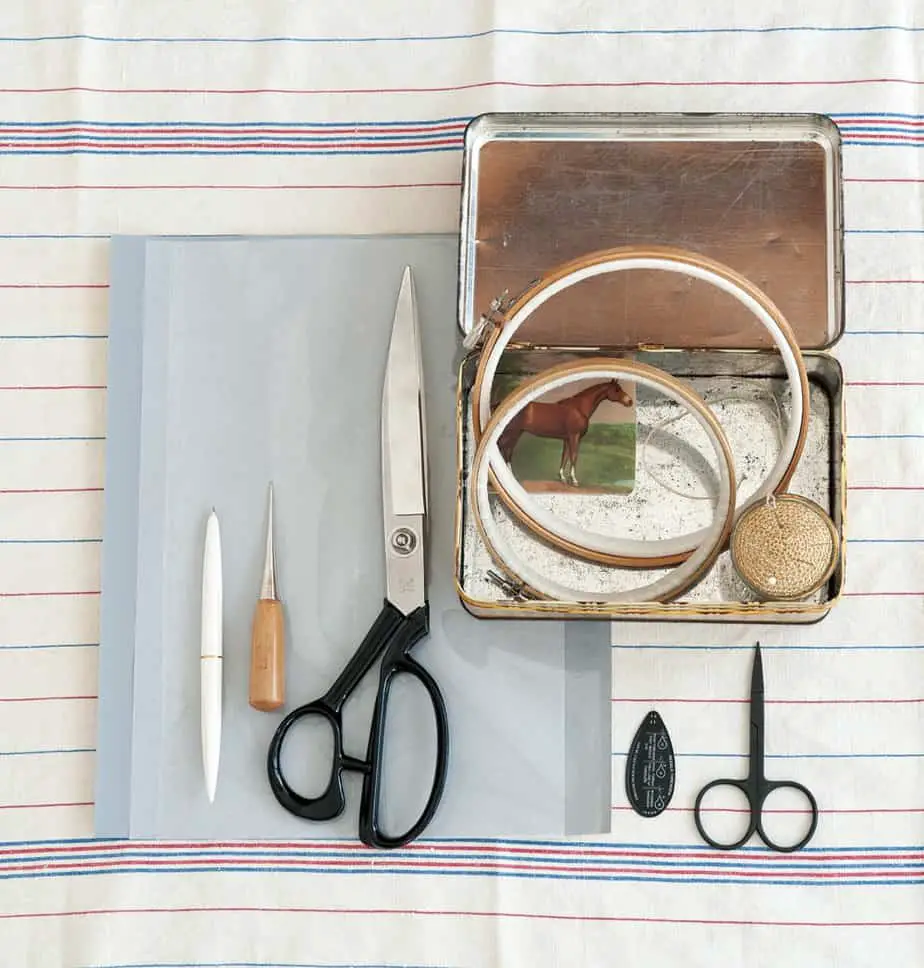 DIY Embroidery Kit
• Carbon Transfer Paper
• Tracer DIY embroidery machine (tool) or ballpoint pen
• DIY Embroidery Hoops: Use these to stretch fabric tightly. The DIY embroidery hoop size depends on the pattern size, but I suggest a 4-inch hoop.
• Scissors: Small, sharp, pointed scissors with a thin edge are the easiest to use for snipping threads.
• Embroidery Needles: Choose the size of your needle based on the number of strands you are using:
-No. 25 Embroidery Floss – Embroidery Needle
-6 Strands – No. 3/4
-3–4 strands – No. 5/6
-1–2 strands – No. 7–10
• No. 25 embroidery floss: No. 25 embroidery floss is the most popular. The shades of the colors and their identifying numbers depend on the manufacturer. To embroider the patterns in this book, I used DMC embroidery floss from France, which is known for its vivid colors and shiny texture. There are 6 strands of cotton thread loosely twisted together in each skein, and each skein is approximately 8.7 yards long.
• Linen fabric. Plain weave linen is simple to work with, especially for beginners. However, linen fabric has a tendency to shrink, so in order to avoid the fabric from losing its shape, it's best to wash and dry it before cutting it to size.
Getting Started
• Print your pattern of choice – Garden Flowers HERE and Cactuses HERE
• Put your carbon paper on top of your fabric and lay the pattern on top of both. Tape, pin, or hold in place and then trace the pattern using a tracer or ballpoint pen.
• Place your traced fabric of choice into the DIY embroidery hoop.
• Follow threading and stitching instructions drawn in the pattern.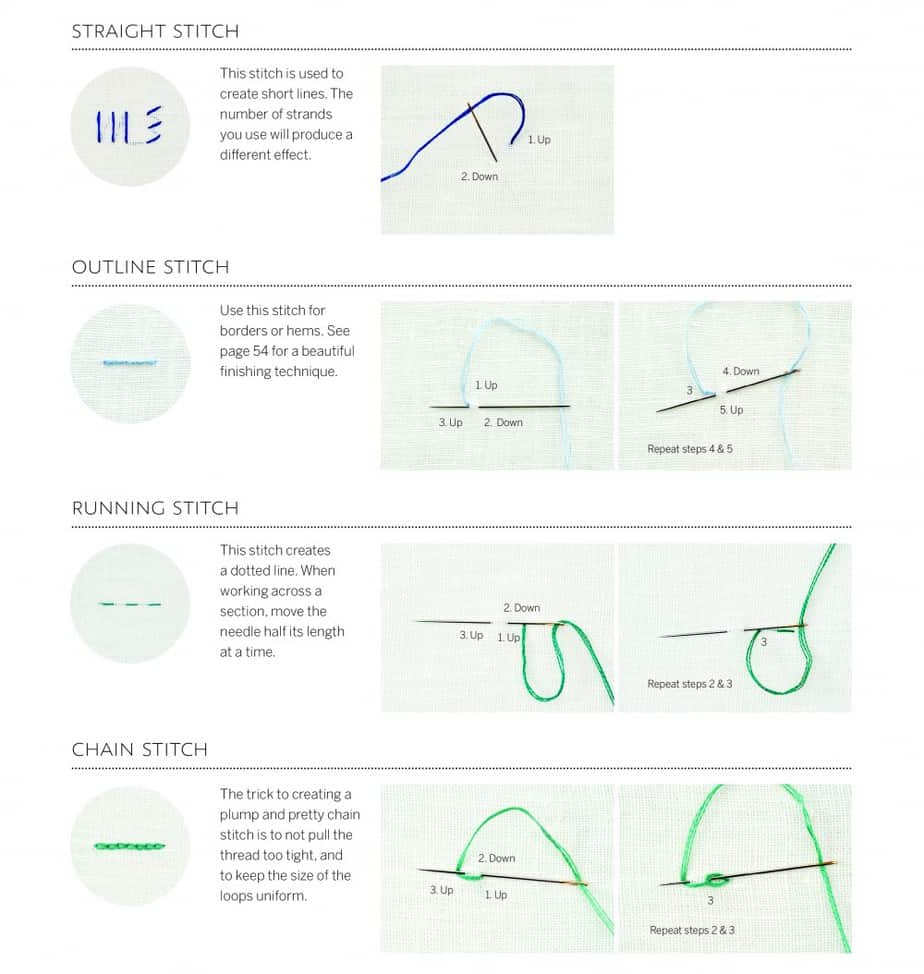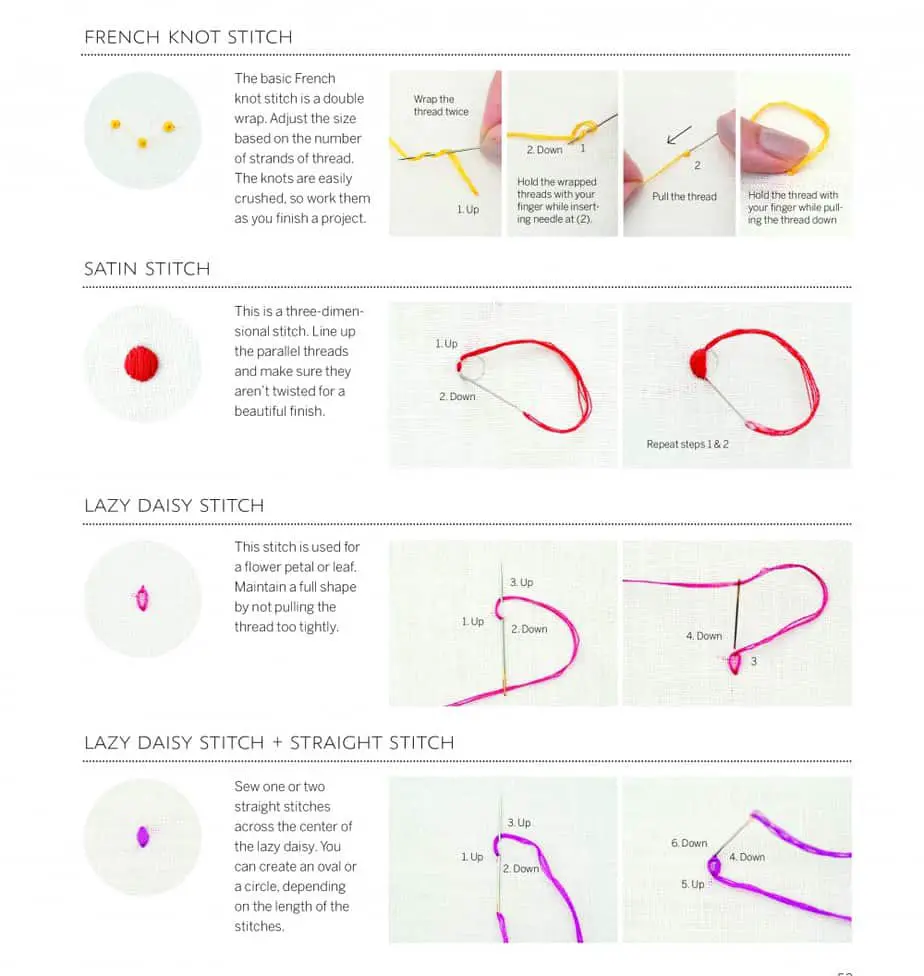 BASIC STITCHES 
Here are 8 basic embroidery stitches. I'll also show you tricks for finishing your work gorgeously.
Straight Stitch
This stitch is used to make short lines. The number of strands you use will produce a different effect.
Outline Stitch
Use this stitch for borders or hems. See page 54 for a pretty finishing technique.
Running Stitch
This stitch creates a dotted line. When working across a section, move the needle half its length at a time.
Chain Stitch
The trick to creating a plump and pretty chain stitch is to not pull the thread too tight and to keep the size of the loops uniform.
French Knot Stitch
The basic French knot stitch is a double wrap. Adjust the size based on the number of strands of thread. The knots are easily crushed, so work them as you finish a project.
Satin Stitch
This is a three-dimensional stitch. Line up the parallel threads and make sure they aren't twisted for a pretty finish.
Lazy Daisy Stitch
This stitch is used for a flower petal or leaf. Keep a full shape by not pulling the thread too tightly.
Lazy Daisy Stitch + Straight Stitch
Sew one or two straight stitches across the center of the lazy daisy. You can create an oval or a circle, depending on the length of the stitches.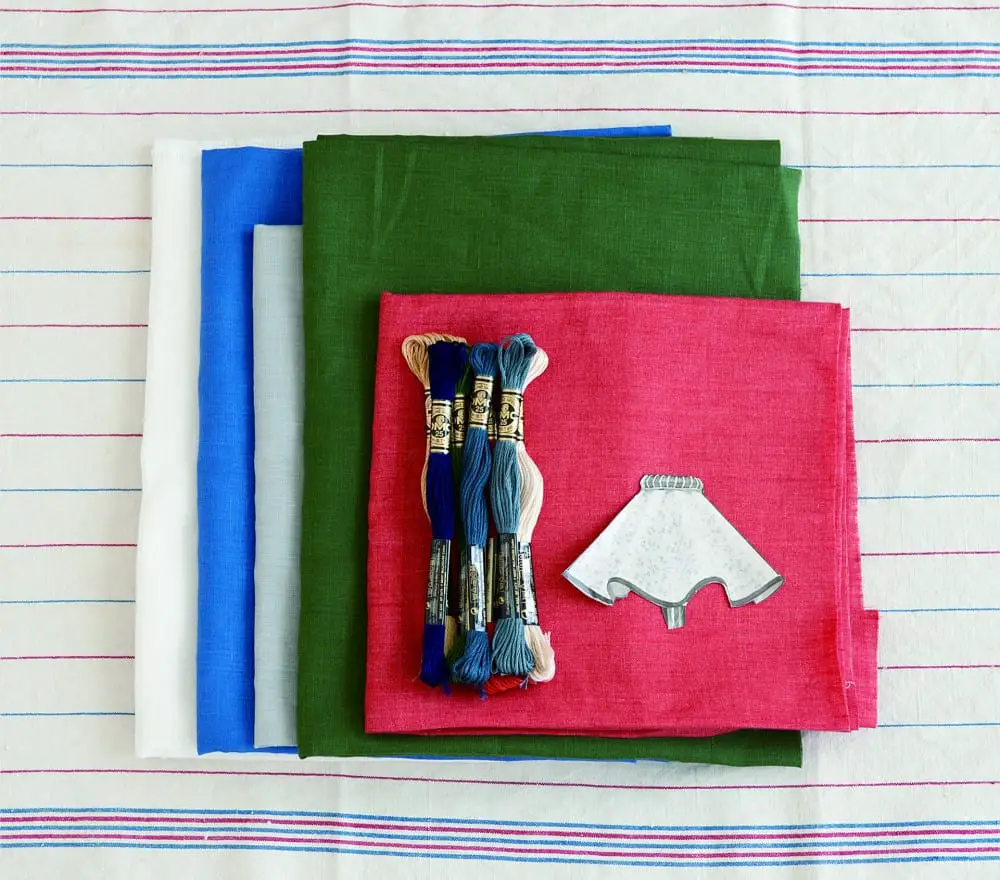 All the content in this blog is the property of aninspiring. Kindly refrain from plagiarising the content of this blog.