Check Out WHY #HomeCouture seems to be Like an Ultimate Challenge (2020)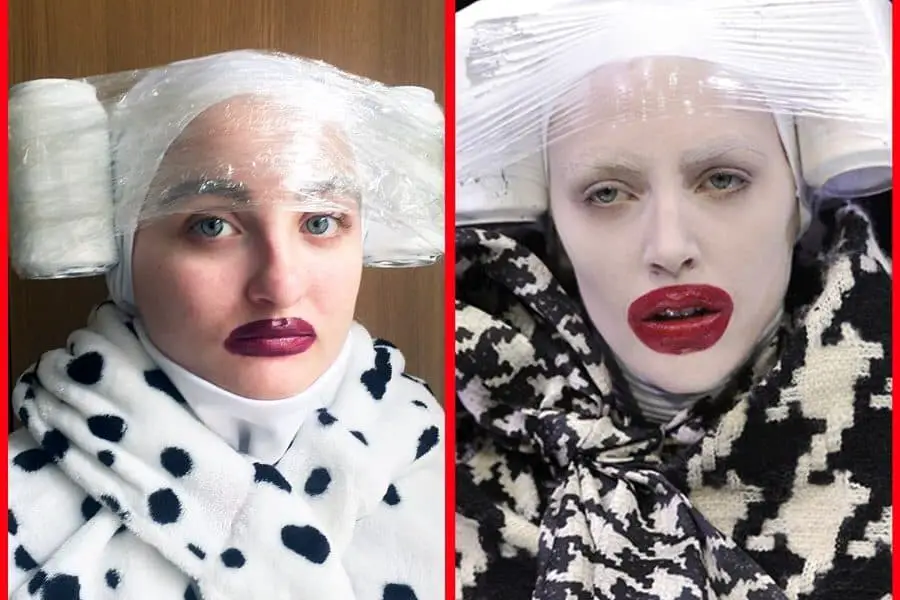 From chucking down a pint of beer to running five miles, Instagram challenges are keeping us busy during this quarantine. Although you think it is all fun and games, some of them can also reignite your creative spark.
London-based journalist and recent CSM graduate, George Serventi, @Skipdin, is the brilliant mind behind the #HomeCouture challenge, which is more than just frivolous fun.
"I thought I might provide some style comic break during this stressful period when everyone is bored and stuck at home," he tells _shift.
"And since the average millennial spends over two hours on Instagram a day, what better way to engage with them but with a witty challenge?" he adds.
To beat another day in a tracksuit, Serventi urges his followers to turn their living rooms into runways and recreate couture looks with whatever they can lay their hands on.
His instructions are as follows: "Recreate your fave runway/ red carpet look with whatevs you have lying around the house and upload using the hashtag #HomeCouture to join in the wholesome fun! Think scouring pad ball gowns, toilet roll palazzo pants and saucepan fascinators … Because in the words of Fifth Harmony, we CAN work from HOME!"
"Recreate your fave runway look with
whatevs you have lying around the house"
And people are taking the bait. After giving their own interpretation to the most iconic fashion weeks of all, they are proudly sharing their sartorial creations all over Instagram.
"They got pretty inventive with their bedding," Serventi admits. "I guess most of us are spending the nine-five under a duvet, so it is easy to find inspiration between the sheets!" he laughs.
Hannah Karpel, 21, recreated a look from John Galliano SS94. She tells _shift, "It is so easy to get bogged down by all the negativity in the news at the moment, and this challenge came as a relief. It is a chance to experiment with what you can find and laugh at yourself and each other."
She adds, "What better way to feel fabulous at home than in an extravagant silver skirt made of tin foil with a glass of Prosecco?"
Another participant, Harry Stevens, 19, explains, "Constructing my McQueen outfit took me only like ten minutes. It is just paper stuck together with tape and paint splatter. I wish I had yellow paint though because the look would have looked more DIY."
Not only does this challenge stimulate your creativity while letting you have some fun, but it also encourages you to think outside the box when making a garment. Serventi says, "It proves how easy it is to recreate what designers come out with, and anyone can do it."
"Anyone can do it"
By leading the way of using upcycling, this DIY challenge can help to promote ethical fashion. "Using what you can find around the house just confirms the fact you do not need to buy new to dress fabulously," says Hannah Karpel. "Even cardboard from the recycling box was going down a treat, but I would not recommend that in the rainy weather," she concludes.
From pink tissue paper to make a Molly Goddard tulle monstrosity to blown-up bin bags for a Comme des Garcons AW15 look, this challenge is asking you to experiment with unusual materials. Newspaper, cellophane, pot noodles and plates. You name it.
And by sweeping our social media feeds, these impressive attempts signed #HomeCouture bowled us over. Now it is your turn, our fellow fashion enthusiasts, to put your craft skills to test and take part in this challenge. Which look will you pick?