Cheap Secret Santa Gifts for Under $30 (2020)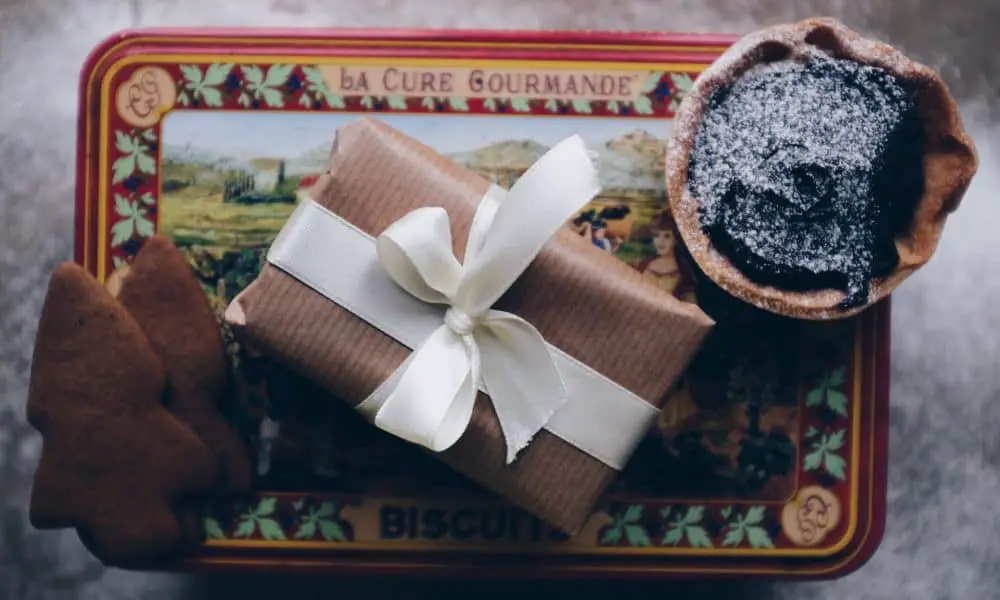 Secret Santa is meant to be fun, but for most of us that leave-it-until-the-last-minute can be a stressful time. So, for all of those in the giving spirit of Christmas, _shift has you covered. Whether you're seeking something witty or profound put on some Mariah, kick back and scroll.
An enlightening read
Former-FLOTUS and goddess Michelle Obama, has recently released a book and frankly, it's fantastic. It's the sort of book you'll read a page of and feel like you've acquired wisdom that's aged you 20 years. Plus it's an insight to getting one step closer to that friendship with Oprah we all desire.
Becoming by Michelle Obama, £19.99. Available at Waterstones
A loose coin purse
We've all read a horoscope at some point in our lives and some of us take them much more seriously than we need to and/or care to admit. A metallic velvet pouch, potentially adorned with creamy faux pearls and a personalised a zodiac pattern, will suit your purpose. Don't know where to buy such a wonder of beauty? Well, luckily astrology and fashion meet in the Anthropologie accessories department.
Zodiac jewelled-velvet pouch, £26. Available at Anthropologie
For the plant lover
Feeling like you want to give the office plant mom an upgrade from that "Little Miss. Naughty" mug they're watering their plants with? Here is your answer, the plant mister of dreams, as if it were picked fresh from a Scott Fitzgerald book.
Plant mister, £15. Available at Urban Outfitters
For the office sleepy head
There's always one person at work that complains about being tired. So why not spice up their life with this elegant eye mask, embellished with this charming Sansindo tiger? Inspired by the enchanting tales of the East, elegance and style meet, making it a genderless gift.
Eye mask, £15. Available at Desmond & Dempsey
For the femme fatale
For most of us, a swipe of red lipstick can make us feel indestructible. So why not let Tom Ford embellishing your lips? This sumptuous scarlet shade will enhance any look, with its pigments that deliver pure colour with the right balance of luminosity. And for all those winter-beaten lips, the lip paint is infused with soja seed extract, Brazilian murumuru butter and chamomilla flower oil, which will help restore any moisture the British weather has stripped you of.
Tom Ford lipstick in Scarlett 25, £29. Available at Net-a-Porter
For the stress consumed
We all love to moan about work, it's the mutual common-ground we can always rely on if our usual talking points shrink up. But there's always one of us which overly stresses about life, bordering on the burn-out. So why not gift them this enchanting Skandnavisk candle, inspired by the all-consuming Northern Lights. The Northern Lights are one of nature's seven wonders, a symphony of movement and scale once thought by ancient Norse chroniclers to be sun flare, great ocean fires or glacial fluorescence, so what better a gift to give to the stress-ridden?
Northern Lights candle by Skandnavisk, £29. Available at John Lewis
For the witty
We've all seen a meme mocking a decision that Kanye has made, many criticising his affiliation with populist politician Donald Trump and his intriguing observations about the "choice" of slavery. But if you work with someone that is appreciative of ironic popular-culture humour, then this should do the trick.
Kanye West notebook, £10. Available at Central23.
For the audiophile
For those that adore the formidable Stevie Nicks, but unfortunately didn't manage to get tickets to Fleetwood Mac's European tour, why not gift them this vinyl? It will be the perfect gift for the ones who love to float around their living room to the sound of all-time favourites 'Dreams and 'Go Your Own Way'.
Fleetwood Mac, Rumours vinyl, £14. Available at Amazon UK