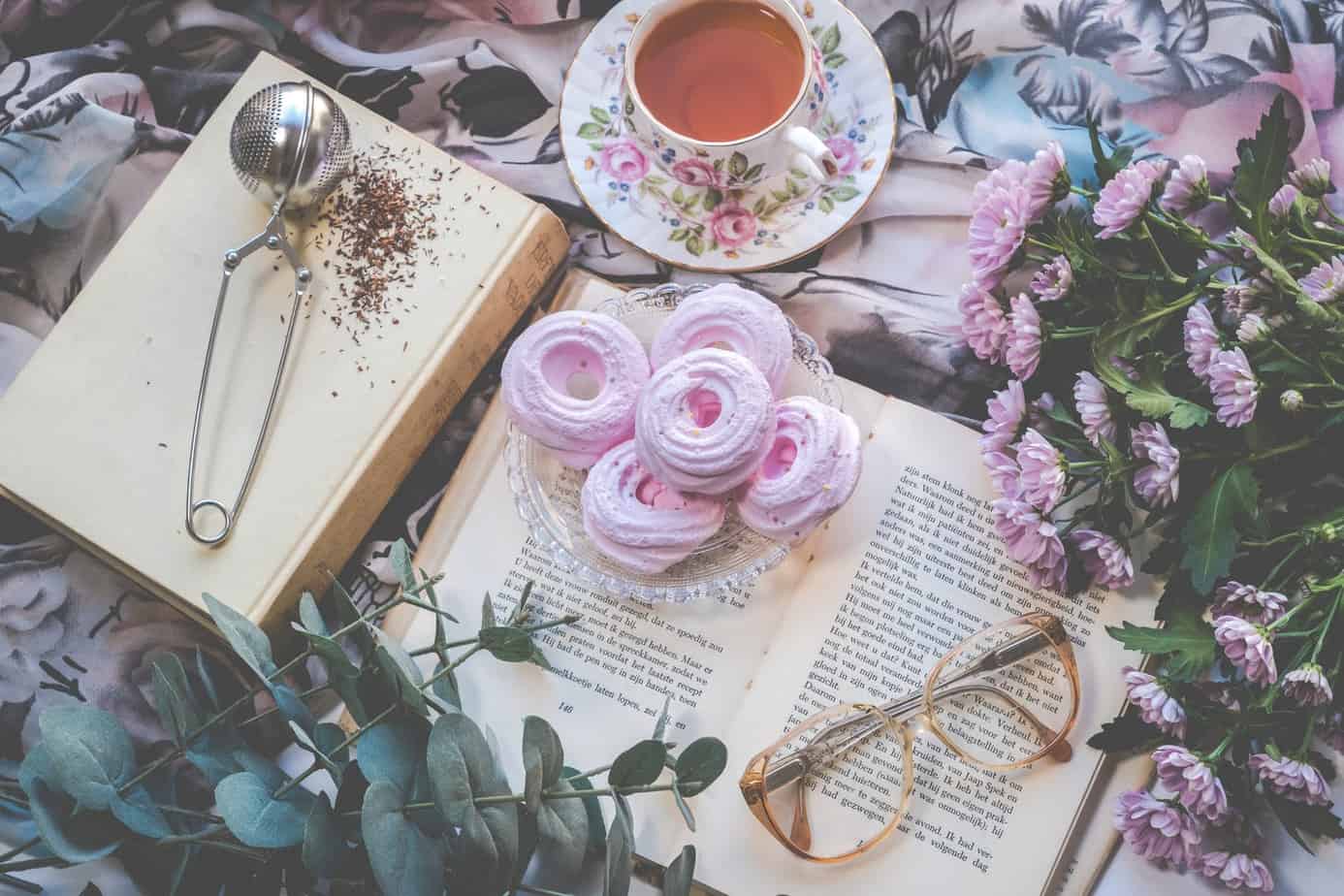 The tea advent calendar
The Pukka tea advent calendar 2021 has is designed with some of the most enjoyable herbal tea bags! This Fortnum & Mason tea advent calendar 2021 comes with unique flavors, like gin & tonic that will take you by surprise!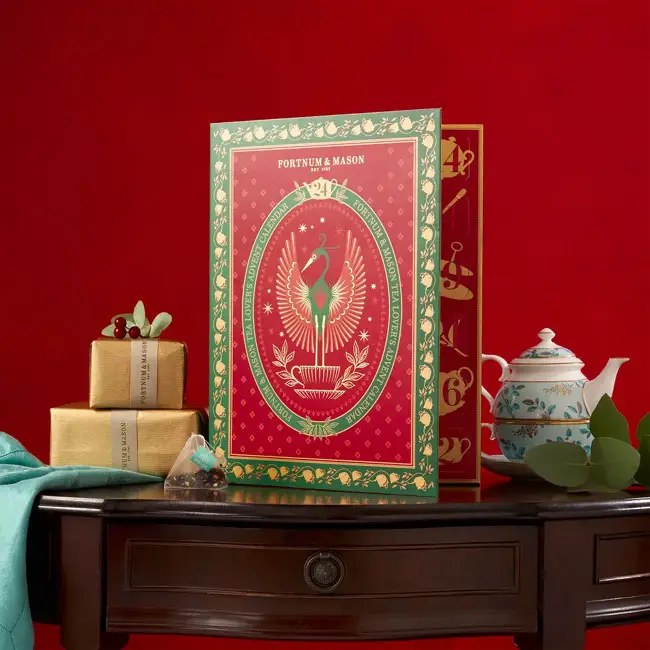 What you'll get? Fortum's tea advent calendar 2021 comes with 24 of their best silky tea bags, you can enjoy a freshly brewed cup of tea every day. It comes with their most-loved classic flavors and special flavors like the Gin & Tonic Flavour Green Tea and Rhubarb, Rasberry and Nettle Infusion if you are looking for something that hits differently! 
Why you will love it? The art deco box is gorgeously designed, making it perfect for a gift idea. The G&T brew is the best choice for any tea lover!
Check out Forum & Mason brand page in Amazon for other similar products…
PG tips advent calendar for tea lovers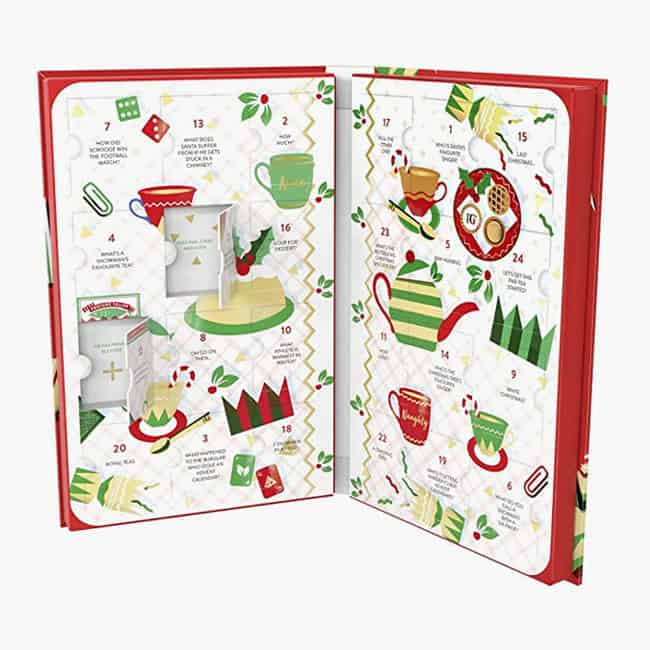 What you'll get? 48 tea bags – that's two cups of tea per day. Use one advent calendar for two! 
Why you will love it? This lovely tea advent calendar is designed for couples who are fond of wellness of mind and wellbeing. It allows you to enjoy a morning brew with your loved one and start your day energized! 
Pukka herbal tea advent calendar 2021 Christmas selection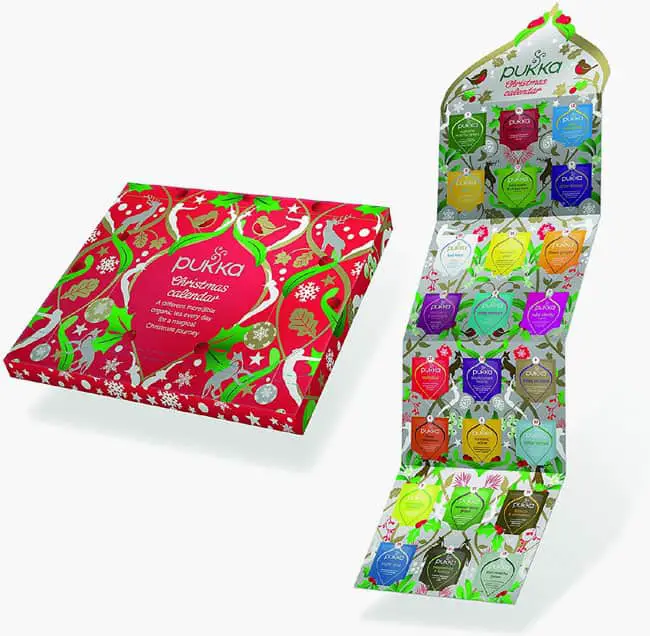 What you'll get? 24 tea bags of mouth-watering Pukka flavors, including wonderberry green, peppermint & licorice, and blackcurrant beauty.
Why you will love it? Apart from the fact that the flavors are divine, it's great to know that all the teas are sustainably sourced and ethically farmed.
Vahdam Teas 2021 advent calendar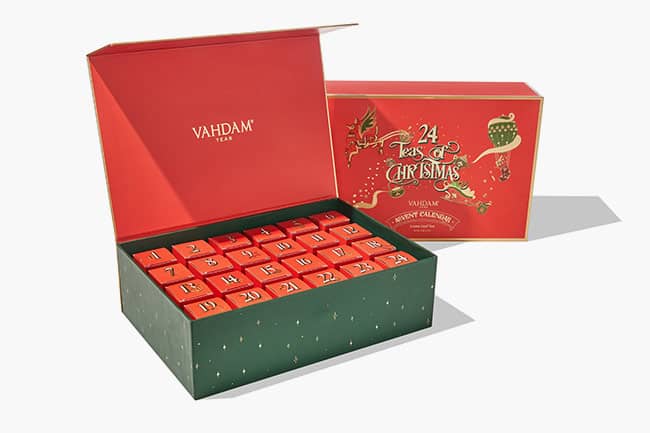 What you'll get? It's an exclusive gift with 24 gold tin caddies filled with award-winning teas and presented in a luxury gift box. This tea set is a perfect gift for anyone who is very serious about their tea.
Why you will love it? For a home-grown brand like Vahdam, tea farmers are a priority, and every time you purchase one of the Indian teas, a percentage of the revenue goes towards the education of the farmers' children.
English Tea Shop organic advent tea calendar 2021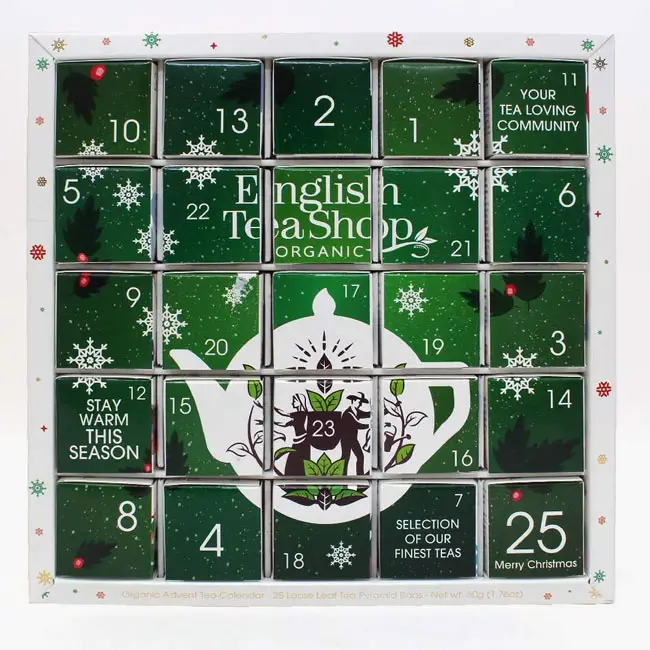 What you'll get? 25 pyramid bags of Christmassy flavors like Gingerbread Treat and Festive Spice.
Why you will love it? With this tea advent calendar 2021, you get an extra brew to enjoy on Christmas day while most of the other ones stop on Christmas Eve. Plus this is an eco and ethical option – all the teas are organic and produced by traditional small farms in Sri Lanka. The 2021 English Tea Shop advent calendar is also still up for grabs if you're so inclined.
T2 Tea world of tea advent calendar 2021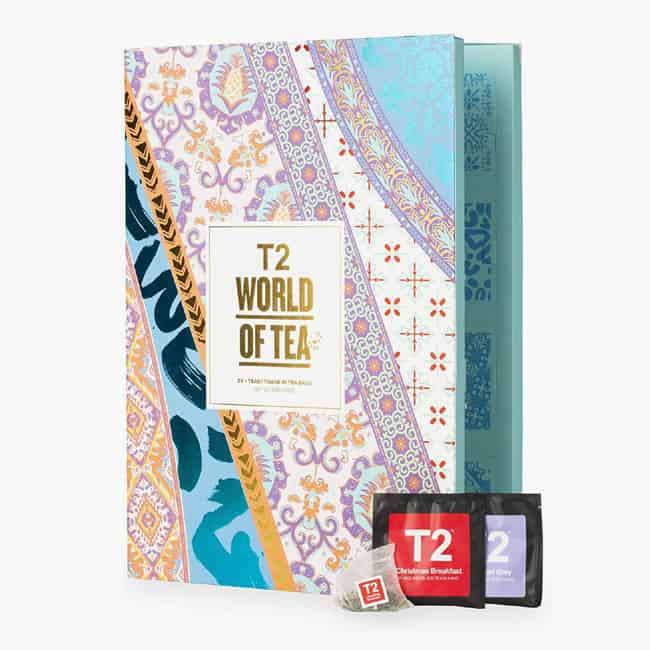 What you'll get? 24 bags of ethically-sourced tea, including T2's best-selling black and fruit teas, including delights such as Crème Brulee black tea, and the caramel-tasting Sticky Date Delight flavor. Yum!
Why you will love it? The unique design is loved by everyone! It's an advent calendar with T2's most loved tea flavors. This one ship in October or you can also order last year's edition for delivery now.
Teabrewer unique tea advent calendar 2021
What you'll get? 25 premium tea bags –  in the most convenient package! Simply pour boiling water into the bag and get two to three cups of tea.  
Why you will love it? It's convenient for anyone in a rush in the morning! It is also a unique idea with quality tea! It also allows you to share it with your loved ones, what a festive advent calendar!  
Twinings super blends 2021 advent calendar
What you'll get? 24 bags of winter warmers – we're talking green teas and infusions with botanical ingredients or an added vitamin or mineral
Why you will love it? These teas have a little extra. Starting your day with extra vitamins and minerals can never be a bad thing, right?
Check out Twinings brand page on Amazon for similar products…
Countdown For Christmas 
If you haven't yet purchased a tea advent calendar 2021 for Christmas, don't forget to SHOP NOW. These options are also a good choice for gifts to your tea lover friends and families. After all, Christmas is a special day to share love and happiness with your loved ones. If you have already bought the advent calendar 2021, there's nothing more I can do than hope you will enjoy this wonderful holiday season!
Also, if you are looking for other gift ideas, click HERE for more!