[2020] 20+ Awesome Pet Halloween Costumes You Should Buy To Have A Quarantine Party With Your Pet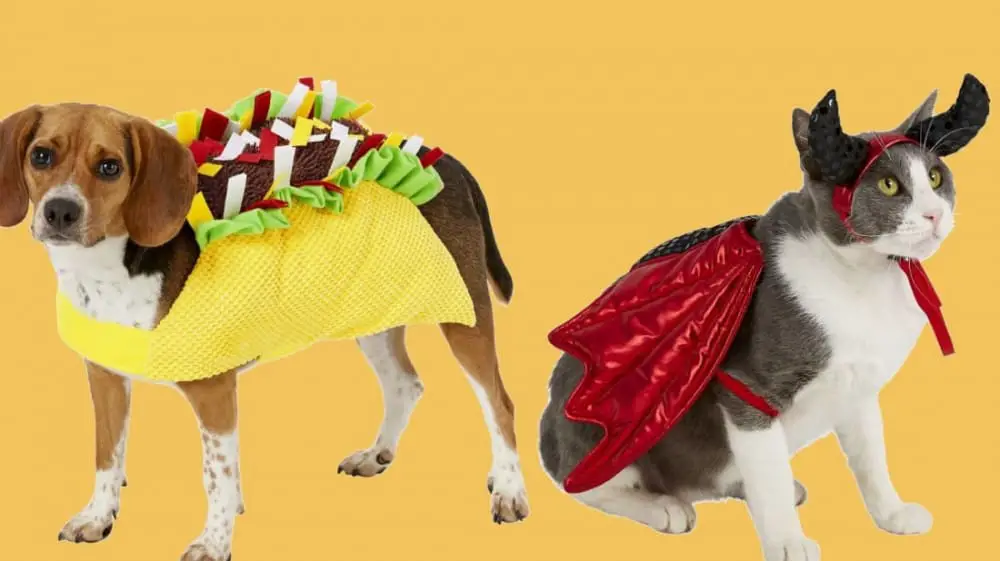 This blog is updated in 2020
Holding a lockdown mini Halloween party with your pet(s) sounds silly? Not at all! For one glorious day, you can turn your dog or cat into a vampire, a superhero, a Jedi, or even a taco, and it's seen as completely normal. But picking out the right dog or cat costume can be difficult, especially with all of the choices available. Here, we've got 20+ awesome cat and dog Halloween costumes you can get at Amazon, Chewy, Target, and Walmart. For those who are looking for some daily dog top, coats or pajamas, click to get some more ideas for you.
1. Wonder Woman Dog Costume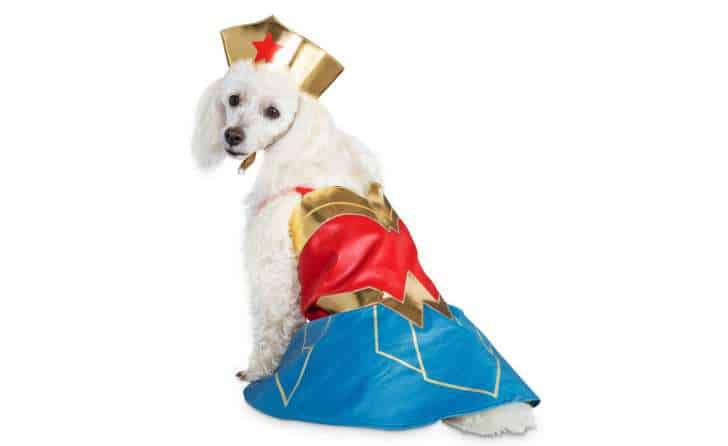 Turn your pooch into an Amazonian warrior with this ensemble that carries the colors and familiar tiara of Wonder Woman. Steve Trevor sold separately.
Buy it: Amazon
2. Superman Illusion Dog Suit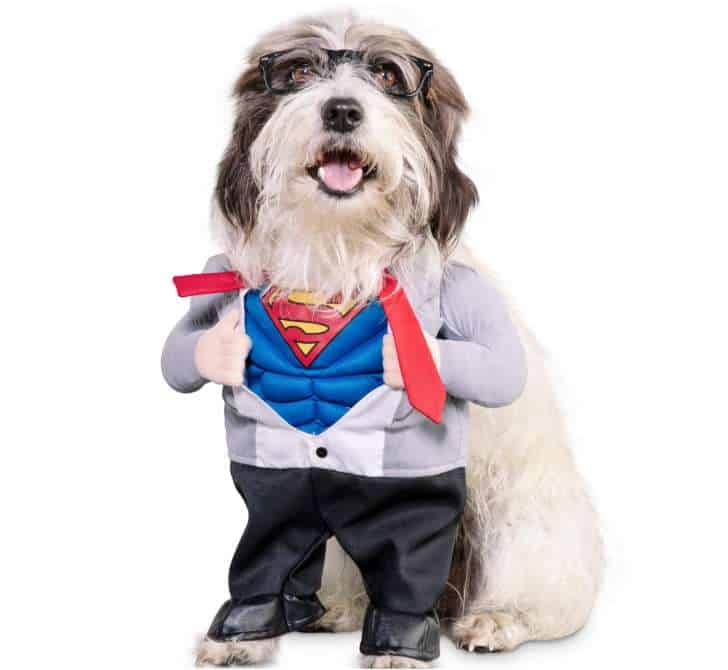 Superpups won't need a phone booth to dash into with this illusion suit that mimics that iconic transformation of Clark (Bark) Kent into Superman. (Note: Glasses do not have corrective lenses.)
Buy it: Amazon
3. Batman Dog T-Shirt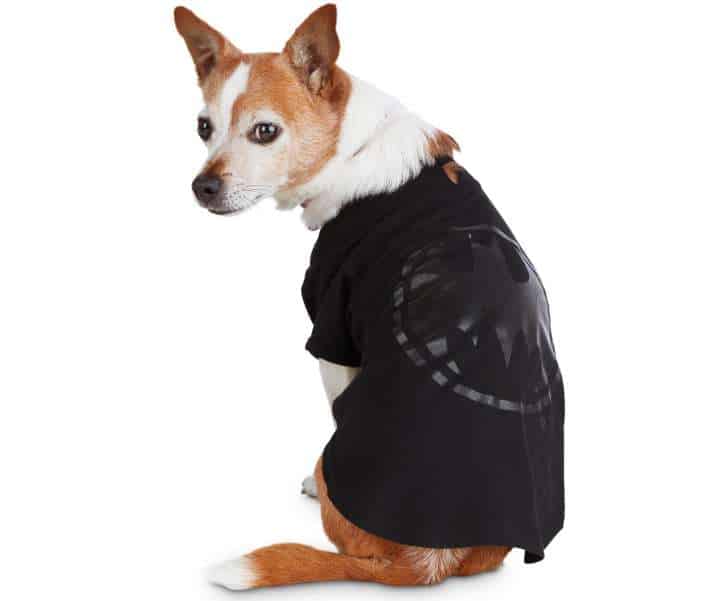 If your pet is low on patience when it comes to elaborate costumes, consider this minimalist approach. A Bat-symbol emblazoned on the back shows off support for vigilante justice.
Buy it: Amazon
4. DC's Batman Illusion Dog Suit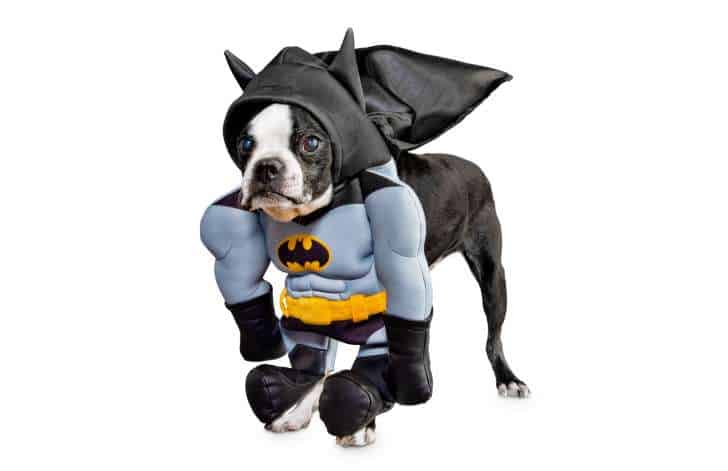 Your doggo probably never got to know their parents, which is at least one thing they have in common with Bruce Wayne. Avenge Gotham with this padded costume that gives your pet better abs than yours.
Buy it: Amazon
5. Batman Dog Bandana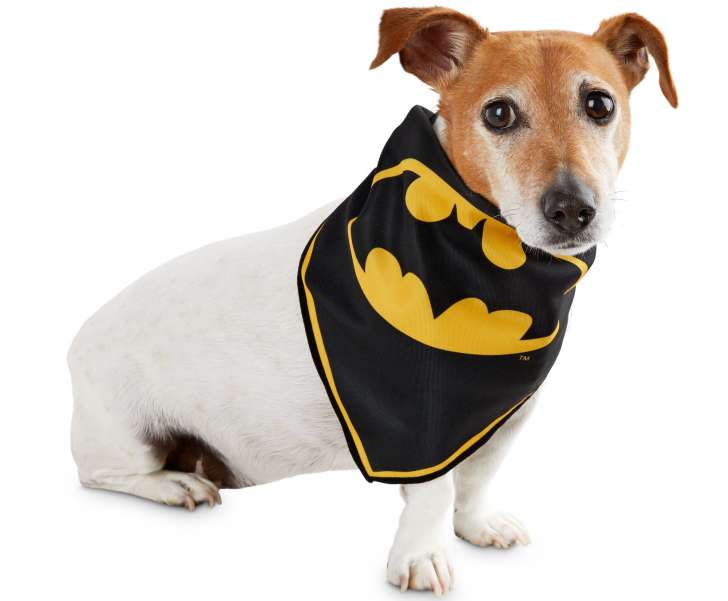 The Bat-logo stands out against a yellow background in this pup-friendly kerchief for dogs that prefer sleeveless attire.
Buy it: Amazon
6. Superman Dog Bandana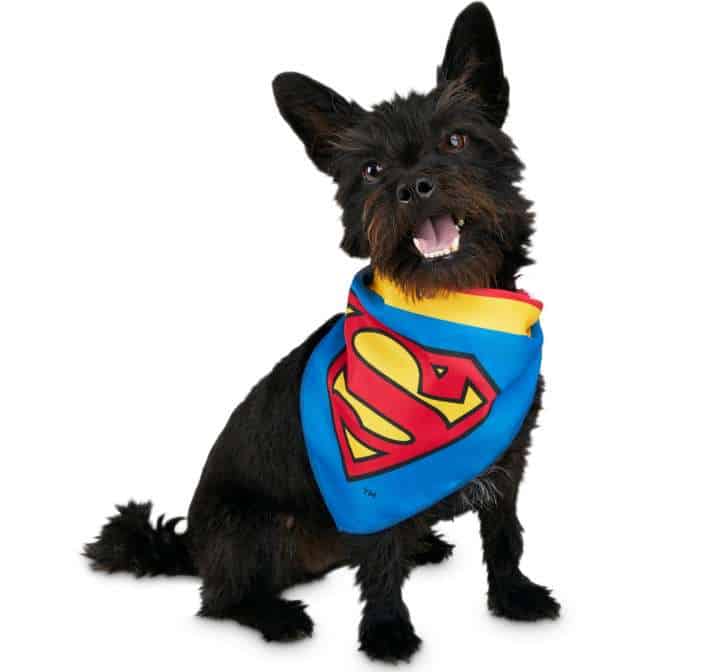 Is your heroic hound ready to cast off his glasses, quit his job as a newspaper reporter, and share his true identity with the world? This bandana is the classiest way to do it.
Buy it: Amazon
7. Spider-Man Hoodie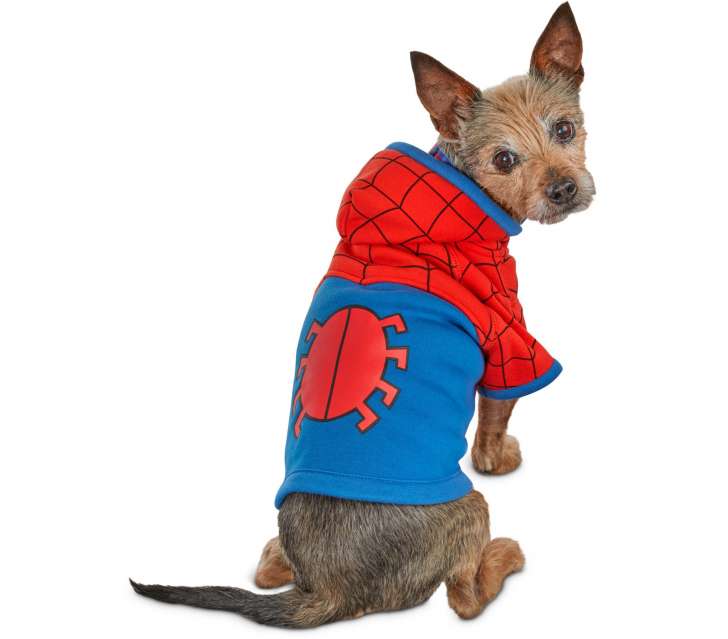 While the debate over which Spider-Man did it best—Tom Holland, Andrew Garfield, or Tobey Maguire—rages on, the clear winner is about to be your dog wearing this costume.
Buy it: Amazon
8. Jack-o'-Lantern Dog Hoodie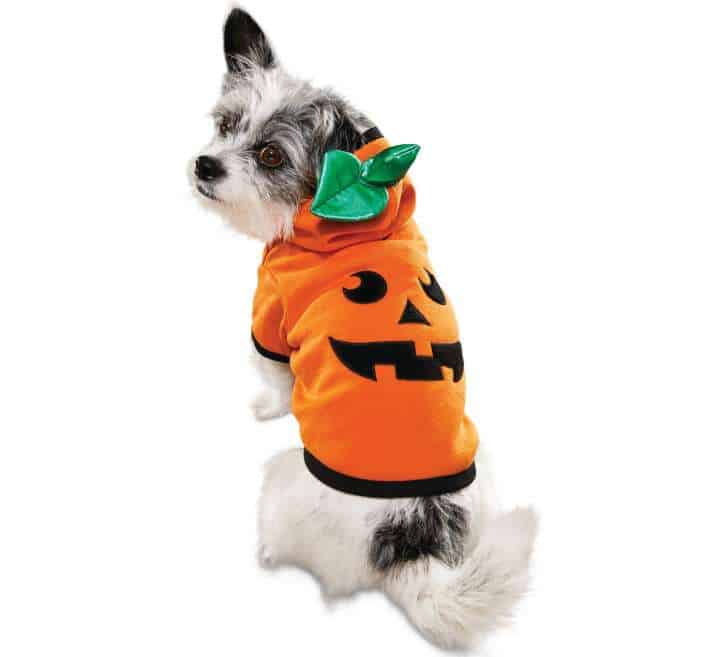 Because carving jack-o'-lanterns is hard, turn your pup into a "pupkin" instead with this easy pullover Halloween hoodie.
Buy it: Amazon
9. Cookie Monster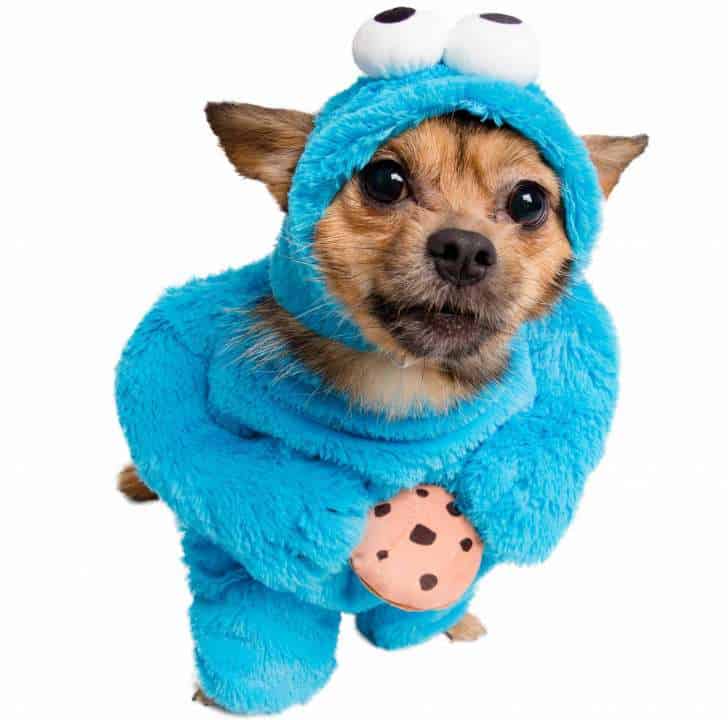 The perfect outfit for the pooch who won't take their eyes off your cookie even though they definitely can't have chocolate.
Buy it: Amazon
10. Toast of the Town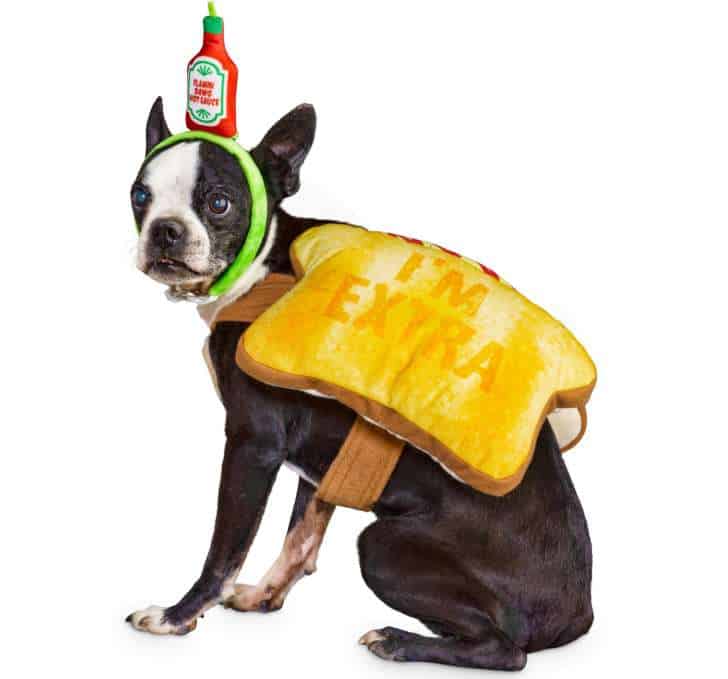 This oh-so-extra outfit is ideal for trendy millennial pets who know that the secret to happiness lies between two thick slices of avocado toast. The "Flaming Dawg Hot Sauce" headband is just icing on the cake … er, hot sauce on the toast.
Buy it: Amazon
---
Affiliate links are used. AnInspiring may earn a small affiliate commission from purchases made from our editorially chosen links.
---
11. King Purrington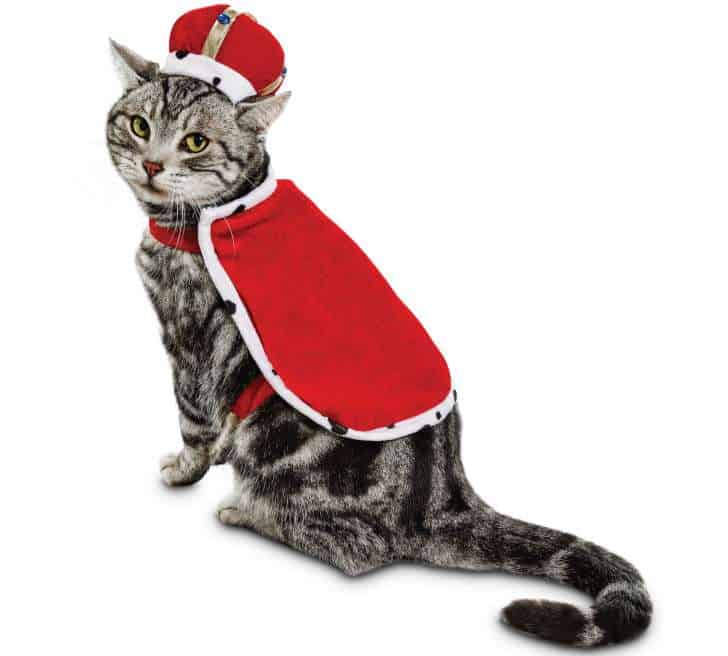 Your cat doesn't need to dress like royalty to know they're in charge, so let this king costume serve as a reminder to everyone else in the house. Just don't be surprised if your cat starts acting haughtier than usual after sporting a cape and crown for a few hours.
Buy it: Amazon
12. Lion Mane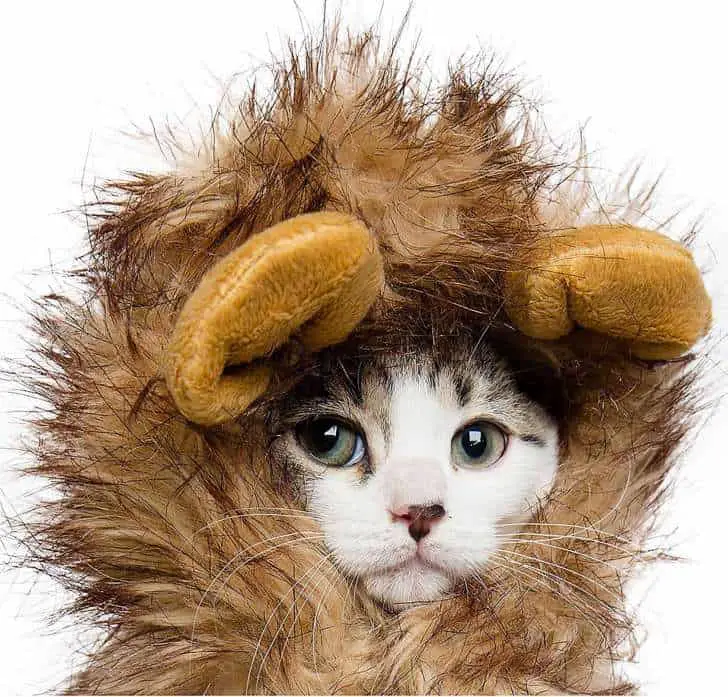 Halloween is a chance for your pet to look as ferocious as they feel all year long. But be warned: This lion mane costume will probably illicit more "awws" than screams.
Buy it: Amazon
13. "Witch, Please!" Dog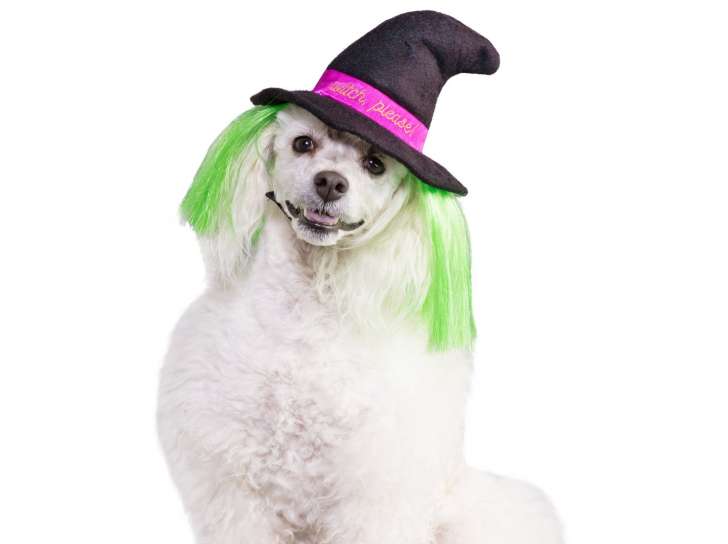 Spookiness, sassiness: This witch hat for dogs—complete with a lime-green wig and the words "Witch, please!" emblazoned on the band—has it all.
Buy it: Amazon
14. Teddy Bear Dog Costume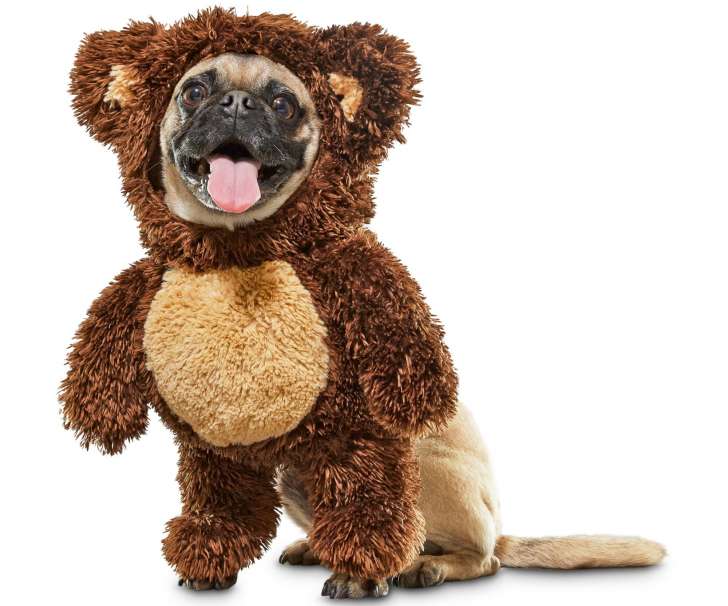 Your dog can become a bit more squeezable when you dress it up like a plush teddy bear—complete with little arms, legs, and ears.
Buy it: Amazon
15. Blue Monster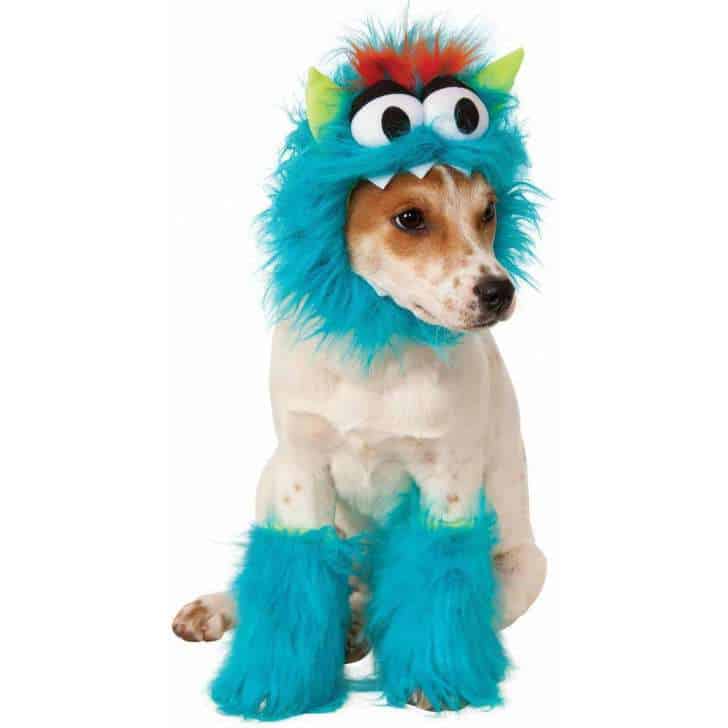 This Halloween, turn your pet into a furry beast—more so than usual. And if you don't like the shock of bright blue hair, you can go for the pink version. It's your money; embarrass your pup as you please.
Buy it: Amazon
16. Jurassic World T. rex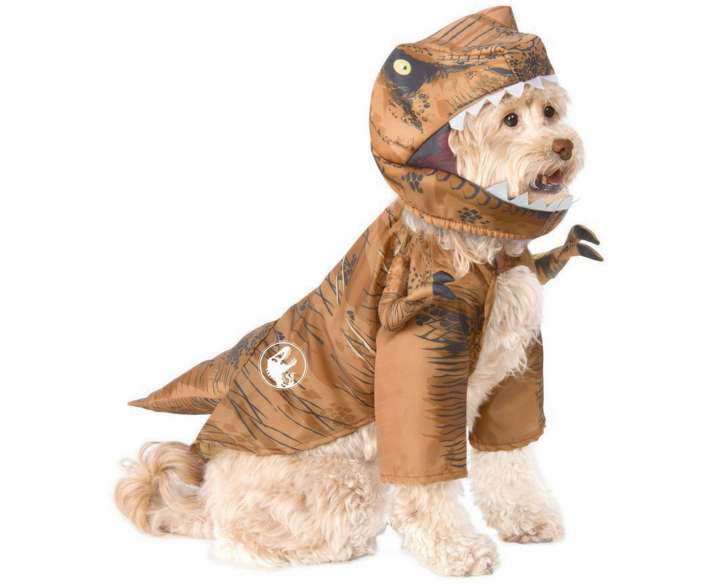 Cue the John Williams, because this T. rex costume is perfect for any dino-lovin' Halloween freak out there. The kicker? The tiny arms, of course.
Buy it: Amazon
17. Yoda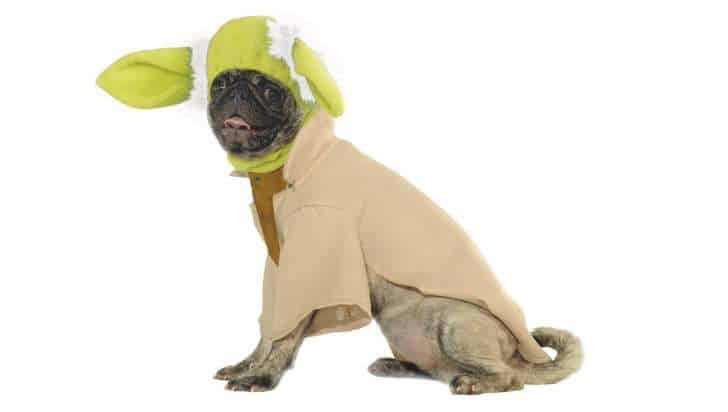 You already know your pet is wise beyond its years, so slapping a Yoda costume on it is only natural. If you can't fathom getting your cat or dog into the robe, you can opt for just the Yoda ears, too.
Buy it: Amazon
18. Skeleton Hoodie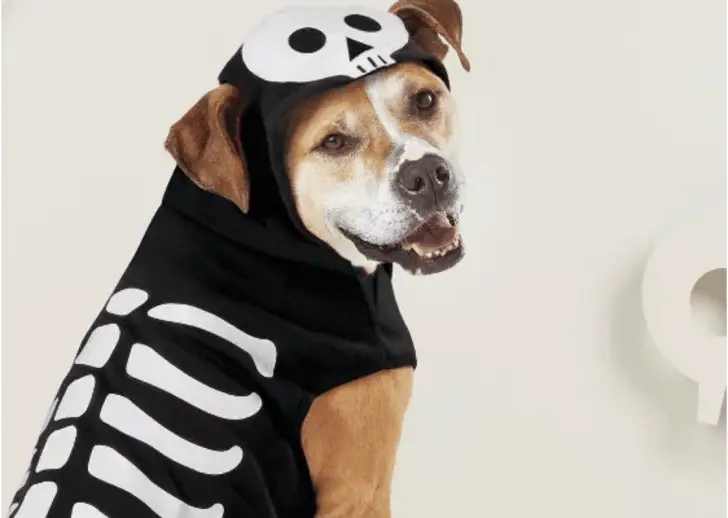 You really can't go wrong with a classic like this skeleton hoodie. And with the ear holes in the hood, your pup will be comfy all Halloween long.
Buy it: Target
19. Ewok Dog Costume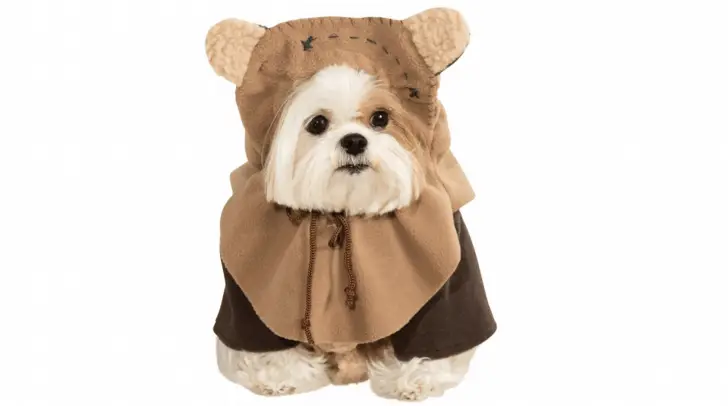 Even the most jaded of Star Wars fans won't be able to resist this simple costume that turns your dog into a fierce and fuzzy protector of Endor.
Buy it: Target
20. Jedi Robe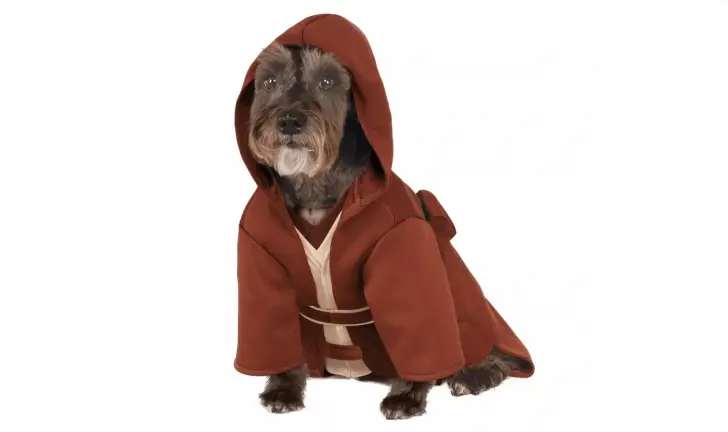 A costume for a more civilized age, this Jedi pet robe is easy to slip on and adds a graceful elegance to any dog's life. Just keep an eye on their paws—you don't want to fall for that mind trick nonsense.
Buy it: Target
21. Dog & Cat Sombrero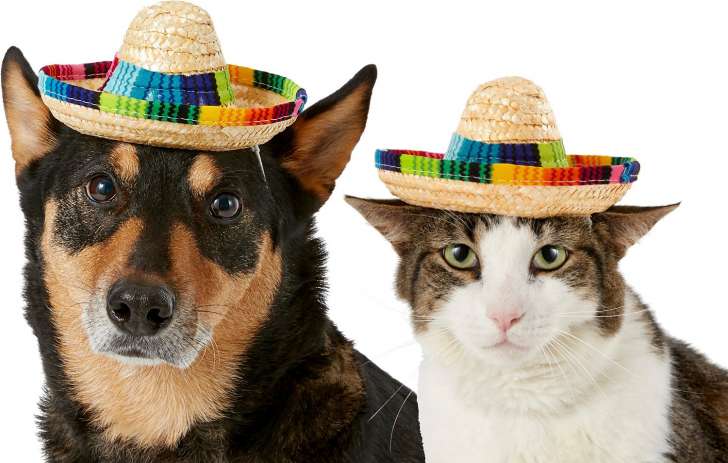 The best part about this sombrero for your cat or dog is that there's no reason why you can't strap it on their head even after Halloween is over. They may hate you for it, but the look on their face will make a great photo op (see above).
Buy it: Chewy
22. Cat Devil Costume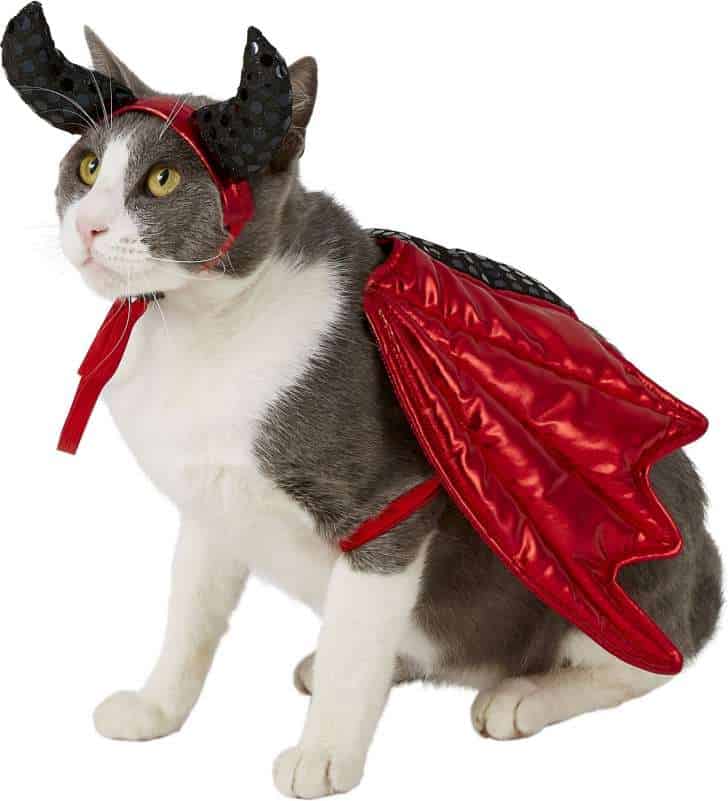 Every cat has a touch of evil in them, so indulge them this Halloween with the set of horns they've earned throughout the year.
Buy it: Chewy
23. Cat & Dog Vampire Cape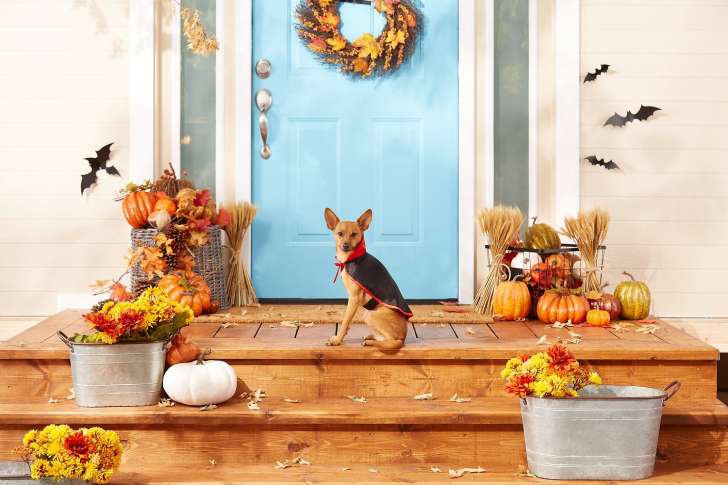 Simple but effective—turn your pet into an elegant count this Halloween with this red-lined black cape.
Buy it: Chewy
24. Taco Dog & Cat Costume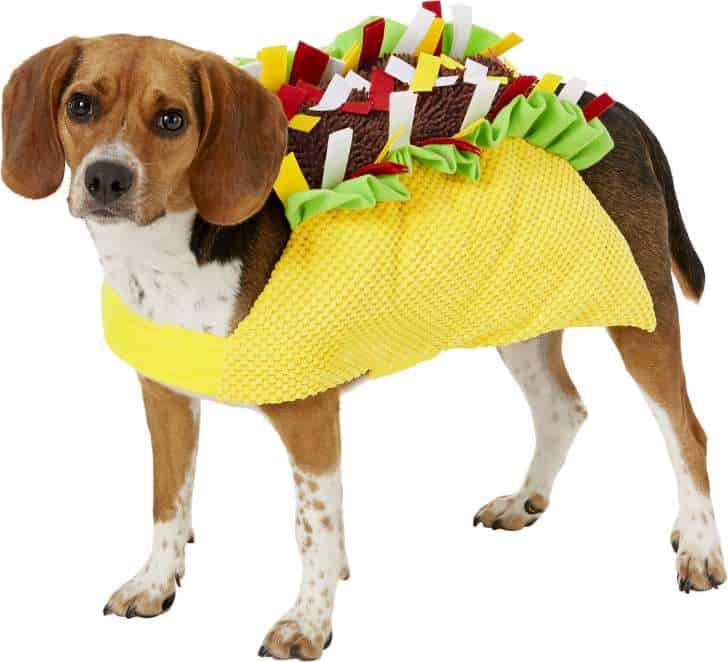 Your favorite pet dressed as your favorite food. Best of all, the entire taco costume comes in one piece, so you don't have to worry about assembly being a hassle.
Buy it: Chewy
25. Dog or Cat Business Suit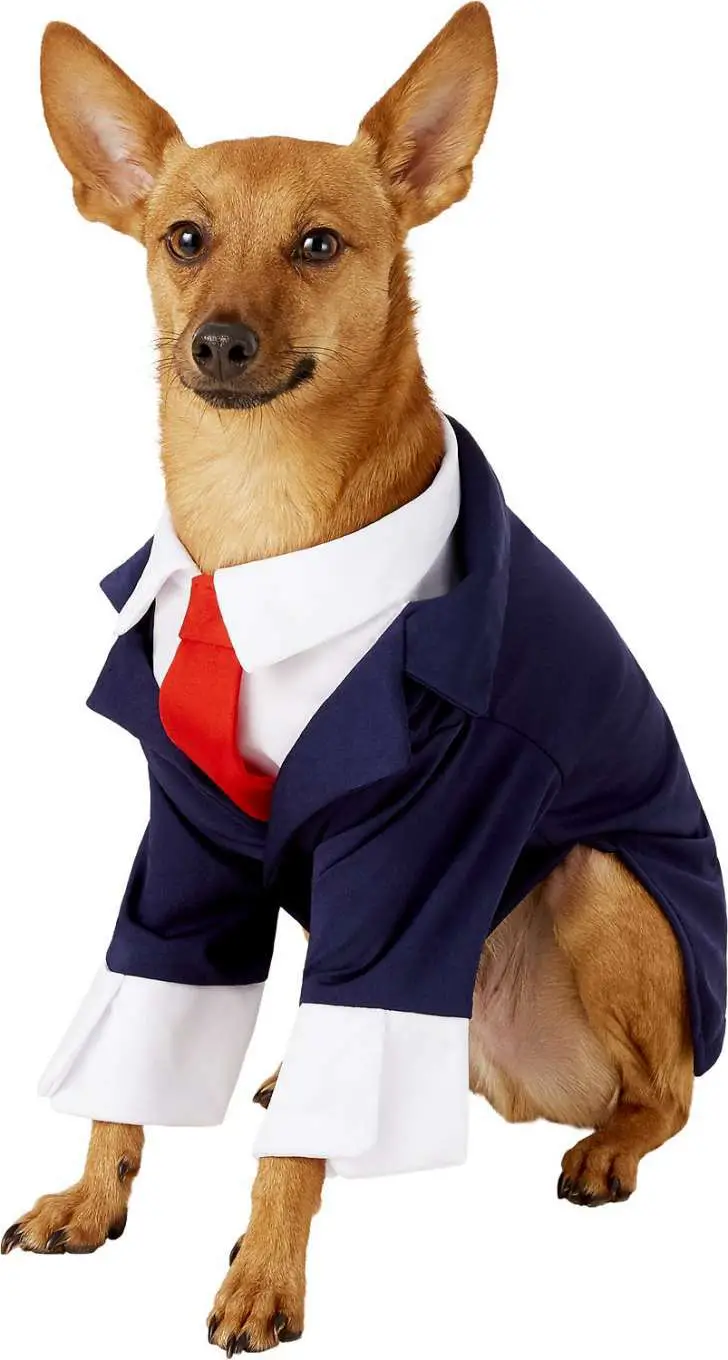 Chances are your pet will never have a high-powered office job, but that doesn't mean they can't dress the part. And don't worry, the tie is attached to the costume, so your pup won't have to learn the Half-Windsor.
Buy it: Chewy