[2021] Ask The Creative Community: What Scares You?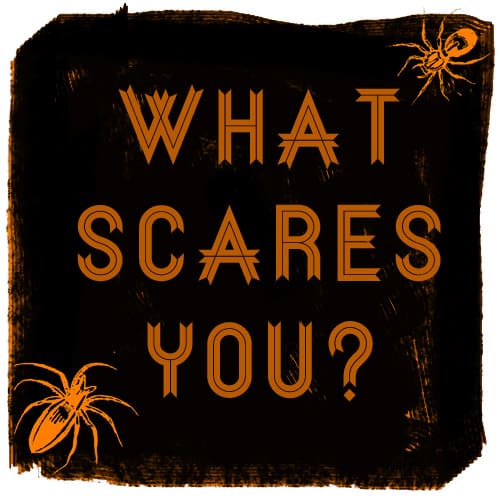 This blog is updated in 2021
Every so often, we run a post that asks the creative community to answer practical, everyday questions in the hope that they will be of some use to our readers. Today is Halloween, so the real question on our minds is quite simple—What Scares You? As AnInspiring's resident worrywart, pretty much everything terrifies me—from hypodermic needles to dark windows at night. It seems that everybody, though, has their own set of bizarre (and oftentimes hilarious) fears. Check out some of our favorite creative community and reader submissions (along with our own) after the jump! —Max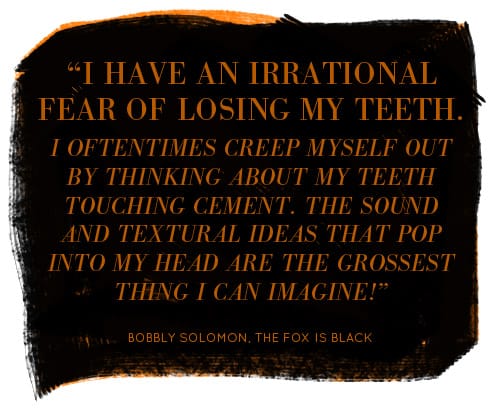 "1. Bugs that can jump or fly (spiders, roaches). 2. Textures that look like dried skin or scales (cracked earth terrifies me). 3. Zombies (but a good kind of scare). 4. Rhythmic drum beats in songs that sound like marching. That tempo terrifies me and makes me feel like something bad is building up." —Grace
"I can be a bit of a scaredy cat. I don't like roller coasters or scary movies. Even if there is a suspenseful moment in a sitcom, I get the heebie jeebies and have to pace around the room. But I get seriously creeped out by discarded shoes in the street. It just leaves me with so many questions. How did they get there? Where are the feet? Did something awful happen to the feet that were once in those shoes? It gives me the creeps!" —Amy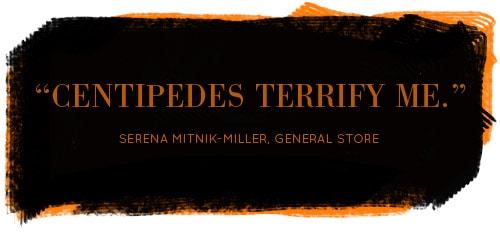 "Festivals. Weird I know, but my Mom took me to Woodstock (yes, I am that old) and while I don't have a conscious memory of it, I think it left an impression. I went to art school (SVA) but at heart I feel like I was a risk manager at some point in a previous life, so festivals and mass organized gatherings freak me out because I feel like I need proof that this, that and the other thing was carefully considered, studied and has a back-up plan if something goes wrong. Kinds hard for me to focus on the fun festy aspect – because i am carefully plotting triage stations should there be alien attack." —Caitlin, AnInspiring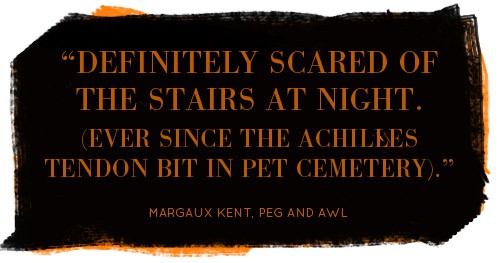 "The ocean scares me! I've never gone in further then my knees!" — Joy Deangdeelert Cho, OhJoy.com
"Sharks and hurricanes. I'm in Tulum on vacation so water fears are top of mind!" — Jascon Gnewikow, Athletics
"I am afraid of flying. No matter how often I travel for work, I still get freaked out during takeoff!" — Jennifer Causey, Photographer
"I'm scared of heights and narrow places, high speed cars, and horror movies. There was a time I used to do all Six Flags, but that was such a long time ago… Like I was a different person" —Sivan Askayo, Photographer
"Bats. Raccoons. Stray cats. Pretty much any mammal. Anything that could have rabies. I have an overwhelming, totally irrational fear of rabies." —Max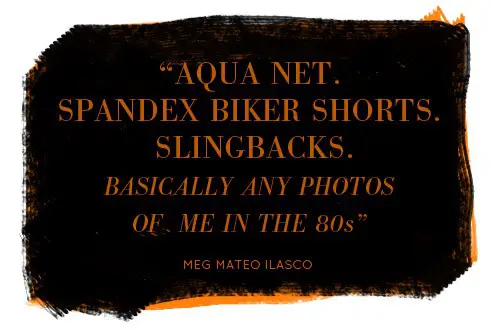 We might have gotten a bit carried away with all of these scares and we reached out to Twitter and Facebook for more submissions! Here are our favorites from you, dear readers!
"The water that collects in my toothbrush holder." —Danielli Alejos Oliver
"Antiques hiding under chalk paint! Eeeek!" —Brit Harris
"Jumpy parts in movies and accidentally overdrawing my bank account" —Shawn Covington
"The thought of having to touch cotton balls. It's the worst feeling ever." —Shannon Quinn Baird
"Times New Roman" —Bob Davis
"COMIC SANS!!!!" —Martrese White
"My boyfriend's idea of a stellar paint job…The paint stops abruptly in places it shouldn't." —Emily Carey
"Really big kids at my door with very deep voices, Halloween night." —Alonge Scinta Pauline