Amazon's Boxtumes Are the Cutest and Easiest Halloween Costumes For Casual Stay-at-home Halloween Party in 2020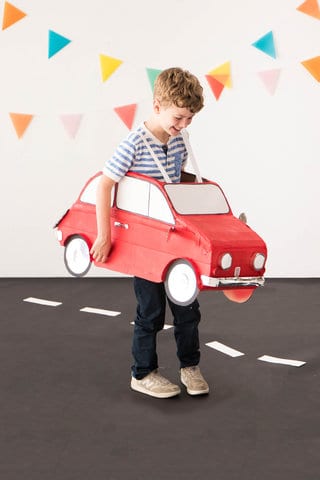 This blog is updated in 2020
Rather than flatten your latest shipment and haul it out to the curb, try upcycling the brown boxes into a fantastically festive Halloween costume. Especially in 2020, when no one should hold large Halloween parties but only some quarantine Halloween parties with families, these costumes are affordable and easy for casual parties. Three top DIY bloggers were tapped to help make these costumes—a cake slice, a unicorn, or a car—the best they could possibly be: Crafty Chica created the how-to guide for this cake slice, Tatertots and Jello crafted the unicorn boxtume, and Oh Happy Day made the car boxtume.
The idea is to use Amazon Smile boxes and craft using items you would already have around the house—like confetti, duct tape, and a black marker—for a simple, fun costume that doubles as a group activity. And perhaps best of all: You can modify the designs however you'd like (think for color or size)—these costumes have no limits! Craft your Halloween disguise to be as minimal or as maximal as you'd like; no two Boxtumes will truly be the same.
The costumes work whether you are alone or in a group, too. Cars are a good choice for a large group, and who wouldn't want a herd of tiny toddler unicorns running through the neighborhood to trick-or-treat?
If you are looking to purchase a costume instead of going the DIY route, check out these options that won't break the bank. And don't forget about your furry friends—dressing your dog or cat is just as much fun (if not more!) as dressing yourself.