[2021] A Week of Healthy, Lightweight, Nutritious Backpacking Food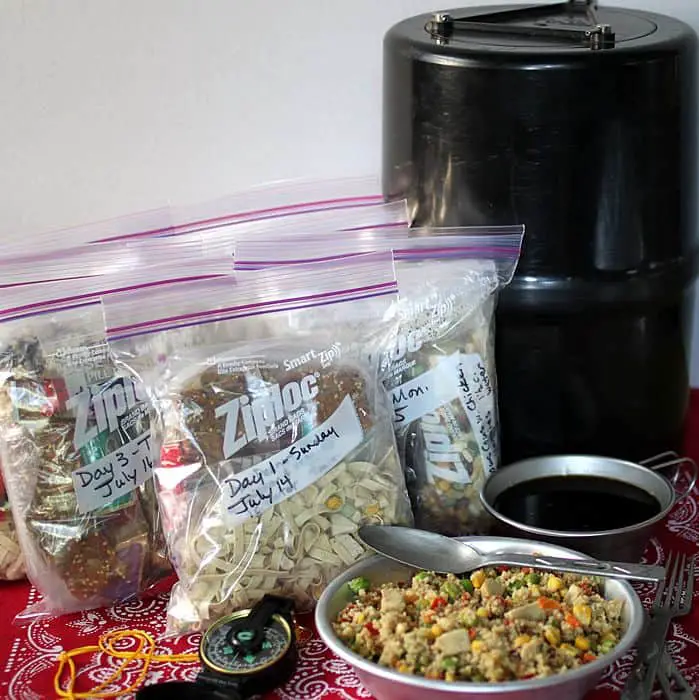 This blog is updated in 2021
I married to a heavy backpacker. King-Man goes on numerous backpacking trips a year. He spends 1-2 weeks hiking the Grand Canyon annually (his favorite place on the earth), and in recent years has also hiked to the Mt. Everest Base Camp, Mt. Rainier, and several spots in Utah and Colorado.  The more he hikes, the more he wants to.
He used to go most often on trips led by Sierra Club or REI where they provided most of the healthy backpacking food. But now that he has more experience, King-Man has been backpacking with a group of hiking friends that have formed for years. That means he has to take his own good-to-go backpacking food.
This is where I come in. King-Man doesn't cook at all. Since I'm a recipe developer, I thought it would be fun to figure out some delicious, homemade, nutritious backpacking meal plans for him to take along on the trail. He had bought and assembled ready-made backpacking food in the past, but I decided to try creating some dried, lightweight recipes suitable for backpacking (or any type of camping, for that matter). That way I could make it as healthy and tasty as possible. King-Man thinks my homemade instant meals are way better than the store-bought stuff from backpacking food companies.
Requirements for freeze-dried backpacking food:
Lightweight & compact. King-Man backpacks for a minimum of 1 week at a time, and he has to carry everything he eats. The cheapest backpacking food needs to be as light as possible and be easy to carry.
No cooking just boiled water. This means less to carry in the way of cooking gear. So, meals have to be an "instant" variety that requires nothing more than adding boiling water.
Nutritious. Backpacking is tough work and expends a lot of calories and nutrients. It's essential for the best backpacking food freeze-dried to be rich in nutrients and calories in order to refuel the body.
Safe to carry without refrigeration. For obvious reasons.
Fits in a bear barrel. This isn't always a requirement; but last summer when King-Man was backpacking for a week in Colorado, he was in bear country. So, the healthy backpacking food he took along had to be very compact so he could pack it safely inside a bear barrel. It was a challenge, but we did it!
Hiking into Ptarmigan Creek in Rocky Mountain National Park. (photo shared by King-Man's hiking buddy, Mel)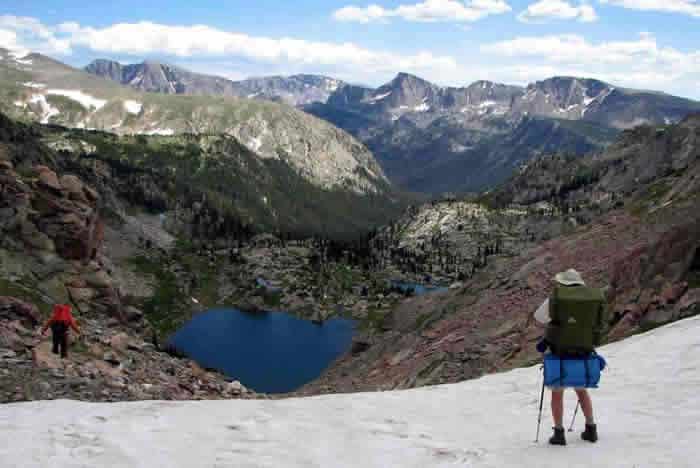 7 days of recipes and organization tips. In this post, I'll explain how I made food for a week of backpacking including breakfast, lunch, dinner, and snacks. You may prefer to buy all of your food from backpacking food companies rather than make your own instant meals. Either way, I'll show you how to organize and pack it in a bear barrel so there is easy access to each day's creative backpacking meals.
BREAKFAST
Instant oatmeal (buy it or make your own…look below for my recipes)
Instant coffee or tea bags. King-Man takes Starbucks instant coffee packets.
View on Amazon: Quaker Instant Oatmeal Packets, Starbucks Ready Brew Packets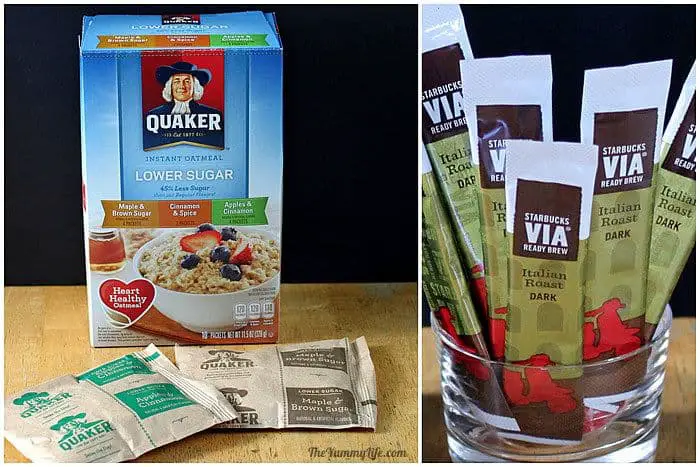 Homemade Instant Oatmeal Packets. I have a separate post that explains in detail how easy it is to make your own instant oatmeal packets. That way they can be flavored just how you love them, and they are WAY healthier than the store-bought kind.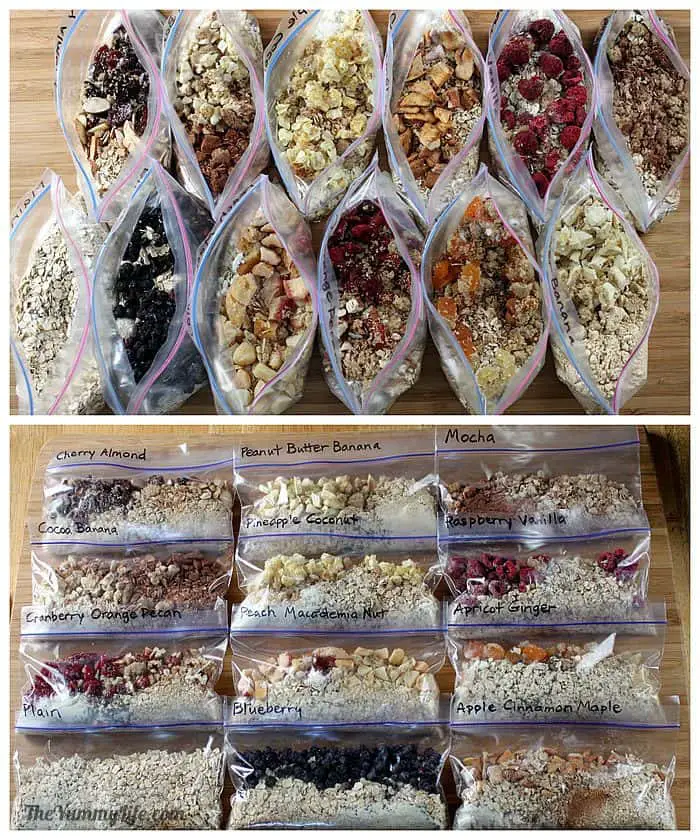 King-Man is partial to blueberry instant oats, so I made up multiple packets of those for each of his breakfasts on the trail.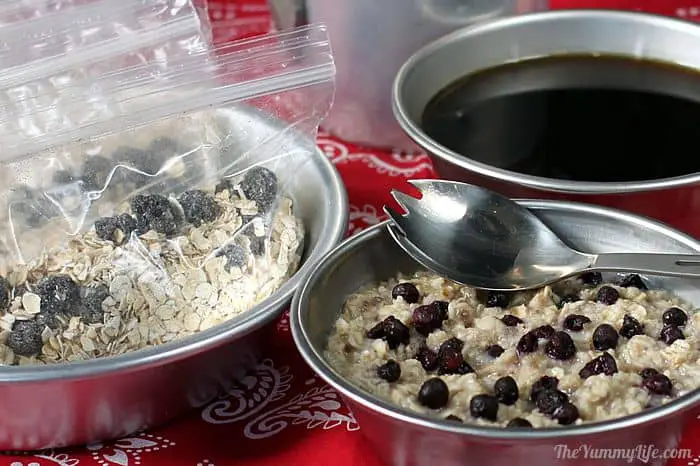 A distinct breakfast bag for each day. Included: packets of instant oatmeal, coffee, and pills/vitamins. I used fold-top sandwich bags to hold all 3 items.
View on Amazon: plastic pill bags, fold-top sandwich bags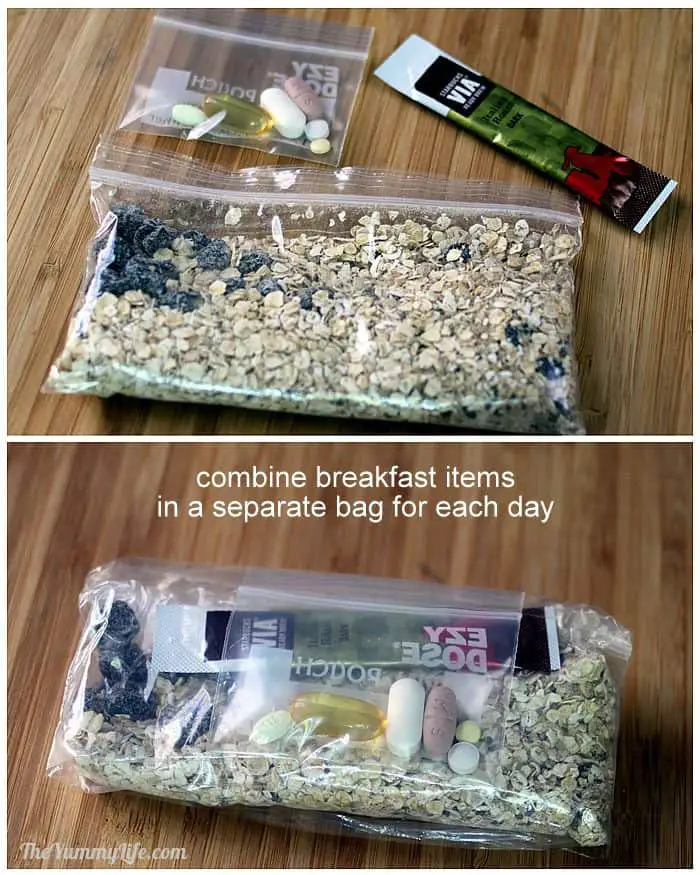 LUNCH
Small summer sausage (found these 1.75 oz little guys at World Market); dried beef is a good alternative that King-Man often takes.
Cheese wedge (also purchased these at World Market); it's a soft cheese that doesn't require freezing. Laughing Cow cheese wedges are another choice. There are also some hard cheeses (asiago, parmesan) that many hikers take along, but the cheese lady at the store said all of them should go with refrigeration…so use at your own risk. (King-Man thinks the hard cheeses are fine to take along, especially when hiking in cooler temperatures.)
Whole-grain crackers. King-Man especially likes Dr. Kracker's Seedlander crackers; they are dense and not as crisp as many crackers so they hold up well on the trail. And, they taste great and are nutritious.
View on Amazon: Dr. Kracker's Seedlander crackers, beef jerky, Laughing Cow cheese wedges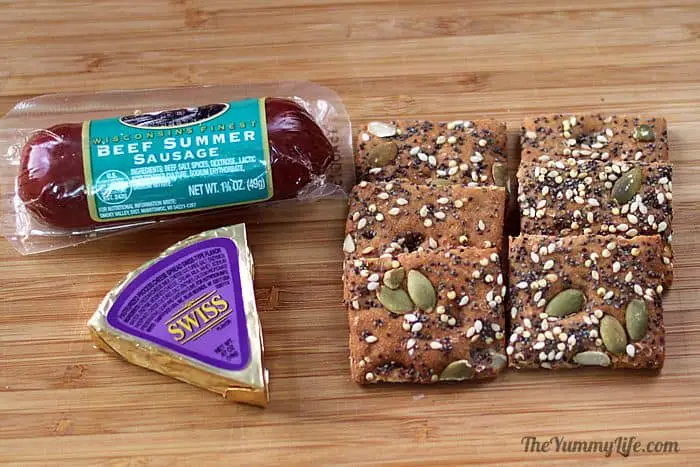 SNACKS
(chosen for energy & protein stimulation on the trial)
KIND bars — buy them or make your own (see recipe link below)
Peanut butter packets (make them in individual portions, with and without honey added)
Nut & seeds bars — I bought 5-seed almond bars at Trader Joe's; there are many granola bar alternatives available. King-Man likes Clif Bars, too.
Snickers bars — for your sweet tooth and a quick energy boost (not recommended if you're hiking in hot weather)
Fruit & nut trail mix
Salt and pepper shaker — oops, that sneaked into the snacks photo; but it is handy to have along for seasoning the instant dinner meals
view on Amazon: KIND bars, peanut butter packets, Clif bars, mini salt/pepper shaker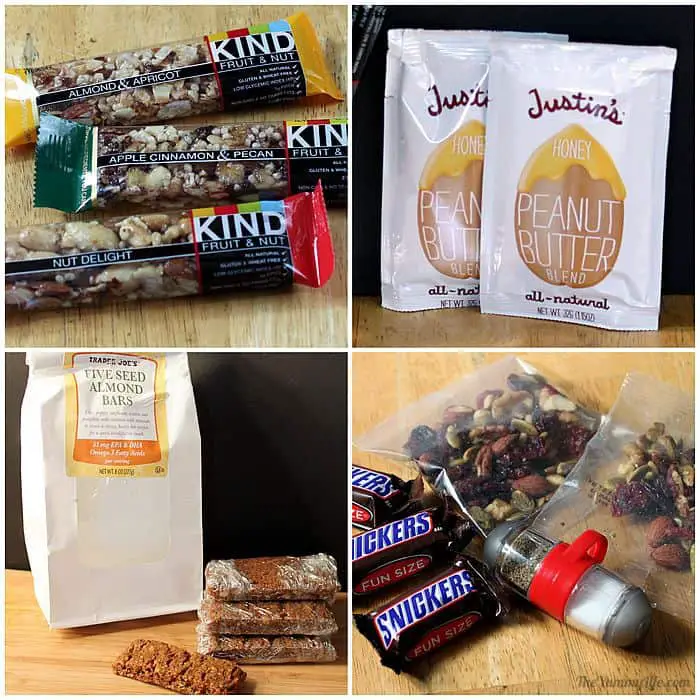 KIND bars recently got the #1 rating from Backpacker magazine for the healthiest bars to take along hiking. They are so tasty that I prefer them to a candy bar, but they're expensive. After preparing food & photos for the backpacking trip in this post, I developed a recipe for homemade KIND bars that are darn close to the originals. King-Man takes this homemade version along on hikes now. They're much less expensive if you make your own. We keep them on hand in our house now–a favorite of both of us. Here's the post where I explain how to make them: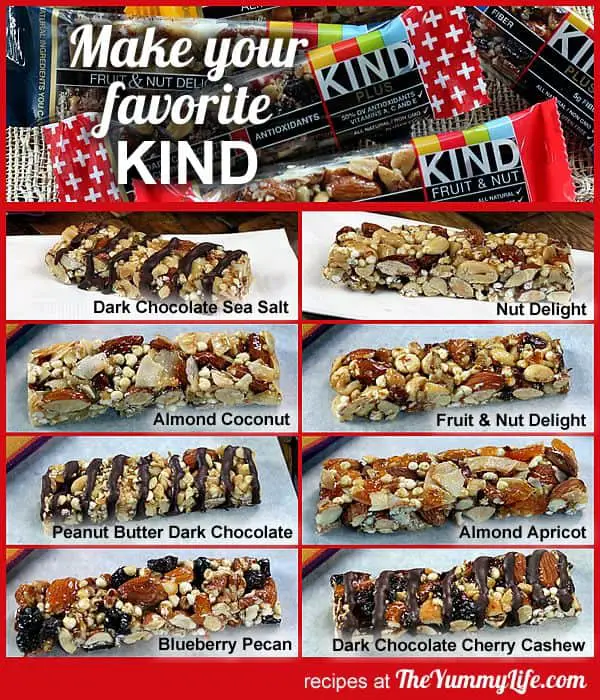 A separate lunch/snack bag for each day. Included: mini sausages, cheese wedge, crackers, KIND bar, peanut butter packet, candy or nut/seed bar, trail mix. I used fold-top sandwich bags to hold a day's lunch and snack food.
View on Amazon:  fold-top sandwich bags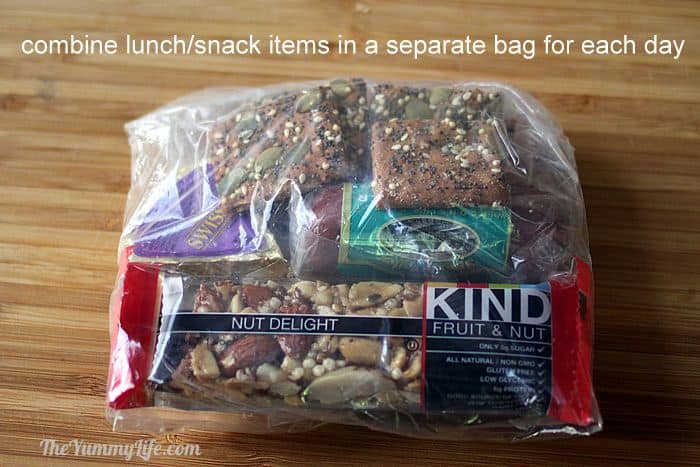 All the content in this blog is the property of aninspiring. Kindly refrain from plagiarising the content of this blog.
DINNER
An instant, lightweight meal in a bag–just add boiling water, wait a few minutes, and eat. You can buy them or make your own (recipe link below). If you're buying the store-made meals, King-Man recommends the Mountain House brand.
View on Amazon:  Mountain House freeze-dried meals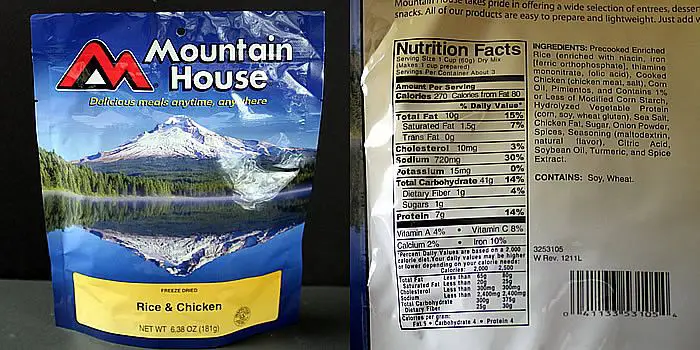 You can make your own nutritious instant meals with the 6 recipes I made using the healthiest dried ingredients I could find. They're what King-Man brings on his trips now; he likes them all so much that he can't choose a bias. Just add boiling water, wait a few minutes, and eat. I explain how to make 6 different meal varieties in a separate post: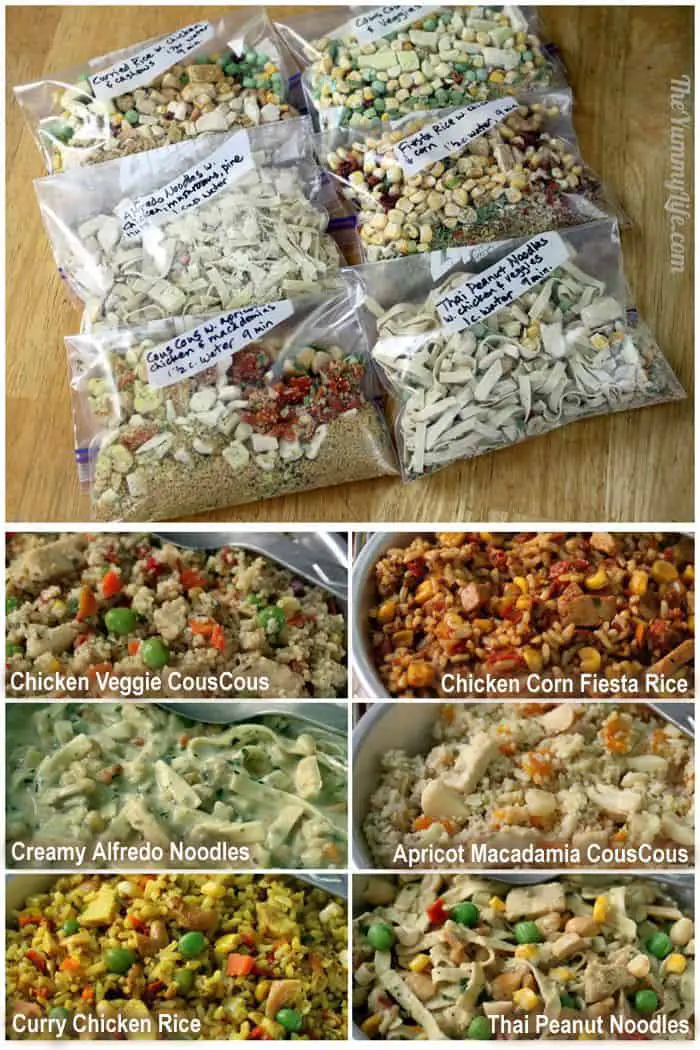 Here is the backpacking pot & stove system that King-Man suggests for heating water on the trail:
ORGANIZE BAGS OF FOOD FOR EACH DAY
6 breakfast bags (King-Man didn't need one for the 1st day since he had breakfast before his hike began.)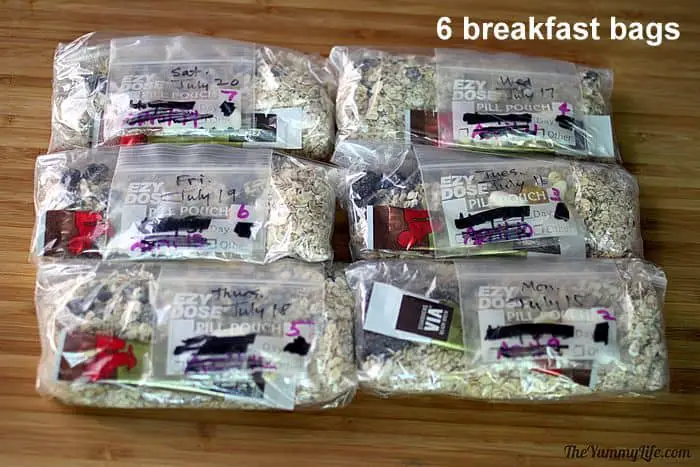 7 lunch and snack bags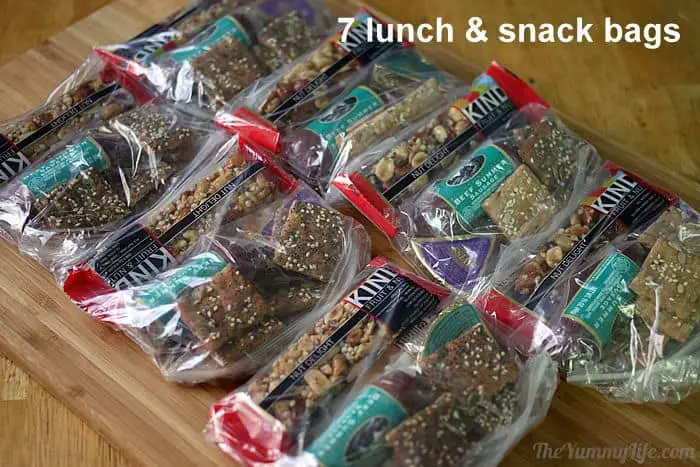 6 dinner bags (On the last day, King-Man didn't need a dinner bag because he hiked out before dinner.)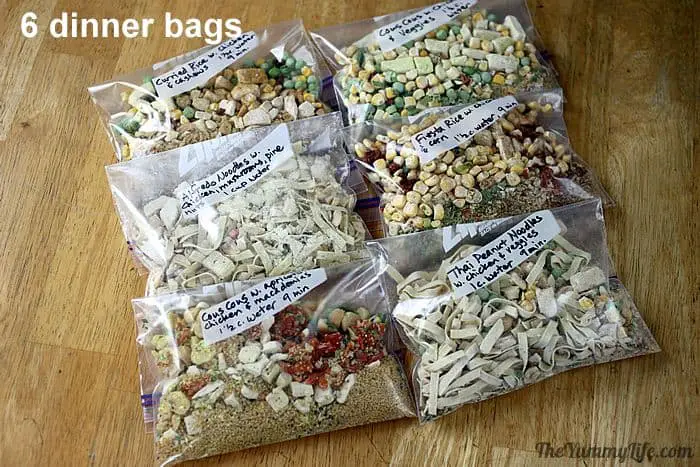 ONE BAG OF FOOD PER DAY.
This made it easy for King-Man to eat each day without having to search through his backpack for a lot of miscellaneous kinds of backpacking meal plan for each meal. For each day one bag held 3 separate bags for breakfast, lunch/snacks, and dinner. Labeling the bags, made it a no-brainer to eat each meal without any decisions to make. King-Man especially liked this on a long journey when they set up camp late and it was getting dark near mealtime.  I used Ziploc quart freezer bags–they're thick enough to hold up well.
Weight: 14.2 oz. for a bag of food for 1-day
View on Amazon:  Ziploc quart freezer bags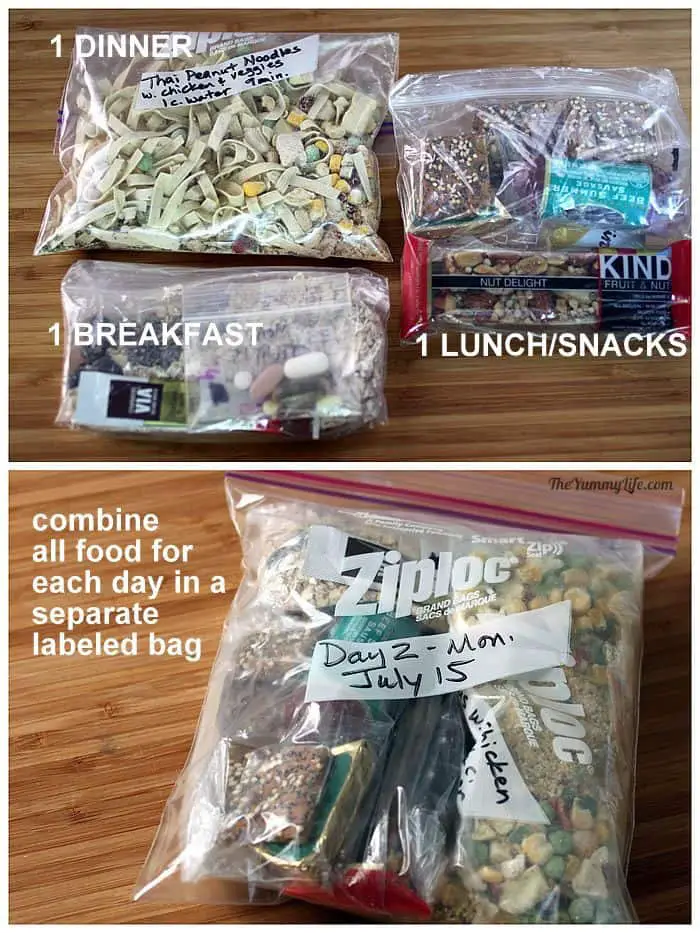 A midweek birthday treats surprise. It was King-Man's birthday in the middle of his 7-day backpacking trip. So, I put a bag of chocolate chip cookie bars for him to share with his hiking buddies. He said it was the BEST part of the food on the trip and a welcome treat for everyone. So, I've started making these for all of his trips now–he has one for dessert after dinner each night.
 Wrap the cooled bars individually in plastic wrap, and they're ready to pack for the trail.
Weight: 1.43 lbs. for 8 cookie bars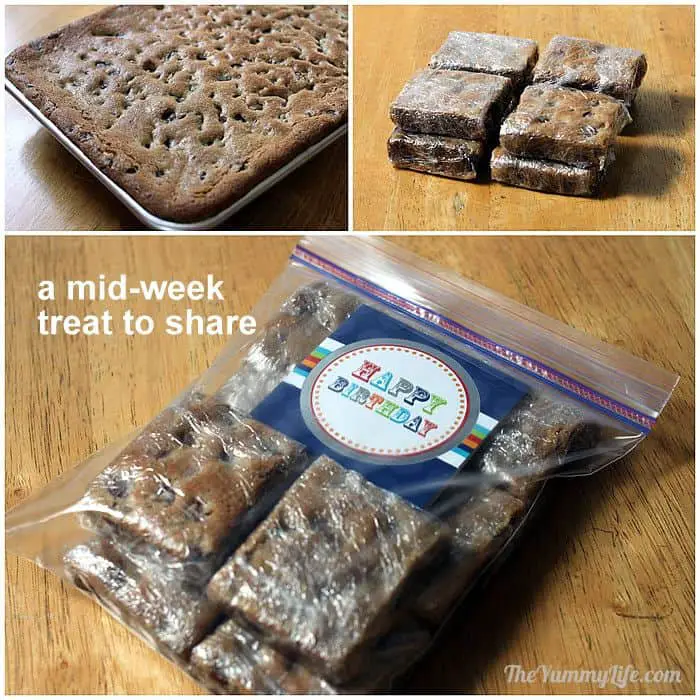 Stack the bags in a bear barrel (or stuff sack).
If you're backpacking in bear country, you'll want the protection of a bear barrel (for you and the food!). If not, pack all of your food in one stuff pocket. Put the bag of food for the last day first, and continue stacking the bags horizontally ending with the Day 1 food bag on top. Everything fit–YAY! King-Man loved the convenience of just having to pull out one food bag per day from the top.
Bear Barrel dimensions and weight: 12″ high, 8″ diameter; 2.75 lbs (empty weight)
Filled Bear Barrel weight (with 6 breakfasts, 7 lunches/snacks, 6 dinners, 8 cookie bars): 10.4 lbs
view on Amazon:  Bear Barrel, Stuff Sack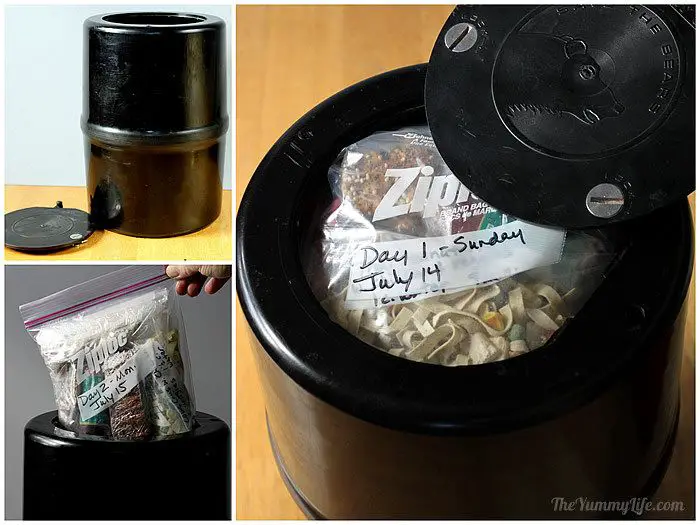 UPDATE: Since first writing this post, I've created 8 instant soup recipes that King-Man now takes on his backpacking trips along with the other food in this post. The soups are a great way to help rehydrate and add some calories to the main meal at the end of a long day on the trail. Here's the link.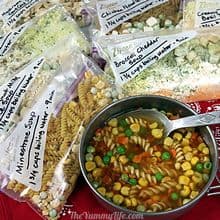 When understanding his/her own way of every backpacker, I know this recipe may not work for everyone. But, hopefully, there are some tips or recipes here that you may find helpful. If you have any tips to share that are tried-and-true on the trail, please drop them in the comments section below. Happy trails to you.
All the content in this blog is the property of aninspiring. Kindly refrain from plagiarising the content of this blog.