[2020] A Bold and Fearless Parisian Studio Overlooking the Sacré-Cœur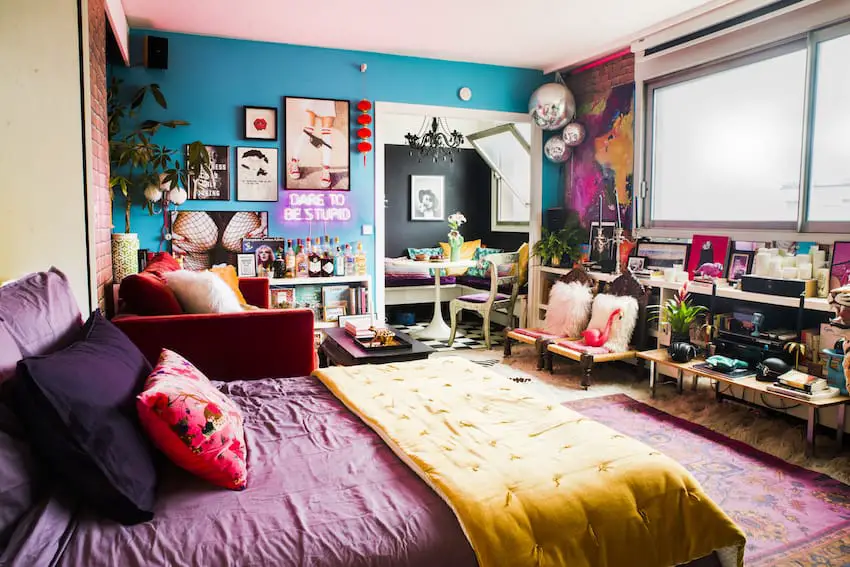 This blog is updated in 2020
If you'd happen to be strolling down the bustling streets of the 10th arrondissement in Paris, France, odds are that you would run into interior decorator Marie Lacote (@thevelvetjungle). She has called the lively and diverse neighborhood her home for the past four years, and with her fierce purple hair and eclectic style, Marie does not go unnoticed. Creativity and artistic endeavors have been an integral part of her life ever since she was a little kid taking painting classes, before venturing out to follow her own path. Dying her hair every shade of the rainbow soon followed — red, blue, orange, pink — you name it, she's had it. She eventually settled on purple, and what used to make her parents roll their eyes and worry about job prospects is now the first impression that brings Marie most of her clients.
Marie earned her degree in interior decorating a few years back and started her business one year ago after getting cold feet a few times prior. It didn't take long for Marie to notice that it was, in fact, her quirky style that attracted new clients. "I noticed people really responded to my use of bold colors, so it gave me the confidence to keep going. In the span of a year, things just went into hyper-speed, which is both fun and terrifying!" Marie describes. She now takes on international e-design clients and works for Havenly, a U.S. e-design company that has allowed her to blossom creatively and pursue her passion.
The 10th arrondissement couldn't be better suited for Marie's vibrant personality and unique flair. The area boasts a wonderful mix of cultures, with back-to-back Jewish, Arab and Chinese quartiers that are full of life. New hipster joints, with colorful storefronts and fun offerings, pop up along the nearby Canal Saint-Martin faster than you can say qu'est-ce qui se passe. It's a good sort of chaos, just like Marie's personal creative process. Although she is strictly focused and organized with her clients, these traits are not applicable when it comes to her rental apartment. In her own words, "The way I create a home around me is chaos. […] I thrive most in last-minute adjustments, in starting everything over at 3 am, just grabbing paint and trying it out." And tried out she has! Her 355-square-foot studio, located high above the surrounding rooftops and overlooking the Sacré-Cœur, is a myriad of rich and bright colors, plush fabrics, bold art, and quirky accessories. Roger, Marie's ceramic pet tiger, is undoubtedly the most noteworthy piece that perfectly reflects Marie's decorating mantra, which she explains in its simplicity: "My goal was to fill [my home] with everything that made my heart sing. My favorite books, pieces of art that really spoke to me at different times of my life, quotes I love, colorful trinkets, bold colors, soft textures — the goal was to follow my gut."
Although Marie now dreams of buying her own apartment in the area and one day moving to New York, her small studio has been the center stage of many a meaningful memory during the past years — birthdays, Halloweens, New Year's Eve parties, and drunken friends trying out their artistic capabilities on the blackboard wall. When she's by herself, there's a lot of loud music, nighttime painting, furniture rearranging and plenty of dancing while doing the dishes. Marie points out, "People will love or hate my style, but this space is for me first and foremost, and I can tell you — from kids to adults, no one has ever been bored here." Even when the time comes to move on to the next phase and a new space, Marie will hold all the memories from her studio dear to her heart. It goes without saying that wherever she ends up, her home will be just as bold, just as quirky and just as full of life. —Sofia
Photography by Mathieu Lacote / @mathieulacote
Image above: View from the entryway toward the heart of Marie's studio. She has added every ounce of her bold personality into her home. Strong colors, cool art, disco balls and faux fur pillows that guests always end up petting at the end of the evening. "People will motivate themselves to live life to the fullest but will still be afraid to paint their walls with color — that's something I don't understand. It's your home, your haven, where you go to be yourself… why would you not extend that to your décor?" A pull-down projector screen was installed above the windows by Marie's brother. When pulled down, the screen takes up the entire row of windows. Perfect for movie nights!

The entry in Marie's studio is a true taster of the rest of the apartment. "Walking through the door is always a trip, I made sure of that with the striped walls!" Marie laughs. 
The apartment came with a murphy bed, which means that Marie can push it into the wall when she needs more space for larger parties. "I actually put all of the living room furniture on wheels (sofa, coffee table and chairs), so that when I put the bed away, I just roll everything to the center of the room," she reveals. 
Marie put up thin sheets of MDF on the back wall of the bed and painted them pink with splatters. "I wanted something that can be changed easily and especially leave no trace when I move out but still be better than the white walls," she explains.
It's your home, your haven, where you go to be yourself…why would you not extend that to your décor?
When the bed is open, the velvet sofa is tucked in the corner of the room. Marie attached the brick wallpaper with a grid of tape so as not to leave any marks. "It took twice as long but at least I'll leave no trace! Temporary paper didn't exist back then — next time it'll definitely be easier!" she says.
Marie is a big Elvis fan and bought this plaster bust from an Elvis memorabilia collector. The brown bust received a golden spray coat, "and suddenly, the King was his old self again!"
The living room shelves were built by Marie and her brother Mathieu and mimic the built-ins under the window on the opposite side of the room. "I started with the bar and then kept adding little keepsakes," Marie explains. 
Marie at home with her ceramic pet tiger, Roger. "Nothing in my space is over $100, except for […] Roger, but he's worth it!" Marie shares.
"It's mostly the accessories that brought this space to life, and that, my friends, you cannot rush," Marie shares. "It's a collection, and it's very mood-based for me. I find the pieces I need when the time is right, and if they don't come, then I wait. No rush."
Marie wanted her kitchen to feel darker and moodier than the rest of her home. The open shelves at the back of the kitchen were her first makeover project.
Marie chose black for the walls in the dining area to highlight the rest of the colors in the nook. "I really wanted this space to be dramatic," she says. 
The dining nook is Marie's favorite spot in her home. "It's the second thing I took on, creating this corner. That was three years ago and I haven't changed a thing since, I just love it as-is," she shares. The nook seats up to seven people — "and you can grab a beer from the fridge sitting down!"
The wooden chairs in the living room can be folded down. The large painting is by Marie. "Disco balls are a must. When the suns catches them [they make] a real life disco party in your house, at weird times of day — it's pretty amazing."
People will love or hate my style, but this space is for me first and foremost.
"I had to have a bar for obvious party reasons, but it's also a great excuse for a neon sign. […] I had this one custom made to reference a Weird Al song, and [it] pretty much [sums] up the way I live my life."
The bright green desk is a recently finished project. "I think green and pink might be my favorite color combo. […] Of course the brighter the better, so this corner definitely speaks to me," Marie says. 
"What I love most about my home is that there's always something weird or funny to catch my eye and make me smile throughout the day. I'm surrounded by all my favorite things and colors 24/7 — it's 100% me and I wouldn't have it any other way."
SOURCE LIST
Entryway
Striped wallpaper – MT Casa Washi Tape
Love You to Death print – PrintClubLondon
Woman in Hot Tub (photo)- Nicoline Aagesen
Square Mirrors on the door – IKEA
Living Room
Sofa, coffee table, Indian chairs, Elvis bust, Flokati rugs, Afghan armoire, 60s sconce – all thrifted
Pink rug – Urban Outfitters
Lumbar pillow – Zara Home
Black and white pillow, pink pillow – H&M Home
Gold pillow – Urban Outfitters
Snake candle holder – H&M Home
Yellow mirror – Zara Home
Art on blue wall – Society6 & Nicoline Aagesen photography
Candelabra – Maisons du Monde
Large painting – Marie Lacote
Roger the ceramic tiger – Amen Store
Neon Sign – AOOS Neon
Bed Area
Purple bedding – H&M Home
Gold velvet quilt – Bouchara
Office Area
Desk – thrifted
Lion mouth pulls – Etsy
Leopard head planter – H&M Home
Lampshade – WildLampshadeDesigns
Red phone – Amazon
Kitchen
Chalkboard paint – Amazon
Velvet pillows – West Elm
Lumbar pillows – sewn by Marie from Hmong fabric sourced via Etsy
Dining table – IKEA Docksta
Afghan rug – thrifted
Cactus vase – Serax
Fight Club art – Society6