10 Ways to Minimize Holiday Travel Hassles in 2021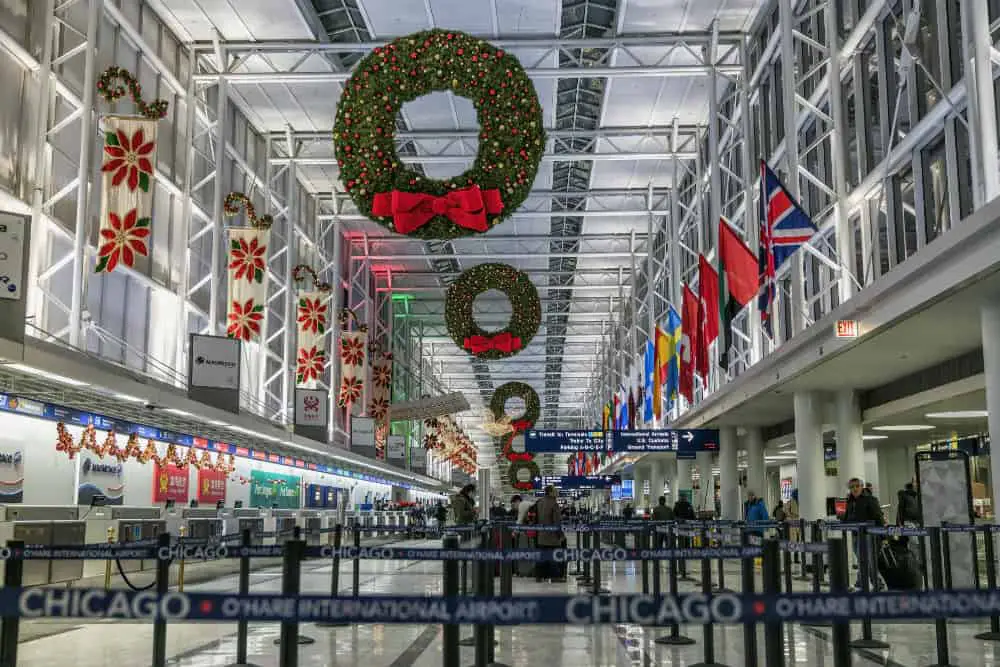 This blog is updated in 2021
It's that most wonderful time of the year when airports are jammed, overhead bins crammed, flights delayed, and travel headaches numerous. How to minimize them? Follow these holiday travel tips:
1. Download must-have apps.
There are apps that tell you which security line at your airport is shortest, help you get the assistance you need when your flight plans derail, and more. Here are a few of my favorites. We already wrote an article about the must-have apps to help you survive a holiday travel.
2. Don't wrap gifts that are going into your carry-on.
The TSA might need to unwrap them, slowing down you and everyone else in the security line.
3. Pack so it's a breeze to get your holiday gifts home.
You may have figured out how to get to Grandma's with only carry-ons (maybe you ordered all your gifts for your aunts and uncles and cousins online and had them shipped to Grandma's), but what about getting home again with the gifts they give you? Here's my strategy for bringing home a lot more stuff than you started with.
4. Check in for your flight online 24 hours ahead.
Checking in the day before reduces your chance of getting bumped from an oversold flight and increases your chance of snagging a better seat—one made available 24 hours in advance, when elite-status frequent fliers get upgraded from coach, leaving behind empty seats.
5. Leave for the airport earlier than usual.
You know all those drivers you were battling for a parking spot at the mall? You'll now be battling them on the road to the airport. And in the parking garage. Allow time for being stuck in traffic.
6. Flight delayed? Relax in an airport lounge.
More and more pay-as-you-go independent lounges have been popping up all over the U.S. For $25 to $50 you can escape the circus in the terminal and kick back in comfy armchairs—with Wi-Fi, televisions, and snacks—or even shower or nap. Here are some U.S airport lounges and where to find them. As for club lounges run by airlines, most now sell day passes for $50—and give you access to airline agents who can be much more helpful in fixing travel snafus than agents you talk to at the gate or on the phone.
7. Be the first to know if your flight is canceled.
If a storm cancels your flight, you'll be in a mad race with everyone else to grab what few seats are available on alternate flights. So, if bad weather is brewing in the days before your trip, sign up for flight status alerts on FlightStats, and also check your airline's website frequently so that, as soon as the airline announces it's waiving ticket-change fees, you can take action. Also monitor the airline's twitter feed; it often provides the quickest updates.
8. Flight canceled? Look for a storm-free hub to connect in.
FlightStats.com tells you at a glance which airports and airlines are suffering weather-related delays and, just as important, which are not. Note which hubs are having no weather issues (Las Vegas, for instance) and rebook to connect through one of them. (Vegas may not be in the linear path to your final destination, but you could end up at your destination much quicker than if you remain in a snowbound airport. And, if you need to overnight in Vegas, there are inexpensive hotels and frequent flights out.)
9. Don't waste time waiting on hold.
Rather than phoning the airline's jammed U.S. customer service line and getting stuck on hold for hours while the few available seats to your destination vaporize, call one of the airline's English-speaking overseas reservations numbers—say, in England, Germany, Australia, or Singapore. (You'll find these numbers on the airline's website.) Use Skype so the call is cheap. Here are some other tips so you never have to wait on hold with an airline customer-service center again.
10. Score a free future airline ticket.
'Tis the season for oversold flights, so there's a very good chance that your airline gate agent will ask for volunteers to take a later flight in exchange for a voucher toward a future trip. If your schedule is flexible and you're happy to be delayed a few hours in exchange for a discounted or free future ticket, consider approaching the gate agent before he or she has made any announcement, so that you're first on the list of volunteers. But don't accept a voucher without making yourself aware of all the restrictions (blackout dates, expiration date, etc.) and making sure you're given a confirmed seat on a later flight.